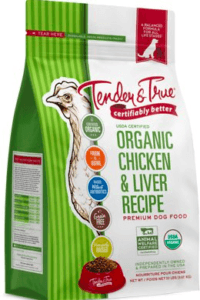 If your like me, Tender and True Dog Food was not a brand that I was overly familiar with. To be honest, the name itself intrigued me, so I decided to make this my next research endeavor. I am always on the lookout for pet foods that may be of value to the dog owner, and I truly hope this article brings you some insight to this specific brand.
We all know that there are a number of various types of dog food on the market today from which we can choose. After researching this brand of dog food in great detail, I wanted to focus on 4 specific details and/or reasons that may make this brand one to consider when choosing an appropriate dog food for your pet. Let's get started:
Why Tender And True Dog Food? (4 Reasons)
1. Standards (To Your Pet)
There are a number of things that the Tender & True Company takes great pride when it comes to the safety and well-being of your pet. The company's products are based on this very belief in the products made available to our four-legged companions. Let's take a look at a few of these:
The company claims to have been the first to obtain certification of USDA organic, antibiotic-free, humanely raised pet food. Why is this statement significant? Well, by law, the United States Department of Agriculture (USDA) requires that any certified organic pet foods, must follow the very same requirements and standards that been established for human foods identified as being organic.
The company also was to the first to obtain the Global Animal Partnership (GAP) that certifies humanely raised pet food. Why is this statement important? In short, this statement suggests that GAP certification on pet food labels states that the animals are raised without the use of antibiotics, added hormones, or animal-byproducts.
The Marine Stewardship Council (MSC) and the Tender & True Company have formed a partnership that certifies that the company is always receiving quality, sustainable fish.
To ensure a high, quality source of food, the company supplies and sources their own ingredients in the pet products.
The Tender and True Company is independently owned.
The Tender and True products have never been recalled.
2. Ingredients
I think from the information that you read above that the Tender & True Company goes to great lengths in assuring your pooch consumes a quality product with wholesome ingredients. Let's take a look at one of these products below with a description of some of these ingredients:
Organic Turkey, Organic Chicken Meal, Organic Tapioca Starch , Organic Dried Peas, Organic Chickpea, Organic Flaxseed Meal, Organic Potato Starch, Organic Dried Liver. These ingredients, and the first eight, are all part of the Organic Turkey & Liver recipe and as we learned earlier, are certified by the USDA.
Recipes do not contain such things as artificial preservatives, flavors, colors, wheat, corn, or soy.
Uses humanely raised meats in their recipes with premium quality ingredients.
3. Selection/Flavors
Although the company does not offer formulas for specific breeds, they do offer a number of flavors (Protein) in both the dry and wet forms. Let's take a look at some of  these below: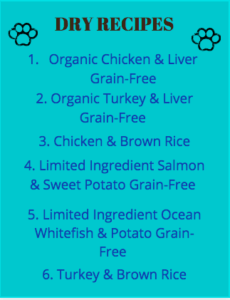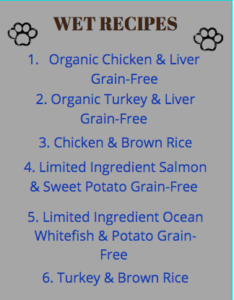 As you can see, the Tender & True Company offers the same type of protein in both forms of food. An added bonus is that the kibble (dry) comes in different sizes that will help to accommodate both the small and big dog.  As a dog owner yourself, choosing the best formula for your pooch is a matter of preference. No matter which form you choose, the company believes your dog will be receiving a quality, nutritious and wholesome meal.
4. Customer Reviews
Does every dog owner who has purchased the Tender & True product for their pet, give it a glowing and positive review? Absolutely not. This should not be surprising, as any product on the market, (Cars, Watches, Shoes, etc.) will have some customers unhappy or dissatisfied with the product.
Dog food is no different. To illustrate this point a bit further, I have actually posted a few reviews, (both positive and negative) from Chewy customers who have used this product. I have chosen a specific product, the Tender and True Organic Chicken & Liver Recipe.
Here is the breakdown of these reviews:

Here are a few positive comments that Chewy customers have posted.
"My dog had eczema and allergies. Since switching to the pesticide free dog food, chicken and liver flavor, her eczema is gone. I highly recommend going organic. I really like that the chickens were humanely raised as well". (Happy, Chewy.com)
"My dog for some reason just turns his nose up at any food I put in front of him. I could not find anything that he would like. My friend suggested trying this food so I ordered a small bag. AND he LOVED it. He is now eating regularly again. Im going to try the treats and cans on my next order. Thanks so much for carrying top notch foods for my little guy." (MonteG, Chewy.com)
Here are a few negative comments regarding this product.
"I purchased this a few times. The last time, about a third of it was charred black on the outside. I called the company. We played phone tag a couple of times and they never called back. I won't buy it again." (mmsangria, Chewy.com.
"My dog ate it one time, so I was hopeful, but that was it. She turned her nose up at it after that. And when I read the nutrition value does not conform to the standards for all dogs at all life stages, I threw the bag away. This product seems to be designed to convince owners to pay way too much money for dog food." (Rubysmon, Chewy.com)
Final Thoughts
Well, there you have it. I've given you 4 reasons that will hopefully make your decision in buying one of these products much easier. It is not my intent to persuade you one way or another, but from my research I do like many things regarding the Tender & True brand.
As a dog owner myself, I do like the standards that this company puts on its products. The fact that these products have been certified as organic and antibiotic free, is important to me. The ingredients used in their products seem to be nutritious and wholesome, providing nutritional benefits to your pet.
As always, consulting with your veterinarian regarding this or any pet food is always a good idea. You can see from the customer reviews that I posted above that customers gave this specific product 4.4 out of 5 stars.
Thank you for visiting my site, and I truly hope this article has brought you some value. For those of you who may have interest in the Tender and True products, I have listed a few below to help in your search. To your health, and the health of your pet!
When you buy something from this website, I may receive an affiliate commission. These are my opinions and are not representative of the companies that create these products. My reviews are based on my own personal experiences and research. I never recommend poor quality products or create false reviews in order to receive a commission. My intention is to provide you with information so you can make decisions to which products may best suit your needs.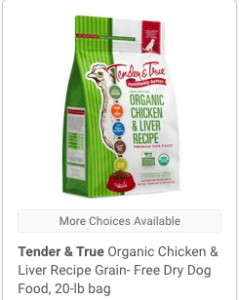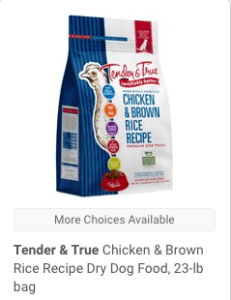 For a complete list of the Tender and True Dog Food Products, click HERE.
Note: This article contains affiliate links and offers, and I may receive a commission if you decide to purchase one of these products.
Disclaimer
For those unfamiliar with dog food grain-free recipes, there has and is a controversy taking place as I write this article. The FDA has made public that it has launched an investigation between a possible connection between the grain-free diet and heart disease within dogs. For further information, the American Kennel Club has provided further details. Click here.
Disclaimer
The purpose of this site and articles are intended to provide a source of entertainment and information. As a dog owner and dog lover myself, I enjoy researching dog food products on the market to provide you with helpful insights. I am not a veterinarian nor an animal nutritionist, just a dog owner who wants to provide a healthy lifestyle to their pet. I use my research to express an opinion which may or may not be one you agree with.
eathealthydoggy.com assumes no responsibility or liability for the use or misuse of what's written on this site. You should always consult with a veterinarian if you should have questions regarding your dog's diet or overall health.