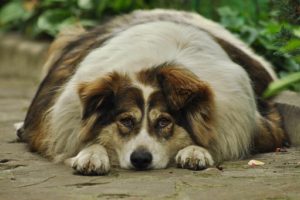 Hello again, fellow dog lovers! Quick question: Have you ever wondered why some dogs (maybe yours) tend to be on the heavy or obese size while other dogs seem to be at a healthy weight? Same breed, same age, but at a drastic weight difference?
Well, if you answered 'Yes' to this question, I have you covered. According to the Association of  Pet Obesity  Prevention (APOP), 55.8% of dogs were classified as overweight or obese. I speak from personal experience here, as I have had this exact scenario take place within my own household. As an owner of three Afghan Hounds myself (all three from the same breeder) with two of three keeping an optimal weight while the third showing signs of obesity.
As a result of this scenario, I decided to do some research in finding the best dog food for overweight dogs in hopes of getting my third four-legged companion back to healthy weight. In doing this research, I also discovered a number of reasons why my buddy may have gained these unwanted pounds. Let's take a look at some of these:
Causes of Dog Obesity
Aging – Yep, the aging process catches up to all of us, including our pets. Your dog's metabolism will decrease as your pet ages which may lead to weight gain.
Less activity – Kind of goes along with #1 above, as our pet's exercise regiment will decrease over time. Those long runs in the backyard may slowly decrease to nothing less than a quick trip to pee and/or poop. As a result, our pet is simply not burning off calories that may in turn, lead to unwanted pounds.
Excessive Feeding – Are you feeding your pet too much food? Too many treats? Table Scraps? If so, you may be contributing to the weight gain.
Feeding your dog the wrong food – Some dog food is simply too high in carbohydrate content and insufficient in containing quality protein. Finding a food that contains a quality protein will help in keeping your pet with a sensation of being 'full' and content without the overabundance of carbohydrates.
Genetics – Yes, specific breeds just seem to have issues with unwanted weight gain. (Cocker Spaniels, German Shepherds, Pugs, Rottweilers) to name a few.
Medical/Health – Issues regarding such things as Hypothyroidism, Bloat, Cushing's Disease may also contribute to weight gain. Should any of these conditions exist, talk to your vet.
As you can see, there are a number of factors to consider should you notice an unwanted weight gain with your pooch. Consulting your veterinarian is always a must should you have concerns.
How You Can Help Your Dog Avoid Those Unwanted Pounds
Look, just like us, dogs carrying around excessive weight can be a real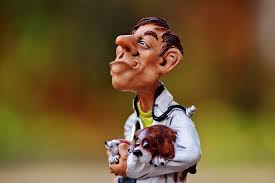 concern when it comes to their overall health. Obesity is nothing to take lightly, as it can lead to a number of health issues that may even lead to an early death.
So what can you, as dog owners, do to alleviate this issue? We all want our furry friends to live an energetic, healthy and long life so below I have listed a number of things below to assist you in keeping your pet lean and healthy . Here you go:
Don't overindulge your dog with excessive treats and or table scraps.
Make sure your dog is getting enough exercise on a daily basis. Activity is essential in helping your pet burn calories to keep an optimal weight.
Choose a healthy dog food starting with puppyhood. Take the time to read the food labels to assure the type of ingredients within each bag are healthy ones.
Make sure you and your pooch are making regular visits to your veterinarian. Your vet will be able to determine if there is an underlying cause for your four-legged companions weight gain.
Following these simple four tips above will go a long way in ensuring your pet will maintain a healthy weight. Remember, obesity may cause a number of health issues that can put your pooch at risk, especially as they age. 
What Does Your Pet's Food Have To Do With Obesity?
Plenty! Look, think about it: Let's say our diet only consisted of cheeseburgers, pizza, and French Fries. Throw in a big piece of cherry pie after consuming one of these main courses and we consume these meals each and every day. How long do you think it would take for us to notice that our favorite pair of jeans are just a little bit tight around the waist?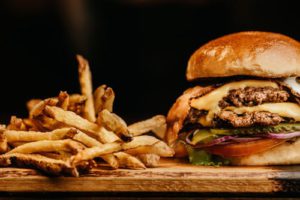 Not long, right? Feeding your pet with an unhealthy food day after day will eventually produce the same results. Throw in a large number of treats and some table scraps and your pet is well on the way to obesity. 
As a dog owner, you can exercise your pet as much as you want, but it won't help much if our pets are consuming this type of diet. I was one of those dog owners who believed my pet would love me more if I continually tossed her a treat every hour on the hour. In reality, I was actually doing her harm as she gained some unhealthy pounds that had a huge effect on her overall health. Please stop from doing this!
Do I have an opinion on what type of food that you might want to consider in feeding your dog? Absolutely, which I will get to next, and also give you a couple of suggestions that hopefully will be beneficial to you and your pet.
What Decision Will You Make?
As you know, there are literally hundreds if not thousands of dog food on the market today. Everything from dry, canned, raw and freeze-dried. On top of this, dog food companies are spending big dollars to advertise their products with almost all claiming to be the best.
Making a decision on which type or brand of dog food is not an easy task. Before making a decision, I believe it is important to consider a few factors pertaining to your pet. How old is she? Are there health issues? What can you afford? Have you spoken to your vet? All of these should play a role in which decision you make.
Below I have listed a few products that I have researched and in my opinion, are definitely ones to consider. Let's take a look at a few of these below:
When you buy something from this website, I may receive an affiliate commission. These are my opinions and are not representative of the companies that create these products. My reviews are based on my own personal experiences and research. I never recommend poor quality products or create false reviews in order to receive a commission. My intention is to provide you with information so you can make decisions to which products may best suit your needs.
Wellness Core Grain-Free Reduced Fat Formula

– This is a formula designed to help with those pets who already have a bit too much 'Luggage' and need to lose a few pounds. See the details below: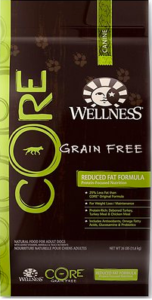 Benefits Of This Recipe Include:
Grain free, protein rich formula with turkey, chicken & salmon oil
Made without grains for dogs with sensitive stomachs or food-related allergies
Taurine supports a healthy heart
Reduced fat formula for dogs carrying excess weight
Only premium, all natural ingredients with no wheat, corn, soy, meat by-products, artificial flavors, colors or preservatives.
This recipe is actually one that I have used with my own overweight Afghan Hound. To my joy, I was able to notice a difference in her body weight with a huge difference in her activity level. Fetching her favorite ball in the backyard was a joy to see again! You can find this very same product by clicking HERE.
2. Diamond Naturals Light Formula – This formula is also intended for overweight dogs as well as those who have become less active. Not as expensive as the Wellness Core product mentioned above, but still a quality dog food.
Benefits Of This Recipe Include:
Made for overweight or less active dogs with real lamb protein and other whole foods for lean nutrition and to help support strong muscles.
Natural recipe with added vitamins and powerful antioxidants from real fruits and vegetables support overall health, while omega-3 and omega-6 fatty acids support healthy skin and coat.
Nutrient-rich and highly digestible recipe made with proprietary probiotic blend to help support your canine companion's digestive health.
Made with no corn, wheat, filler, artificial flavors, colors or preservatives and contains guaranteed levels of glucosamine and chondroitin to support your pal's joint health.
Made in the USA by a family owned and run company with the most scientifically advanced food safety protocols because your pal deserves nothing but the best!
Although I have never used this product myself, it has gotten a great deal of positive reviews from dog owners who have. Great choice for those with a limited budget but still are serious about their pet and its weight issue. You find this product HERE.
3. Canidae Grain-Free Pure Healthy Weight Formula – Just like the formulas listed above, this recipe targets those dogs with some unwanted pounds. Real chicken is the first ingredient listed in this product which means your buddy is receiving a quality protein.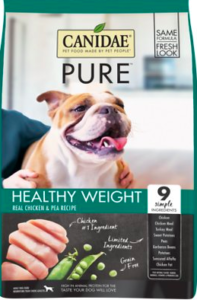 Benefits Of This Recipe Include:
Designed for less active or overweight dogs and features real chicken as the very first ingredient.
This limited ingredient recipe uses just 9 key ingredients for sensitive dogs.
Made free from common food allergens like grains, corn, wheat and soy.
Contains vitamins, minerals and a probiotics mix.
Crafted with whole foods for gentle digestion.
Great choice for dogs with sensitivities as well as those with weight concerns or just less active. Also has received some excellent reviews as well. Great source of protein with chicken being the first ingredient. Find it HERE.
Final Thoughts
I know that I have been guilty in allowing my dog to become a little 'pudgy' without realizing that what I was doing was actually harming my pet. Giving my pet too many treats and table scraps resulted in a noticeable weight gain. I had to change my ways, and did.
Here's what I did which to be fair took some discipline on my part. I limited my pet to a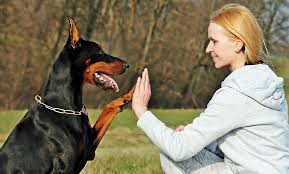 couple of treats a day and included such things as carrots as a reward. Secondly, after some extensive research, I transitioned to the Wellness Core Grain-Free Reduced Fat Recipe as mentioned above and got her up and moving. In a very short time, I was able to see the positive results of this new regiment.
I hope this article has provided some valuable insight and will assist you in getting your pet back to the desirable weight. Feel free to leave a comment below or let me know if I can help in any way. To the health of your pet!
Disclaimer
For those unfamiliar with dog food grain-free recipes, there has and is a controversy taking place as I write this article. The FDA has made public that it has launched an investigation between a possible connection between the grain-free diet and heart disease within dogs. For further information, the American Kennel Club has provided further details. Click here.
Disclaimer
The purpose of this site and articles are intended to provide a source of entertainment and information. As a dog owner and dog lover myself, I enjoy researching dog food products on the market to provide you with helpful insights. I am not a veterinarian nor an animal nutritionist, just a dog owner who wants to provide a healthy lifestyle to their pet. I use my research to express an opinion which may or may not be one you agree with.
eathealthydoggy.com assumes no responsibility or liability for the use or misuse of what's written on this site. You should always consult with a veterinarian if you should have questions regarding your dog's diet or overall health.