The answer to this question has been debated by dog owners all over the world and continues to be a hot topic as we speak today. So, what is healthy dog food? For some pet owners, they will argue that a 'raw' recipe is ideal for the overall health of dogs. Others believe that a meal consisting of natural, wholesome ingredients is the way to go.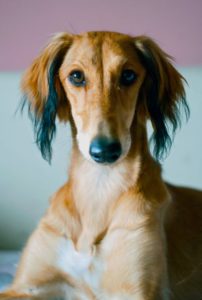 Purchasing a cheap dog food is an easy trap to fall into when you first bring a dog into your house; dogs are expensive, and between the vet appointments, chewable toys, and grooming care, it can be tempting to go for the cheapest option on the shelves. However, if there's anywhere you should save costs on the caring of your pet, dog food should be at the bottom of your list.
What Is Healthy Dog Food?
Let's consider food for human consumption for just a minute. Have you ever noticed those individuals at the supermarket who grab an item off the shelf and immediately start to read the label on the back? They are obviously interested in the ingredients contained within this item. How many calories, fat, salt, carbohydrates, etc. is important to these people!
As a dog owners, you should be doing the very same thing before you purchase your next bag (can) of dog food. I can emphasize enough how important it is to read the labels on each dog food product before making a purchase. So what should you be looking for in reading these labels? One word, ingredients!
Ingredients: What To Look For
Looking at the label of a dog food, you will quickly notice that the list of ingredients is quite lengthy. Although these ingredients are indeed important, the first three on the label are the ones that you should pay close attention to. These first three or four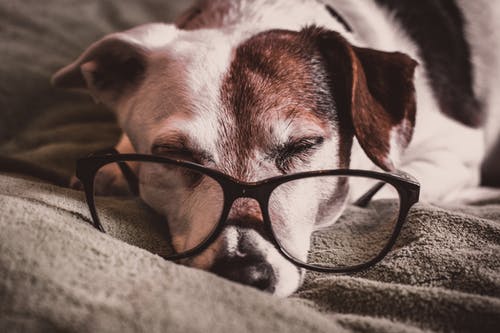 ingredients will essentially tell you what type of dog food (good or bad) you are holding.
Keep in mind that the ingredients listed on the package are based on weight. They are listed in order by weight, so it is safe to assume that a quality product will have the meat source at the very top of the list. For example, a real source of turkey should certainly outweigh that of grains and fillers that you will find down the list.. Without quality ingredients, your pet will simply not obtain the nutrition required to live a happy and healthy life. Here is a breakdown of healthy ingredients to look for:
Meat – Healthy source of protein that is provided by chicken, turkey, lamb, turkey, duck, etc.
Meat Meal – Another source of healthy protein. Complete meal is actually derived from the specific meat.
Fruits – Great source of fiber and antioxidants.
Vegetables – Essential source of healthy vitamins and minerals.
Grains and Carbohydrates – Healthy, but only if your pet is not sensitive to grains or may have allergies associated with this ingredient.
Most people feed their dogs prepared kibble or wet food. These processed foods might not be enticing to us, but they contain all of the nutrients dogs need to stay healthy. Most quality commercial foods are highly controlled and have undergone rigorous testing by pet nutritionists and veterinary experts. Let's take a look at some quality foods that are highly recommended by dog owners everywhere: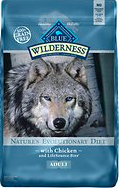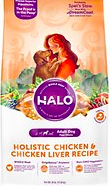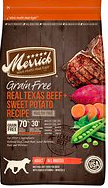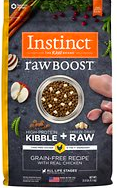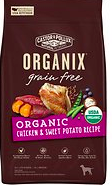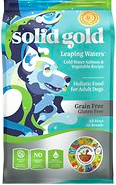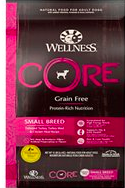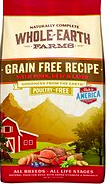 Blue Buffalo has controlled the shelves as the most popular brand on the market. Manufactured from whole grains such as oatmeal and brown rice, the carbohydrates in Blue Buffalo dog food will keep your dog's energy sustained and digestion regular.
Halo gives a low-carb option for your dog. The main ingredient in this top-notch brand is salmon, and the mixture is enhanced with flaxseed, turkey, and lots of vitamins and minerals.
Related to some other foods on this list, Merrick contains duck meat, salmon, and chicken in their products. However, Merrick has also consolidated probiotic bacteria to aid your dog's digestion.
Nature's Variety (Instinct)
Nature's Variety boasts some of the biggest meat content on the market. Give your dog to duck meat, salmon, and chicken all in one kibble. Because this product is brimming with healthy fats and protein, you may have to step in to make sure your dog stops eating after one bowl.
Nutro comprises of only real food ingredients along with some additional vitamins to give your dog an extra boost of nutrition. No chance your dog will become nutrient-deficient with this kibble.
Rich in protein, packed with healthy fats, and made with all-organic ingredients, Organix is an excellent choice for your dog. This product uses real chicken instead of the ambiguous "chicken meal" alongside whole grains.
This aptly-titled dog food (Solid Gold) contains all-natural ingredients, some of which are very healthy. Chia seeds, quinoa, and lentils are a few examples from the awesome list on the backs of these bags. With a huge amount of protein and zero chemical additives, this show is the way to go.
Wellness CORE's dog foods not only include the whole classic ingredients like chicken and turkey, but they also pack an extra health boost for your pet with other fruits and vegetables such as kale, blueberries, and sweet potatoes.
A favorite among consumers, Whole Earth Farms, uses meat concentrates that contain up to 300% of the protein in normal meat. Rich in protein and filled with added probiotic bacteria, this product is a good choice for your dog's dinner.
Final Thoughts
Providing a healthy and nutritional diet for your pet should not be taken lightly. By choosing a quality food, your four-legged companion will receive the essential ingredients needed to sustain a healthy life. In addition, you as the pet owner, may save hundreds of dollars in vet bills.
Those pets given a cheap, low-quality diet may acquire symptoms that can be associated to a poor diet. Any of the brands mentioned above are considered to be a quality product, and one that you should feel confident in. To purchase one of these brands, simply click on the specific name of each.