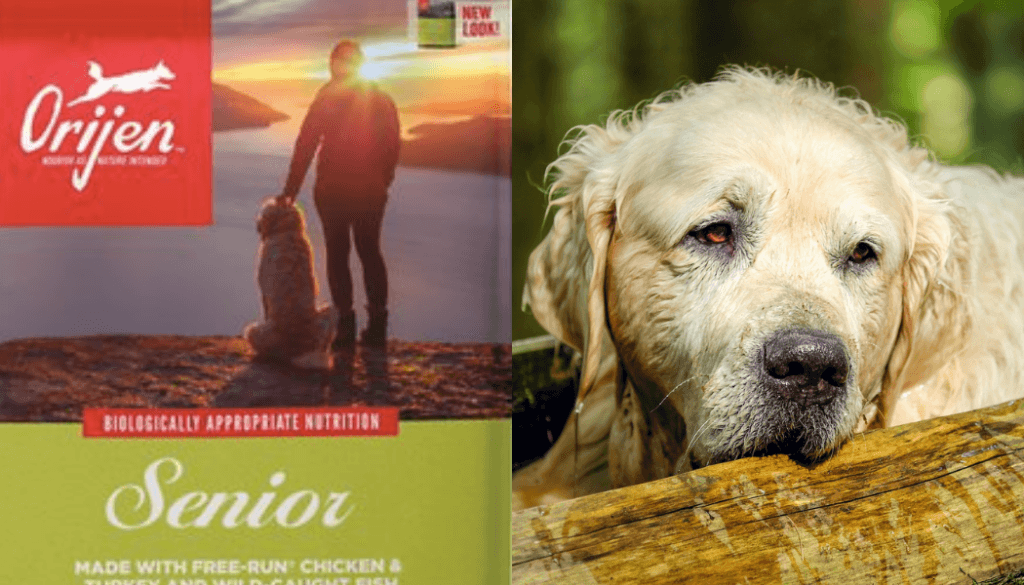 Our senior dogs have earned the right! They have been with us through thick and thin, and the love we have shared is priceless!  As they reach this stage of their lives, as dog owners we want to keep them happy and healthy. There are literally hundreds of dog food companies who provide a diet targeted for senior canines. Orijen Senior dog food is one of these. What should you know about this product?
In this article, we will answer this question and examine the benefits of senior dog food. Is the Orijen senior brand of dog food one that you should consider? What about the ingredients? Reviews? Recalls? Where to buy? Let's get started.
The Senior Dog … Information You May Not Know
Before we get into the diets designed for the senior dog, let's take a quick look at some interesting details. According to the American Veterinary Medical Association (AVMA), 'depending on a dog's breed or type, a dog who is 6-8 years of age can be considered a senior dog. Large and giant breeds mature late but have shorter life spans and age much more quickly than small or toy breed dogs.'
It's also important for you to keep an eye on any physical or behavioral changes in your dog once this stage of life is reached. Like us, as our dogs age, health issues including diabetes, kidney disease, heart disease, cancer and joint issues. Always consult your veterinarian should you notice changes in your pet.
If your senior is experiencing some health issues, your veterinarian may suggest that you provide a change in diets. We will get more into this below, and take a closer look at the Orijen Senior Dog Food formulas. Okay, at this point, let's go ahead and take a look at what senior dog food diets provide.
What Is The Benefit Of Senior Dog Food?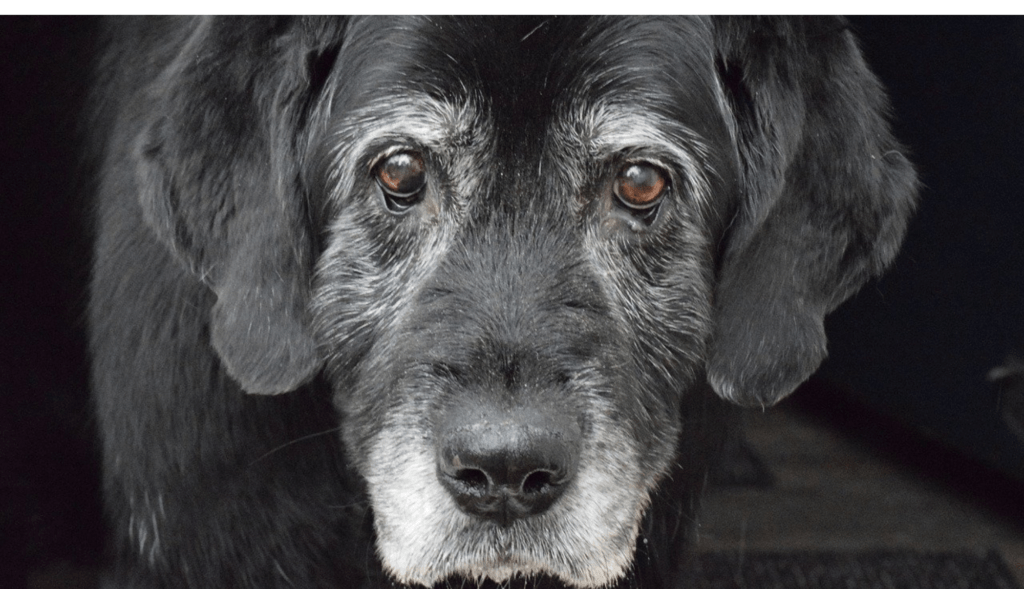 As our furry friends age, we may notice a number of changes taking place. Take a second to remember how your pooch may have acted when she was 2 or 3 years old. Running down the street chasing a squirrel, chasing a ball in the backyard, jumping on your bed at the end of the day. Sound familiar?
As dogs grow older, this type of activity becomes less and less ( metabolism slows.) The aging process takes a toll, and the energy level is just not the same. As a result of this, it is not uncommon to see our canines gain weight as fewer calories are being burned. Nutritional needs may change as well, which may suggest a change to a senior dog food diet.
Your veterinarian, after a thorough examination, may suggest a 'senior' diet may benefit your pet. Let's take a look at what and how these diets can assist in the aging process and the characteristics of most.   
Benefits To Consider
A nutritious, quality protein. (Helps to build and maintain your dog's muscle mass).
Antioxidants – Assists with the immune system.
Omega-3 Fatty Acids – Can help with kidney function, and helps to decease swelling and inflammation.   
Glucosamine and Chondroitin – Supplements that aid in cartilage and joints within the senior dog.
Dietary fibers to assist in gut health.
One final word regarding the term 'senior' as it relates to dog food.  According to the FDA, occasionally a product may be labeled for a more specific use or life stage, such as "senior" or for a specific size or breed. However, there is little information as to the true dietary needs of these more specific uses, and no rules governing these types of statements have been established.
Thus, a "senior" diet must meet the requirements for adult maintenance, but no more. In a nutshell, the term 'senior,' may be nothing more than a marketing tactic. That's not to say that your pooch would not benefit from a senior diet if specific conditions are diagnosed with the help of your vet. Let's now turn our attention to the Orijen Senior dog food.
Is Orijen Dog Food Good For Senior Dogs?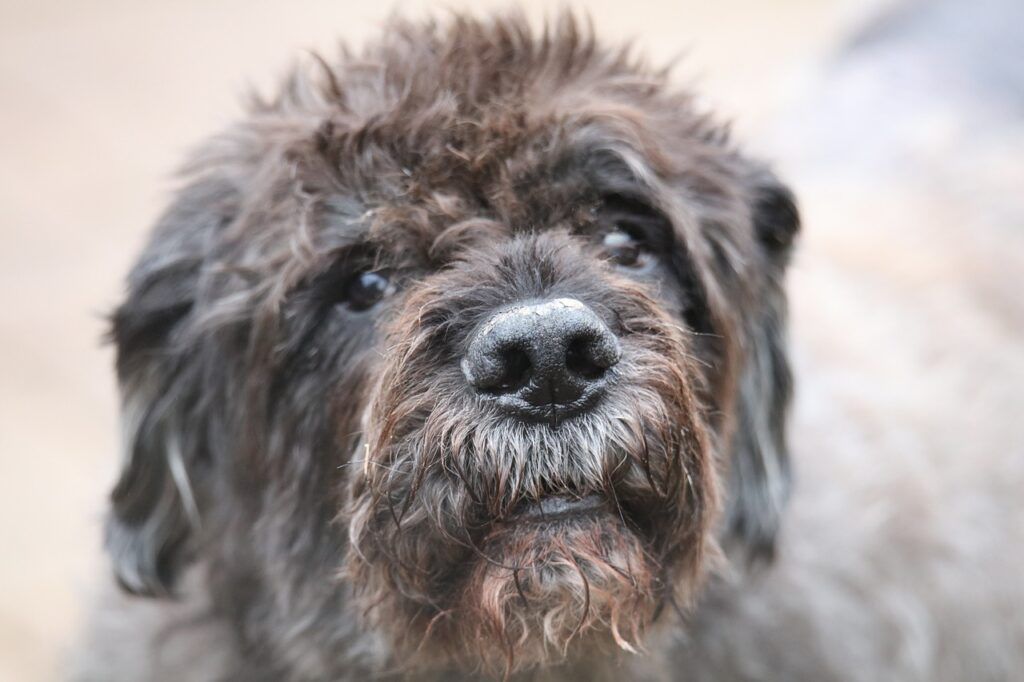 In my opinion, as well as my own experience with this product, the simple answer is yes. But why? The first thing you may recognize is the brand name itself. It is a popular brand amongst pet owners everywhere. I wrote an article not too long ago detailing the Orijen brand that you can find here.
To give you a better understanding of why I feel this way, let's take a closer look at such things as Orijen senior dog food ingredients, reviews, recalls, and other pertinent details. Let's start with the ingredients.
Orijen Senior Dog Food Ingredients … Rock-solid?
If you know anything about the Orijen dog food brand, you may be aware of some of the company's claims. One of these claims suggests that their dog food formulas consist of only the best ingredients. This claim also goes for the formulas targeted for the 'senior' dogs. Here is what their website states in terms of the senior recipes:
'ORIJEN® Senior recipe is crafted specifically for your senior dog to help them stay healthy by supporting lean muscle mass and weight maintenance. With rich inclusions of Wholeprey animals, ORIJEN senior dog food is made with the most nutrient-dense, succulent parts of the prey to deliver the nutrition dogs need. With 85%* quality animal ingredients, this diet is beyond comparison.'
When you read this statement, there should be one significant detail that grabs your attention. If you remember reading that with age, the senior dog may need a recipe to help build and maintain muscle mass. The company's statement listed above suggests that these recipes  contain 85% quality animal ingredients or protein. This ingredient checks off one of the benefits of the 'senior' recipes.
Orijen Senior Recipe … Quick Look At The First 6 Ingredients
For those of you that have followed my articles, you know that the first six ingredients listed, are the ones to consider. Here is the ingredient list for the Orijen Senior Grain-Free Dog Food:
Ingredients
Chicken, Turkey, Flounder, Whole Mackerel, Turkey Giblets (Liver, Heart, Gizzard), Chicken Liver, Eggs, Whole Herring, Dehydrated Chicken, Dehydrated Turkey, Dehydrated Mackerel, Dehydrated Chicken Liver, Dehydrated Egg, Whole Red Lentils, Whole Pinto Beans, Whole Peas, Whole Green Lentils, Whole Navy Beans, Whole Chickpeas, Lentil Fiber, Dehydrated Pumpkin, Natural Chicken Flavor, Pollock Oil, Chicken Fat, Pea Starch, Chicken Heart, Whole Pumpkin, Whole Butternut Squash, Collard Greens, Whole Apples, Whole Pears, Whole Cranberries, Dried Kelp, Zinc Proteinate, Mixed Tocopherols (Preservative), Thiamine Mononitrate, Calcium Pantothenate, Copper Proteinate, Dried Chicory Root, Turmeric, Sarsaparilla Root, Althea Root, Rosehips, Juniper Berries, Citric Acid (Preservative), Rosemary Extract, Dried Lactobacillus Acidophilus Fermentation Product, Dried Bifidobacterium Animalis Fermentation Product, Dried Lactobacillus Casei Fermentation Product.
All you need to do is to take a look at the first six ingredients (Chicken, Turkey, Flounder, Whole Mackerel, Turkey Giblets (Liver, Heart, Gizzard), Chicken Liver). Healthy sources of animal protein. This recipe also contains glucosamine (600 mg) to help with the immune system, Omega 3, Fatty Acids, Fruits and Vegetables and other nutritional ingredients. In my opinion, yes, rock solid.
Orijen Senior Dog Food Reviews … What They Are Saying
So far, so good, right? But why take my word? Well, I took the time to research a number of reviews by other dog owners using this product. Look, I get it, you can read reviews on individuals who own a Rolls Royce and find some negativity. This is true for any type of product, dog food or anything else.
With that out of the way, let's take a look at a few of these reviews (Chewy.com) to see what dog owners are saying. The product in question is the Orijen Senior Dog Food Grain-Free Dry recipe. Take a look:

In summary, 566 dog owners posted a review of this product. 87% were quite satisfied, giving this 5 Stars. 2% were unhappy with this product. 96% would recommend this product. Here's a few reviews on both sides of this review:
Great dog food and great Chewy delivery service
By Karen on Jan 12, 2022
My 11 year old Doberman has been losing her muscle mass. I found out that she needed more protein in her diet. After doing some research, I started her on the Orijen Senior grain-free dog food. She loves the taste. I think this is really going to help her. The Chewy delivery service makes it even better. They are always on time with their deliveries. Chewy makes life easier!
Quality! Well Worth the Extra $s
By VickiK on Jan 19, 2022
All my dogs are more than ten years old. This is the first "senior" food I've purchased and to my surprise all the dogs like it. I don't give my dogs only dry food but supplement it with freshly cooked chicken and good quality canned food. My five "oldies" will eat this dry food during the day and they all seem to like it. The food does not have a chemical smell like so many dry foods. Quite pleased and will continue to purchase Orijen Senior dry dog food.
My dog would not try it.
By LousMom on Jan 24, 2014
These ingredients seem good but my dog would not even take one taste.
Orijendogfood
By dogs2 on Jan 31, 2021
My senior would not eat it trying to find a kibble for her is difficult for me but it's just because she's old .. it's looks like a great food though just not for my baby girl
Recalls of the Orijen Dog Food Brand
Founded in 1985, Orijen pet food has never had a recall.
Final Word
As cute as our puppies are, I have a real soft spot when it comes to the senior dog. They have given us so much, and have asked for so little! Keeping these fellas healthy and happy for as long as possible, should be the goal for all of us.
In this article, we looked at one possible way to achieve this goal. Nothing is important as making sure that your old buddy received a nutritional, complete diet. We introduced the Orijen Senior dog food product, and examined this diet in a number of aspects. 
We looked at the benefits of a senior dog food, and in particular the Orijen brand. Such items as ingredients, reviews, and recalls were detailed to give you some insight regarding this product. Like so many of these reviews we looked at above, I would have no problem in recommending this product. I'm a fan of the Orijen brand.
Thank you for spending some time with me by visiting my site. I sincerely hope you now have a better understanding of what the 'senior' dog food is all about. For those of you who would like to locate where the Orijen Senior diet can be purchased , simply click on the images below. To the health of your pet!
This post may contain affiliate links and I may receive a small commission if you travel to the vendor website (Chewy.com) via affiliate links I provide, and make a purchase of one or more of my recommended products. The pricing or value of your product will not be affected whatsoever by doing so.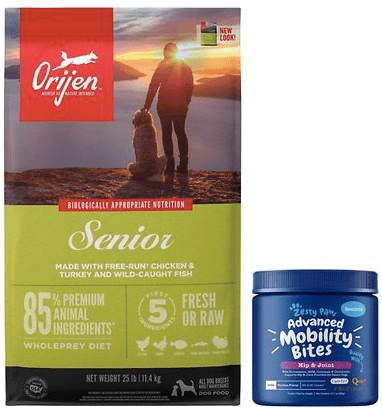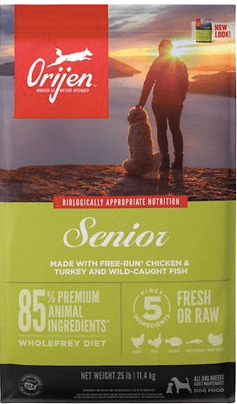 Disclaimer
For those unfamiliar with dog food grain-free recipes, there has and is a controversy taking place as I write this article. The FDA has made public that it has launched an investigation between a possible connection between the grain-free diet and heart disease within dogs. For further information, the American Kennel Club has provided further details. Click here.
Disclaimer
The purpose of this site and articles are intended to provide a source of entertainment and information. As a dog owner and dog lover myself, I enjoy researching dog food products on the market to provide you with helpful insights. I am not a veterinarian nor an animal nutritionist, just a dog owner who wants to provide a healthy lifestyle to their pet. I use my research to express an opinion which may or may not be one you agree with.