To be honest, I have seen the Orijen dog food bags on shelves of my local pet stores, but really didn't know much about this product. There weren't many Orijen dog food reviews to be found. I decided to press on and do the research myself. What I found may surprise you, and why this brand of dog food is different from others. Let's get started: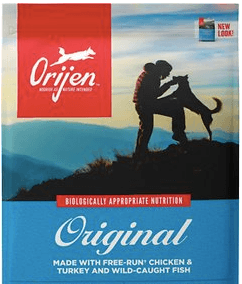 Who Makes Orijen Dog Food?
This brand of dog food is produced by the Champion Pet Food Company which is Canadian-based. Two separate plants are responsible for the manufacturing of these products (dog, cat). Plants are located in Alberta, Canada and the other in the United States (Kentucky). You won't find many dog food companies that have plants that actually produce pet foods in various countries.
Furthermore, it should be noted that the Orijen pet foods have been made for over thirty years now. This fact seems to suggest that Orijen has stood the test of time. The company continues to produce these pet foods as we speak today. With that said, let's now take a look at the ingredients that are used in producing these recipes.
Orijen Dog Food Reviews –  Is Orijen Good Dog Food?
Look, just because something is different, doesn't make it good. Orijen is different than other dog foods, but is it a good food? To answer this question, I've listed a number of specific characteristics that are consistent with the Orijen brand below. Let's take a look:
It is a Premium Dog Food – Premium suggests that the recipes will contain no preservatives, artificial flavors, fillers, synthetic colors, and a high quality animal protein. Definitions may vary, but a premium dog food will contain quality ingredients. Grain-free.
Biologically appropriate recipes – These meals represent what their ancestors consumed years ago.
Recipes consist of  healthy, fresh non-GMO ingredients. (GMO is an acronym that represents genetically modified organisms. Such food products as corn, soy are examples of ingredients that may have been genetically modified. Orijen claims to only use ingredients that are deemed natural)
 Ingredients used in these recipes (Fresh/Raw) are preserved to promote quality with nutritional value.
Recipes are formulated with healthy sources of protein, low in carbohydrates, and biologically suitable.
The company has partnered with farmers, fisheries and ranchers that are trusted to provide healthy, natural sources of product. The Orijen website states it best this way, 'No matter what, every ingredient we choose is selected for its nutritional value, digestibility and superior flavor.'
Never Frozen
So, in answering is, 'Orijen good dog food?, the answer for me is an emphatic, YES! Although the seven items mentioned above provides some insight into this food, there are just too many to mention in one article. Let's take a look at some of these ingredients that you will find in the Orijen products.
Ingredients In Orijen Dog Food
When researching this particular brand of dog food, the ingredients contained in the Orijen recipes are indeed impressive. Why is this? Well, in my opinion, the first five ingredients listed on any dog food label will tell you plenty about the quality of the food itself. The first couple of ingredients listed should contain a healthy source of protein such as chicken, beef, lamb, etc.
According to The Dog Daily, 'protein is a nutrient that provides four calories of energy per gram. A building block for muscles, organs, bones, and connective tissue. It makes up blood cells, antibodies, hair, and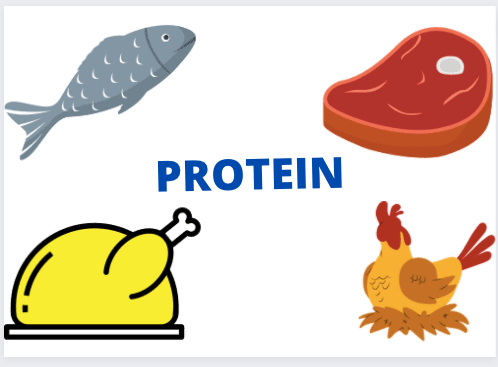 enzymes.' As you can see, a healthy source of protein is essential to our four-legged companions overall health. Orijen dog food, is indeed different, as the first five ingredients listed on their ingredient label consist of these healthy proteins.
In addition to these healthy proteins, the Orijen dog food recipes include a number of other healthy ingredients. High quality vegetables and fruits are included as well as botanicals. For those who are unsure with the term, 'botanicals,' Fidoseofreality.com explains it this way:
'Botanicals deal with botany, aka plants, and they occur in nature. If a product contains anything containing botanical like licorice root, angelica root, fenugreek, marigold flowers, sweet fennel, peppermint leaf, chamomile, dandelion, summer savory, it can be labeled as botanical. This does not necessarily mean totally healthy for your dog, but it generally means something "botanical" in nature is involved.'
What Else Makes The Ingredients Different In Orijen Dog Food?
As you can see, the Orijen Brand of pet food does indeed provide quality ingredients in their recipes. In my opinion, ingredients that are 'not' contained in these recipes is just as important as those that are. Unfortunately, there are just so many dog food products on the market today that provide little nutritional value. The Orijen recipes are just not produced in this way, and eliminate those ingredients that provide little to no benefit.
Below is a list of these ingredients that you won't find in the Orijen recipes. When searching for your pet's food, read the ingredient label and stay away from the following ingredients if at all possible. You will not find these ingredients on the Orijen label:
Artificial flavors, colors or preservatives
Unwanted fillers
Corn
Wheat 
Soy
It's just hard to argue with the ingredients that are contained within the Orijen dog food products. These ingredients certainly represent a 'Premium" type of pet food, and the company goes to great length to ensure a quality product. It's safe to assume that the ingredients used in these recipes will provide a healthy, nutritional meal to your best buddy.
What Does The Orijen Brand Offer To Dog Owners?
Like most dog food companies, Orijen offers a number of products to dog owners. These recipes are available in a number of sizes, flavors, life stages, special diets and breed size. To keep in this perspective, let's first take a look at the puppy recipe and continue through the life stages. 
Orijen Dog Food For Puppies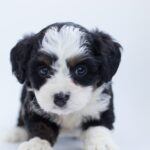 In my research, I actually found two formulas that are specifically designed for the puppy. One of these is actually crafted with the Large and/or Giant breeds in mind, while the other is a good fit for the Small, Medium and Large breeds. Each one of these recipes include a healthy source of protein that we discussed earlier in the article.
The Large breed recipe contains a healthy source of protein including Chicken, Turkey, Flounder, Whole Mackerel, and Chicken Liver. Hard to imagine that your pup wouldn't devour these tasty ingredients! With 85% of scrumptious animal ingredients, you can be sure that your little 'big' guy in getting a nutritional and biologically appropriate diet.
The puppy formula that is available for all puppy breed sizes, also provides the same type of nourishment as the the large puppy breed formula. This formula includes such ingredients as Chicken, Turkey, Turkey Giblets (Liver, Heart, Gizzard), Flounder, Whole Mackerel, and Eggs. For further details, simply click on each image below:
Note: This article contains affiliate links and offers, and I may receive a commission if you decide to purchase one of these products.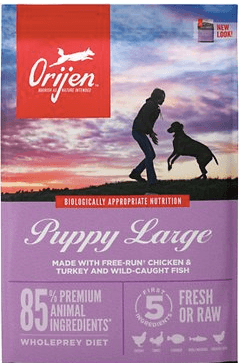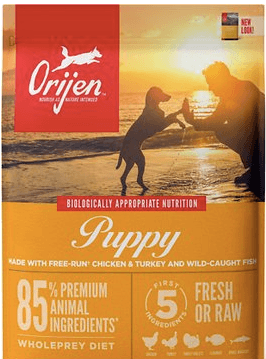 Orijen Adult Life Stage Recipes
As our pup enters the adult life stage, Orijen has you covered with a number of available recipes. Each of these recipes also delivers on the 'biologically appropriate' premise, providing a great meal. For your convenience, I have listed a number of these recipes below. Simply click on each product for further details.
Orijen Dog Food For Seniors
As we progress through the life cycle of our pup, Orijen also provides a formula for the senior dog. Just like our puppies, the senior companion requires a specific recipe as well. Specially formulated to support lean muscle mass and weight maintenance, this recipe consists of 85% premium animal ingredients. For a closer look, click on the image below: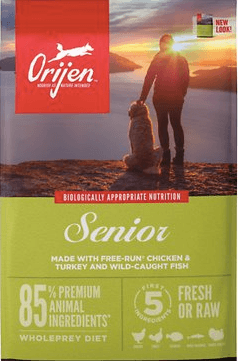 Recalls On Orijen Dog Food
No, this brand of dog food has never been recalled in the Canada or the United States. This is not to say that Orijen has come under attack with some unhappy customers. In addition, there have been a few lawsuits claiming that Champion Petfoods failed to disclose the presence of heavy metals and toxins in its pet foods.
Champion Petfoods denies these allegations, stating that these claims are, "meritless and based on misinterpretation of the data."It should be noted that one of these claims based out of Wisconsin, was dismissed by a federal judge in favor of Champion Petfoods. You can find all of this date on these lawsuits by clicking here.
What Makes Orijen Dog Food Different? Final Word
When researching this brand, and looking over the Orijen dog food reviews, one thing was quite obvious. It is different! With all the dog food brands on the market today, all claiming to have the best recipes, Orijen is indeed one of the best.
In this article, we have looked at a number of details regarding this brand, as well as those things that makes this brand different. let's recap these items below in a quick summary for your convenience. I would like to thank you for visiting my site, and hopefully gain some insight regarding the Orijen brand. Let's check out what makes Orijen different below:
Plants that manufacture this food are placed in two separate countries (Canada, United States)
Premium type of dog food and 'biologically appropriate '
Company claims that only 'natural' ingredients are used in their recipes
Ingredients used in these recipes are fresh, with partnerships with local farmers, fisheries, etc.
Recipes contain a 85% premium animal ingredients (Healthy sources of protein)
Formulas will not include such things as unwanted fillers, artificial flavors, corn, wheat , soy, etc.
Company offers recipes for various breed sizes, health conditions, and life cycles (puppy to senior)
No recalls
Disclaimer
For those unfamiliar with dog food grain-free recipes, there has and is a controversy taking place as I write this article. The FDA has made public that it has launched an investigation between a possible connection between the grain-free diet and heart disease within dogs. For further information, the American Kennel Club has provided further details. Click here.
Disclaimer
The purpose of this site and articles are intended to provide a source of entertainment and information. As a dog owner and dog lover myself, I enjoy researching dog food products on the market to provide you with helpful insights. I am not a veterinarian nor an animal nutritionist, just a dog owner who wants to provide a healthy lifestyle to their pet. I use my research to express an opinion which may or may not be one you agree with.