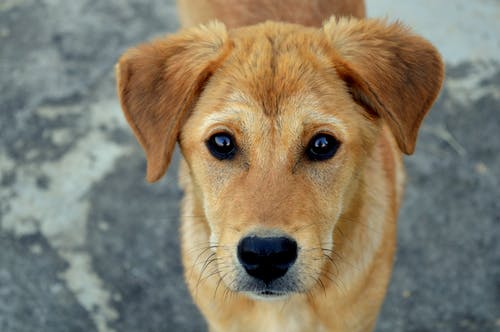 Still feeding your pooch a healthy diet of kibble? Nothing wrong with that. For those of you who are considering a change or addition to wet dog food, this article may be of great value to you. By reading, you will discover some very interesting details regarding canned food, and some suggestions in finding the healthiest wet dog food.
What Is The Healthiest Wet Dog Food?
Well, the answer to that question is a difficult one to answer. If you listen to or watch the dog food commercials that are popping up everywhere, it seems that every company out there claims that their brand is the best. Confusing, isn't it?
Without exception, there are definitely healthier brands on the market today as dog food companies are competing for your business. This holds true for the wet formulas of dog food, as this form continues to grow in popularity amongst dog owners.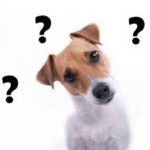 So what is the healthiest wet dog food? For you to answer this question, you must realize the needs of your own pet. In other words, what is good for your four-legged companion may not be the best fit for mine.
With that said, my research and experience does suggest a number of items that a healthy form of canned dog food should have. Let's take a look at these below:
The first ingredient listed on the label should be a meat source (protein Chicken, Fish, Lamb, etc.)
Formula that contains whole grains and vegetables.
Whole, natural ingredients.
One without unhealthy preservatives.
One that does not contain unnamed meats, or animal by-products.
One that has the 'complete and balanced' label that indicates that the recipe has been awarded by the AAFCO. (Association of American Feed Control Officials)
Why Choose A Wet Dog Food Form? Pros/Cons
Pros
As the old saying goes, "there's always two sides to every story." This also applies when we talk about canned dog food. Here is a list of some of the positives or 'Pros' associated with this form of dog food:
Seems to satisfy even the 'pickiest' of eaters (Smell and taste appeal)
The majority of wet dog food contains more protein than the kibble form
Helps in weight loss (Wet form will fill your pooch and requires less eating)
Digestion is an easier process
Most brands of the wet formulas contain better ingredients
Easier to chew, especially for those dogs with oral issues (Teeth, gums, older dogs)
Generally, better suited for dogs with food sensitivities
Fewer carbohydrates in most wet forms
Helps to build and maintain your dog's muscle tone
Most wet formulas contain fewer grains and starches
Variety (Not always a bad thing)
Has a longer shelf life while it remains unopened
Wet food contains roughly 60-78% water, which is higher in moisture than dry
Cons
Are there any negatives or 'cons' to wet form of dog food? Like anything else, there are a few of these associated with this form of dog food. Let's take a look at a few of these below:
Can be messy, especially for the dog who digs right in
Little more expensive than the kibble form
Reduces the act of chewing, as this massage is important to the health of gums and teeth
May result in loose stools with your pet
Unused portion of the wet food should be refrigerated as it will spoil quickly
Final Thoughts
Look, whether you choose to use the wet or dry form of dog food should be a decision based on a number of items. Things like your dog's age, activity level, underlying medical conditions should be considered in your choice. Speaking with your veterinarian is always something I recommend.
Above I listed a number of pros and cons associated with the wet form of dog food. As you can see, there are quite a few number of positives compared to the cons when it comes to the wet form.
To be honest, I choose to use both. To do so, I simply put half a cup or so on top of my pet's kibble that she enjoys during feeding time. Don't get me wrong, she gobbles down that wet form in no time and comes back to the kibble at her leisure. This process enables her to enjoy the benefits of the wet, and still getting the benefits of the dry.
For your convenience, I have listed a couple of wet forms of dog food below that I don't hesitate in recommending. I certainly hope that this article has brought you some further insight and helps you to make an easier decision when looking for the healthiest wet dog food.
When you buy something from this website, I may receive an affiliate commission. These are my opinions and are not representative of the companies that create these products. My reviews are based on my own personal experiences and research. I never recommend poor quality products or create false reviews in order to receive a commission. My intention is to provide you with information so you can make decisions to which products may best suit your needs.
Blue Buffalo Wilderness Turkey & Chicken Grill Grain-Free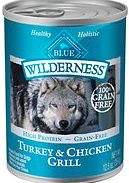 This recipe contains a healthy source of protein with natural ingredients. Other benefits include:
Made with the finest natural ingredients, including generous amounts of tasty and nutritious turkey and chicken
Made without any grain, a common allergy trigger for dogs
No corn, wheat, soy, chicken/poultry by-product meals, artificial preservatives, colors or flavors
B12 supplement improves gastrointestinal function, flaxseed boosts the immune system and chelated minerals improve immune system
A sensible alternative to less convenient raw diets, which often require additional supplementation to be nutritionally complete

2. Wild Frontier by Nutro Chicken & Liver Stew Adult Grain-Free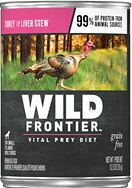 Another great choice that contains a healthy source of protein with a complete and balanced diet. Here are a number of the benefits this recipe offers:
Great-tasting, real turkey and liver recipe that delivers amino acids to build muscle, maintain a healthy metabolism and give your dog all that she needs to thrive and stay healthy.
Formulated to be high in protein to help keep your dog full and happy, plus it's made with real pieces of tomato and carrots for nutrition you can see.
Contains 99% protein from animal sources, plus vitamins, minerals and other nutrients necessary for your pal's well-being.
Complete and balanced diet comes in a delicious chicken broth for a stew that will make her tail wag every day.
Specially made to be true to the hunt, this adult canned dog food is packed with all the flavors your pal naturally loves.

All data and information provided on this site is for informational and entertainment purposes only and reflect the views of the mine alone. Eathealthydoggy.com makes no representations as to accuracy, completeness, timeliness, suitability, or validity of any information on this site and will not be liable for any errors, omissions, or delays in this information or any losses, injuries, or damages arising from its display or use.  Please note that each situation is different, and you should always consult your veterinarian should you have any questions about your pet's health.
Disclaimer
For those unfamiliar with dog food grain-free recipes, there has and is a controversy taking place as I write this article. The FDA has made public that it has launched an investigation between a possible connection between the grain-free diet and heart disease within dogs. For further information, the American Kennel Club has provided further details. Click here.
Disclaimer
The purpose of this site and articles are intended to provide a source of entertainment and information. As a dog owner and dog lover myself, I enjoy researching dog food products on the market to provide you with helpful insights. I am not a veterinarian nor an animal nutritionist, just a dog owner who wants to provide a healthy lifestyle to their pet. I use my research to express an opinion which may or may not be one you agree with.