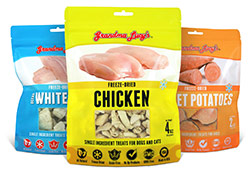 Back again dog lovers, with a look at a brand of dog treats that I have not considered. In my research, I learned some interesting details regarding this brand and wanted to share my findings with you. Have you heard of Grandma Lucy's Dog Treats? If not, you are not alone! In this article, I will take a detailed look at this brand of dog treats and the benefits associated with these products. Let's get started.
Who Is This Grandma Lucy?
Well, if you thought that Grandma Lucy was a sweet old lady who spent her days making chocolate chip cookies and rocking in her favorite chair, you thought wrong! Don't feel confused by this, so did I! Okay, so who is this Grandma Lucy?
Here you go: This Lucy was actually a 11 year old English Cocker Spaniel who seemed to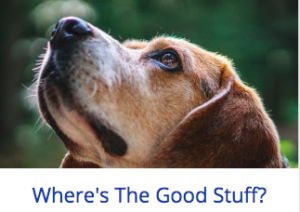 be turning her nose up at any type of food or treat placed in front of her. She had developed food allergies that resulted in her 'picky' behavior. As a result of this, Lucy's pet parent (Breann) decided to take on this challenge, and started to cook Lucy's food and treats at home. This was a quite a success, as Lucy found these home cooked meals quite delicious.
Realizing that many pet owners didn't have the time or had the desire to cook their pet's meal from home, Lucy's owner decided to provide these products to others. The operation began in 1999 and has grown in size throughout the years.
Why Choose Grandma Lucy's Treats?
Okay, now you know where the name originated from, but why choose the Grandma Lucy's Dog Treats over the thousands you can find on the market today? To answer this question, I have listed a number of characteristics below that may help in answering this question. Let's take a look at some of these below:
All products are made in the USA (California). Some treats are made in Canada with sourced ingredients from the USA.
Variety of treats to choose from (More on that later)
Family-owned and operated
Human-grade quality ingredients
100% Customer Product Guarantee
Ingredients are free from preservatives and chemicals
Quality Assurance (Suppliers and growers must meet guidelines set forth by the Grandma Lucy Company)
What Is Different About The Grandma Lucy's Treats?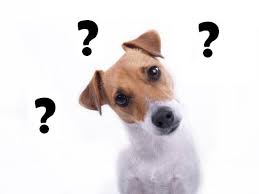 Look, not all dog treats are created equally. In today's market, you can find a number of dog treats in various sizes, forms and prices. With that said, there are a number of things that make the Grandma Lucy's Dog Treats somewhat different than others. Here you go:
Human-Quality Ingredients – Great place to start! The company claims that the ingredients used in their dog treats are wholesome, delicious and natural.
Variety – The company offers a number of treats that gives the dog owner an option in choosing a treat that best fits the needs of your own dog.
Nutrition – Made with whole and natural ingredients, your furry friend will receive a quality source of nutrition. No by-products or meat meals.
Processing – Different processes being used to produce these treats.
USDA Inspected and Approved Ingredients.
Now, this is not to say that other dog treats don't contain some or most of these features, but it does indicate that the Grandma Lucy's Dog Treats does supply value. Let's take a closer look at the five items listed above in much more detail:
Human-Quality Ingredients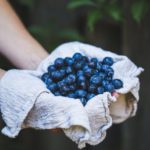 When you consider the term, 'human quality or human grade ingredients,' it makes sense as it relates to dog food and dog treats. In short, the ingredients used in the treats that are produced by Grandma Lucy are suitable for human nourishment. Now, I'm not suggesting you share a bag of treats with your pooch, but it does suggest that these ingredients used to produce these treats are of high quality.
This belief is actually at the core of the company's motto, where basically any treat that is not appropriate for humans, shouldn't be fed to pets either. The Association of American Feed Control Officials (AAFCO) states ,"that there have been "human-grade" claims on some pet foods for a few years. This term has no definition in any animal feed regulations. Extremely few pet food products could be considered officially human edible or human-grade. A pet food that actually met these standards would be expensive. While pet owners can buy what they feel is best for their pet, they should understand the definitions and the odds."
For those curious about where the ingredients are sourced, this diagram below illustrates this perfectly. 87% of these ingredients are in fact, sourced from the USA.

Variety
Grandma Lucy's offers a number of treats that are available in various forms as well as flavors. At the end of this article, I will give you a list of the Grandma Lucy's dog treats that are organic (Oven Baked) and Freeze-Dried. More on both of these a bit later.
Nutrition
With so many treats on the market today, finding one that provides a healthy nutritional value to your pet, should be top priority. Grandma Lucy's makes this claim in not only the treats they produce, but in their meals as well.
The company emphasizes the quality of their treats through the ingredients that are sourced and used in their products. In short, the treats provide a healthy and nutritional source of ingredients.
Processing
The company primarily uses a couple of methods in the processing of their treats. Their organic treats are 'Oven Baked' through the processing where the singles (Single Ingredient) are Freeze-Dried.
USDA Inspected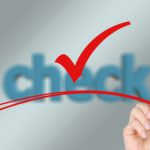 Grandma Lucy's ingredients are USDA inspected and approved from worldwide suppliers who the company trusts and have built relationships with over the years. The company is proud to claim that pet owners should be confident in products they choose for their pets.
A Look At The Two Type Of Treats ( Oven Baked / Freeze-Dried )
Let's now take a look at two types of treats that are processed in different ways. Here's a look at the Oven-Baked Treats and what the company has to offer.
Grandma Lucy's Organic Oven-Baked Treats are not produced in a factory but are made in a bakery by individuals who love pets as well. They are made with natural ingredients that are certified organic and Kosher certified. Without added preservatives, pets are getting a natural, wholesome treat. Here are a few of these treats listed below:
When you buy something from this website, I may receive an affiliate commission. These are my opinions and are not representative of the companies that create these products. My reviews are based on my own personal experiences and research. I never recommend poor quality products or create false reviews in order to receive a commission. My intention is to provide you with information so you can make decisions to which products may best suit your needs.
Grandma Lucy's Organic Oven Baked Dog Treats
1.Grandma Lucy's Organic Blueberry Oven-Baked Dog Treat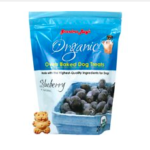 2. Grandma Lucy's Organic Pumpkin Oven-Baked Dog Treat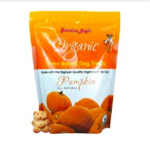 3. Grandma Lucy's Organic Apple Oven-Baked Dog Treat

4. Grandma Lucy's Organic Banana & Sweet Potato Oven-Baked Dog Treat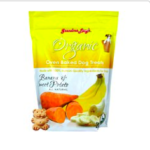 5. Grandma Lucy's Organic Cranberry Oven-Baked Dog Treat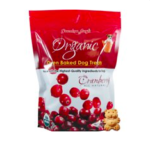 6. Grandma Lucy's Organic Coconut Oven-Baked Dog Treat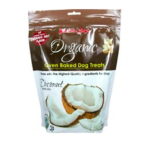 As you can see, these Oven-Baked treats come in a number of tasty flavors that all provide nutritional value to your four-legged companion. These treats are crunchy, and come in a 14-ounce bag.
What Are Freeze-Dried Treats?
Some, if not many dog owners, would argue that Freeze-Dried food is the best option for pets for a number of reasons. The freeze-dried process includes a stage where the food is actually flash frozen at an ultra-low temperature.
Next, the moisture is actually removed with a vacuum process which helps to eliminate microorganisms and bacteria that simply can't survive without moisture. This process helps to ensure that the nutrients remain in good standing. A final stage of drying takes place next, removing as much water and moisture still remaining. This entire process is based on the principle of protecting and maintaining its nutritional value and staying preservative free.
Now that you are familiar with the freeze-dried process, let's now take a look at Grandma Lucy's Freeze-Dried treats. Here you go:
Grandma Lucy's Freeze-Dried Singles Dog Treat
1.Grandma Lucy's Freeze-Dried Singles Chicken Dog Treat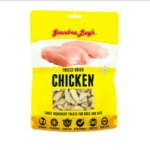 *Single Protein Source of 100% USA sourced chicken.
*Great Choice For Dogs With Sensitive Stomachs or Allergies.

2. Grandma Lucy's Freeze-Dried Singles Sweet Potatoes Dog Treat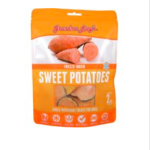 *Single Ingredient is Sweet Potato
*Sweet potato is among the most nutritious vegetables and an excellent source of Beta-Carotene, Vitamin A, Vitamin C and Vitamin E.

3. Grandma Lucy's Freeze-Dried Singles Liver Dog Treat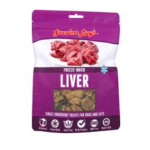 *USDA Single Ingredient is Whole Chicken Livers.
*Great for dogs with allergies or sensitive stomachs.

4. Grandma Lucy's Freeze-Dried Tiny Tidbits Meatballs CheeseBurgers Dog Treat
*Great Treat For Small Dogs and Puppies.
*Homemade recipes combined with state of the art freeze-drying technology.

5. Grandma Lucy's Freeze-Dried Singles Pork Dog Treat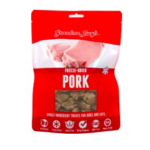 * 100% USA sourced pork, great for dogs with allergies or sensitive stomachs.
*Made without any artificial preservatives, colors or sweeteners, grains, GMOs, by-products, hormones or antibiotics.

This gives you a pretty good sample of what Grandma Lucy's has to offer with its treats. For the complete listing, simply click HERE.
Final Thoughts
Throughout my research and reviews of dog food and dog treats, one thing that always comes to the forefront is the significance of ingredients. Without quality, nutritious and wholesome ingredients, any type of food or treat just can't be recommended.
You have just read about a company, Grandma Lucy's, that are indeed focused on quality ingredients in their treats. They produce their treats with human quality ingredients, and go to great lengths in assuring these ingredients are inspected and approved.
In addition, Grandma Lucy's offers a number of healthy and wholesome treats in various flavors to provide a nutritional benefit to your pooch. In my opinion, the Grandma Lucy's Oven-Baked and Freeze-Dried treats are definitely ones to consider.
Thank you for visiting my site, and please feel free to leave a comment below or have a question I may help you with. To your health, and your pet's!
Disclaimer
For those unfamiliar with dog food grain-free recipes, there has and is a controversy taking place as I write this article. The FDA has made public that it has launched an investigation between a possible connection between the grain-free diet and heart disease within dogs. For further information, the American Kennel Club has provided further details. Click here.
Disclaimer
The purpose of this site and articles are intended to provide a source of entertainment and information. As a dog owner and dog lover myself, I enjoy researching dog food products on the market to provide you with helpful insights. I am not a veterinarian nor an animal nutritionist, just a dog owner who wants to provide a healthy lifestyle to their pet. I use my research to express an opinion which may or may not be one you agree with.
eathealthydoggy.com assumes no responsibility or liability for the use or misuse of what's written on this site. You should always consult with a veterinarian if you should have questions regarding your dog's diet or overall health.