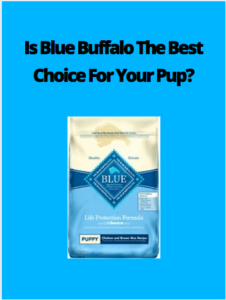 Anything cuter than a puppy? Of course there isn't, and keeping them healthy and happy is our number one priority as pet parents. What we feed these bundle of joys will go a long way in the development and overall health of our pups. In this article, you will learn important details in my Blue Buffalo Puppy Food Review, and determine if this meal is the right one for your pup.
This specific brand is quite popular with dog owners throughout the country, but how do you know if it is best choice for your pet? With so many dog food choices on the market, I want to zero in on this particular brand and point out some pros and cons associated with this product. Let's get started:
Who Is Blue Buffalo?
Blue Buffalo is a company that produces food and treats for both dogs and cats. It is owned by General Mills, Inc. who purchased Blue Buffalo Pet Products in 2018. The purchase price was approximately a whopping $8 Billion dollars.
If you are wandering where the 'Blue' in the company's name comes from, it is really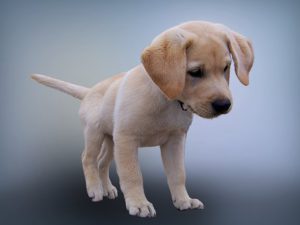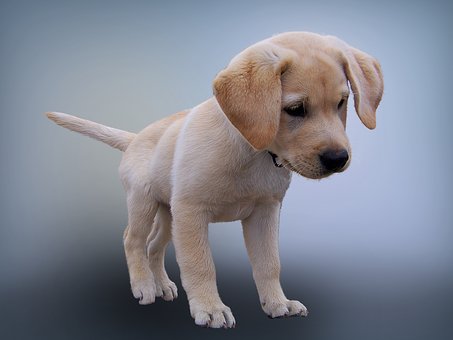 quite unique. Blue was the name of the original owner's dog, an Airedale who battled cancer throughout his life. Due to this unfortunate illness, the proud and loving pet parents (Bill Bishop & Family) decided to design a food that was super premium and one made of healthy and nutritious ingredients.
Founded in 2003, the company has worked hard to ensure that their formulas are designed to keep pets healthy and claim that their products are made with the finest ingredients. Their recipes include a real meat first, and will not contain wheat, soy, or corn. They believe our pets are an extension of our families, which is illustrated in this video below:
What Recipes Does Blue Buffalo Offer For Puppies?
There are a number of recipes offered with the pup in mind, and are available in both the dry and wet formulas. For your convenience, I have listed a few of these formulas below in both the dry and wet formulas. Here you go: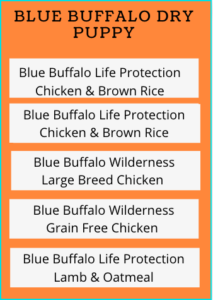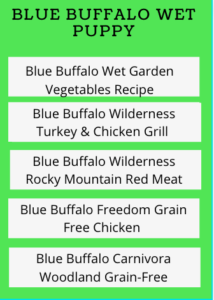 As you can see the, Blue Buffalo Company offers a variety of recipes in both the dry and wet forms. Offering a number of healthy meat choices also gives puppy owners a number of formulas to choose from.
Why Do Puppy Owners Prefer Blue Buffalo?
As part of my research, I looked into a number of sites that presented feedback on the Blue Buffalo puppy recipes. Because of the Blue Buffalo popularity, there was a substantial amount of reviews to draw from. Let's take a look at a few of these specific products and what actual customers had to say.
Blue Buffalo Life Protection Chicken & Brown Rice Recipe (Dry)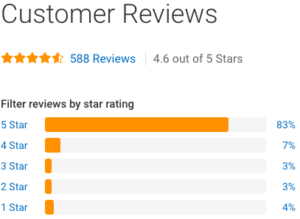 Not bad! Out of 588 puppy owners who fed their pups this specific formula, 83% of these individuals give this product a 5 Star rating. These customers (490 total) shared that their pups loved the taste of this recipe and were happy with the overall health with energy and stamina being mentioned. The 1 Star? Well, twenty-four of these customers who purchased and used this product were not happy. The majority of these reviews stated that their pups were simply not interested in this product (taste) and refused to eat.
2. Blue Buffalo Wilderness Rocky Mountain Red Meat Recipe (Dry)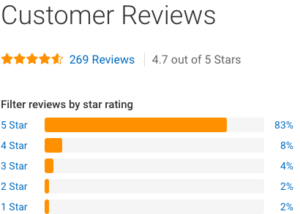 Once again, customers using this product posted very favorable reviews. Of the 269 reviews, 83% gave this product a 5 Star rating. Once again, these pup owners stated that their pups loved the taste of the food, and saw positive changes such as a shiny coat, proper digestion, and more energy when using this product. Unhappy customers ( 2% and 6 Reviews) stated that their dogs  simply didn't like the taste.
3. Blue Buffalo Homestyle Chicken With Garden Vegetables (Wet)
Looking at this specific wet puppy food recipe, you can see once again that the customers using this product seem to be quite satisfied. Out of 155 reviews, puppy owners gave this product a Five Star at 88%. These reviews stated that their pups loved the taste of the food and the addition of vegetables was a plus. For those customers who rated this product with a One Star, they stated that their pups simply didn't like the taste.
Although a small sample, you can see from the Blue Buffalo Puppy Food Review reviews that the majority of puppy owners seem to be quite happy with these recipes. It appears that a common thread regarding these reviews is based on the taste of these recipes. Pups seem to really enjoy the taste, and puppy owners have seen benefits to their overall health.
Blue Buffalo Dog Food – The Pros
Based on the reviews you have just read, it seems that the Blue Buffalo Puppy Formulas is quite popular with puppy owners. To illustrate this point further, let's take a look at a few additional 'pros' associated with this brand of dog food: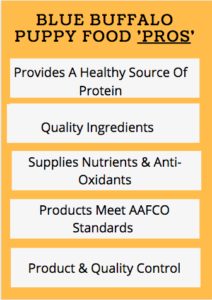 Blue Buffalo Dog Food – The Cons
As with any product or service, there will always be a negative associated with it. Is Blue Buffalo puppy food perfect in every way? Well, to answer this question, I have outlined a number of 'cons' that you can view below. Here you go: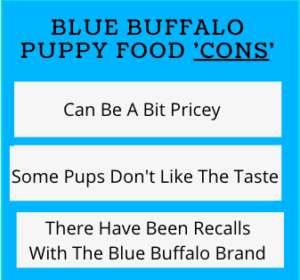 To be fair, the pros and cons associated with these products are not all inclusive. For example, some pups seem to enjoy the flavor and taste of let's say, the Blue Buffalo Wilderness Puppy recipe, where others prefer the Blue Buffalo Chicken & Vegetables Puppy recipe.
Keep in mind also that Blue Buffalo offers recipes for the small, medium and large breed puppy as well. These formulas are specifically designed to meet the nutritional requirements of these pups, so keep this in mind when selecting a recipe.
Where To Find Blue Buffalo Puppy Food
This particular brand of dog food can be found in most pet stores throughout the United States. The same can be said for the 'Puppy' recipes. As a dog owner myself, I have always been drawn to a specific company (Chewy) where my products are delivered to my front door and in a timely manner. More on that in a second.
Final Thoughts …Blue Buffalo Puppy Food Review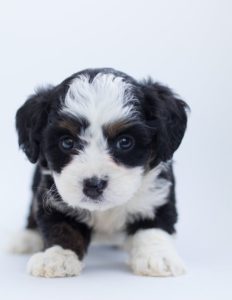 I certainly hope this puppy dog food review has given you some information to assist you in your search for a quality, nutritional food. As mentioned earlier, the Blue Buffalo brand is popular amongst dog owners and trusted by many. In my opinion, this is a brand that you might want to consider for your pup.
I would also highly recommend that you always consult with your local veterinarian before choosing on a specific brand. Start a dialogue with your vet and come up with a plan to meet the needs of your puppy. To you, and the health of your pup!
When you buy something from this website, I may receive an affiliate commission. These are my opinions and are not representative of the companies that create these products. My reviews are based on my own personal experiences and research. I never recommend poor quality products or create false reviews in order to receive a commission. My intention is to provide you with information so you can make decisions to which products may best suit your needs.
For those puppy owners who would like to see the number of Blue Buffalo Puppy Recipes available to you, simply click HERE to find these.
Disclaimer
For those unfamiliar with dog food grain-free recipes, there has and is a controversy taking place as I write this article. The FDA has made public that it has launched an investigation between a possible connection between the grain-free diet and heart disease within dogs. For further information, the American Kennel Club has provided further details. Click here.
Disclaimer
The purpose of this site and articles are intended to provide a source of entertainment and information. As a dog owner and dog lover myself, I enjoy researching dog food products on the market to provide you with helpful insights. I am not a veterinarian nor an animal nutritionist, just a dog owner who wants to provide a healthy lifestyle to their pet. I use my research to express an opinion which may or may not be one you agree with.
eathealthydoggy.com assumes no responsibility or liability for the use or misuse of what's written on this site. You should always consult with a veterinarian if you should have questions regarding your dog's diet or overall health.