Sensitive Stomachs In Our Dogs … What Are You Feeding Your Pet?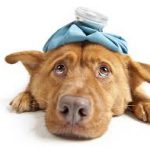 It's strange how some dogs can handle just about everything they consume, while others tend to eject just about anything! Dogs are no different than us as it relates to the subject of sensitive stomachs. This can indeed be problematic for our pets and their owners. From a personal standpoint, I have dealt with this issue with my Afghan Hound, and wanted desperately to find a solution to this problem. Determining what is the best dog food for sensitive stomachs became a primary focus for me, and promptly began a research in hopes of finding a solution to this issue. I would like to provide you with the results of my research, and share with you some helpful insights along the way.
Okay, let's get started. You place food in your dog's bowl, it is consumed with a great deal of enthusiasm, and minutes later you discover it heaped on your kitchen floor.  Yuck! Why is this happening? Why can't he/she 'keep it down'? The answer to these questions may not be easy ones to answer! There may be many underlying factors causing this, but let's assume it may be the food our pet is eating. Keep in mind that many pet foods contain certain ingredients (fat, fiber, protein) that some dogs just don't tolerate well. Where do we go from here to determine the best dog food for sensitive stomachs?
5 Steps To Consider … Don't Over Look These!
Let's take a closer look at the exact steps I took in resolving this issue:
See your veternarian to rule out other health issues that may be causing this issue.    (Most Important Step)
Determine if you, as the owner, have made changes to your dog's diet. (Different brand of food, treats, etc.)
Do some research into the specific brand (dry and wet) you are feeding your dog. (Recalls, added ingredients, etc.)
Other changes in your dog's behavior ( sleeping patterns, amount of water consumed, changes in stool composition, energy level, flatulence, etc.)
Completely eliminate extra food sources to determine if this may be the cause. (Table scraps and treats)
Once you have checked all of these boxes, and have determined that perhaps it's time to consider a new type of food for your sensitive stomach pet, let's take a look at a few.
5 Step Formula To Get Your Pet Back On The Right Track …
I would suggest that before you go out and buy a different brand of dog food, that you continue a dialogue with your vet who may be able to suggest a specific brand to try. No one, including your vet, knows your pet better than you do, so follow the 5 steps mentioned above before deciding on a choice of Best Dog Food For Sensitive Stomachs. Just know that a specific food that has been successful for one pet owner,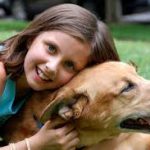 may not produce the same results for your pet. Like us, dogs have their own individual differences. With so many brands on the market, choosing a food that will be appropriate for your dog's needs, will not be an easy one. Through my research, I have found that following this simple formula will make this task much easier:
Look for a specialized food that focuses on the issue of 'sensitive stomachs.'
Find a food consisting of quality, healthy ingredients.
Consider changing the meat source to duck, lamb, or venison.  (Some dogs don't tolerate chicken and or beef as a protein source)
Consider a grain-free food, without any artificial ingredients.
Consult with your vet and/or dog nutritionist for feedback on the food of your choice.
Following the guidelines above and doing further research, I was able to eliminate many of the brands on the market today and then focused on the best choice for my dog. I will list my top four choices of the Best Dog Food For Sensitive Stomachs below and give some further insight into the entire process including results with my own dog.Note:
This article contains affiliate links and offers, and I may receive a commission if you decide to purchase one of these product
#1 Wellness Simple Natural Limited Ingredient (Dry)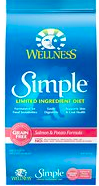 Description:
Available in dry and canned

Formulated to be easily digestible with fewer ingredients for dogs with food sensitivities, allergies or ingredient intolerances.
Starts with a single source protein from real, high quality meat and mixes in easily digestible carbohydrates for complete, balanced nutrition.

Contains only premium, all natural ingredients with no gluten, wheat, fillers or artificial additives.    

Backed by the Wellness Guarantee and proudly made only in the USA.
 Pros: 
Natural, limited ingredient diet for dogs with food sensitivities or food allergies.
High-quality meat as the first ingredient.
Does not contain grains, gluten or wheat.
Easily-digestible formula with probiotics and probiotics.
Nourishes healthy skin with flaxseed
Available in dry and canned
Cons:
Some dogs find the kibble to be hard and difficult to chew
A bit pricey
Click Here To Purchase This Product And Have It Shipped Directly To Your Home!
#2

Purina Pro Plan Sensitive Skin and Stomach
Description:
Manufactured in Purina-owned U.S.A facilities without the use of added artificial colors, flavors or preservatives.
This unique formula includes added zinc to help nourish the skin and promote a healthy shiny coat.
Highly digestible formula with prebiotic fiber to maintain intestinal balance and to promote digestive health.
Crafted with Omega-3 and Omega-6 fatty acids to promote healthy joints while increasing mobility.
This 100% complete and balanced diet is rich in powerful antioxidants to support a healthy immune system.
Pros: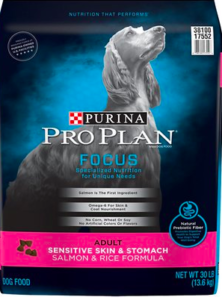 Made with high-quality ingredients that work cohesively to soothe sensitive systems and deliver precise nutrients.
Formula is designed to support healthy skin while promoting soft and shiny coats.
Antioxidants help support immune system health while wholesome barley settles sensitive stomachs.
Less expensive than most.
Cons:
Some owners find the smell of the food a bit strong.
Minimal flavors available.
May cause gas with some dogs.
Click HERE TO GET THE BEST PRICE!
#3

 Blue Buffalo Blue Basic Adult Recipe
Description:   Available in dry and canned       
Calcium and phosphorus to promote strong bones and teeth.
Omega 3 & 6 to promote healthy skin and coat.
Vitamins, minerals and antioxidants for immune system health.
Glucosamine to support joint function.
No chicken or poultry by-product meals, corn, wheat, soy, dairy or eggs.
Pros:
This Grain-Free Turkey & Potato Recipe is a limited-ingredient diet formulated to minimize food sensitivities.
 Made with natural ingredients.
First ingredient consists of real turkey, recipe is easy on digestive system.
Cons:
Kibbles are a little large, more appropriate for middle and larger sized dogs.
Click HERE To Purchase This Product At A Great Price!
#4

Hill's Science Diet Adult Sensitive Stomach
Description:
Available in dry and canned
Exclusive blend of omega 6 fatty acids, vitamin E and other nutrients promotes healthy skin and a glossy coat.
Clinically proven antioxidant blend with vitamins C and vitamins E to help support a healthy immune system.
Natural, high quality, easy-to-digest ingredients with no artificial colors, flavors or preservatives for a flavorful, nutritious meal.
Gentle on the stomach and balanced and complete nutrition for everyday feeding.
Recommended for adult dogs with sensitive or upset stomachs, loose stool or sensitive skin.
Pros:
 Provides precisely balanced nutrition for sensitive digestive systems and to improve skin and coat health.
Nutritional recipes that enhance overall health in dogs.
Cons:
Morsels may be a little large for smaller dogs.
Smell may be a little strong for some.
May cause gas in some dogs.
Click HERE To Purchase This Product At A Great Price!
The Right Choice For Me … More Importantly, My Dog!
After eliminating a number of brands through my research, the four brands of food mentioned above were the four that I felt most comfortable. All of these brands are, in my opinion, quality, healthy foods. For the specific needs of my pet, I chose and have been feeding her the Wellness Simple Natural Limited Ingredient recipe. My dog has responded well to this food, enjoys the taste, and no longer has issues with the vomiting. She indeed looks forward to feeding time, and the process from intake to outtake has shown to be an easy and healthy one. My hound has now been on this recipe for three months, with no signs of issues regarding her health.
Best Dog Food For Sensitive Stomachs and Helpful Hints …
Do some research on your own and always start with a visit, dialogue with your veterinarian
Take notice of your pet's behavior, specifically in any changes within the feeding process ( weight gain, vomiting, etc.)
When introducing a new recipe to your dog, do it gradually. ( Roughly 85% of old with 15% of new) With this process you should be able to completely eliminate the old and only serve the new recipe after 7 to 10 days.
During this time of crossover, eliminate treats and any table scraps. ( I know, it was difficult for me as well!)
Provide your dog with fresh water more frequently during this process.
I certainly hope this review will be beneficial to you and your pet. Like you, my four-legged companion means the world to me, and when I see her in distress, it effects me profoundly. Dealing with the issue of a sensitive stomach can be a tricky and complicated one, so gather as much information as you can. There are literally hundreds of food brands out there, so make sure you find the  Best Dog Food For Sensitive Stomachs that centers on this issue. Best of luck in your search and feel free to leave a comment or ask a question below. To your healthy pet!
Disclaimer
For those unfamiliar with dog food grain-free recipes, there has and is a controversy taking place as I write this article. The FDA has made public that it has launched an investigation between a possible connection between the grain-free diet and heart disease within dogs. For further information, the American Kennel Club has provided further details. Click here.
Disclaimer
The purpose of this site and articles are intended to provide a source of entertainment and information. As a dog owner and dog lover myself, I enjoy researching dog food products on the market to provide you with helpful insights. I am not a veterinarian nor an animal nutritionist, just a dog owner who wants to provide a healthy lifestyle to their pet. I use my research to express an opinion which may or may not be one you agree with.
eathealthydoggy.com assumes no responsibility or liability for the use or misuse of what's written on this site. You should always consult with a veterinarian if you should have questions regarding your dog's diet or overall health.