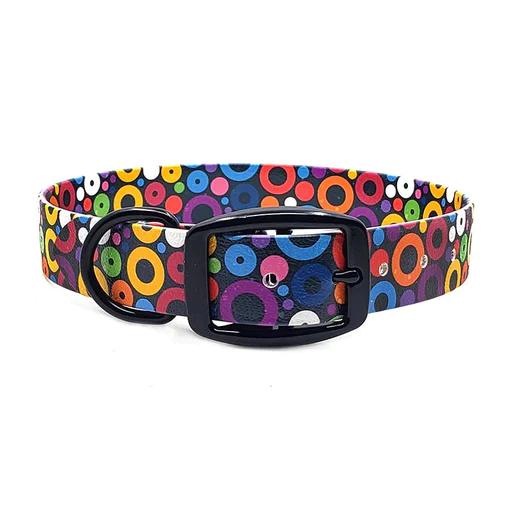 Hello there, I'm assuming you are reading this article because you are a dog owner like myself. More specifically, your interest in dog collars may have lead you here. If so, I think you will find this article helpful in identifying some of  the vast number of the very best dog collars on the market today.
In this article, we will take a look at five of these collars, that are quite popular with dog owners. In addition, we will better understand the functions of these collars and which one(s) may be the best choice for your pup. This choice should take into consideration such things as comfort, safety, training or even style. Let's jump in:
Note: This article contains affiliate links and offers, and I may receive a commission if you decide to purchase one of these products.
What Are The Best Dog Collars?
Before we jump into a number of specific dog collars, I think that it is important to first understand what 'makes up' the best dog collar. There really is no one answer fits all here, as the best dog collar should meet the needs of your pet. In other words, what are the needs of your four-legged companion? Training, safety, or style? Regardless of these needs, selecting a quality and reputable collar should be your first priority.
With this in mind, I have listed a total of five dog collars below with a description and function for each. These are all, in my opinion, some of the best dog collars that you may want to consider. Some of these collars will provide a number of functions, which may provide you and your pet, with complete confidence. Here's a look at 5 of these dog collars below: 
1. Martingale Dog Collars 
These collars are popular with dog owners for a variety of reasons. Martingale collars are designed to fit loosely around a dog's neck and only slightly tighten when the dog pulls or the handler corrects them with the leash. Two loops are present. The first one resembles a conventional nylon collar and hangs around the dog's neck while being adjustable. When the leash is attached, the second is for control.
As you can tell, these type of collars are often used with dog owners during the training process. They are designed to eliminate your furry friend from choking when pressure is applied, making it safe and reliable. These dog collars are available in various sizes and colors.
2. Buckle Dog Collars  
Just like our own belt buckles, this type of dog collar has a simple buckle or snap fastening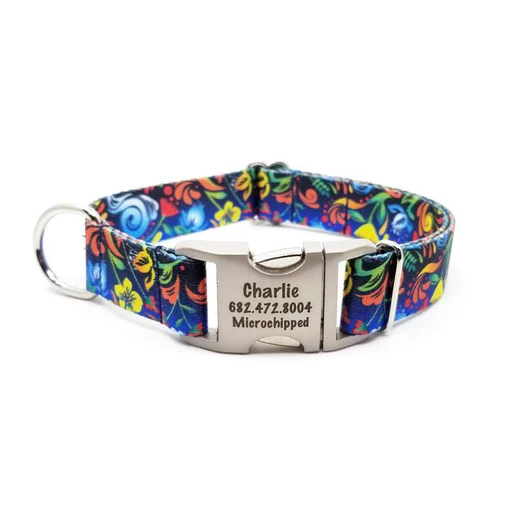 mechanism. They are designed to fit snuggly around the neck of your dog, providing a sense of security when training or walking your furry friend. Very common with dog owners everywhere.
These collars are also available in a number of sizes and color designs as well. As an added bonus, you can choose one of these collars and have it personalized which would make a perfect gift as well. Size chart is also available to make sure you get the perfect fit for your companion.
3. Biothane Dog Collars 
For pet owners looking for a robust and low-maintenance collar alternative, a biothane dog collar is an adaptable and useful option. It is made of Biothane, a synthetic material renowned for its outstanding strength, water resistance, and ease of maintenance. In terms of appearance and texture, biothane is similar to leather, but it also has the advantages of being waterproof, odor- and mold-resistant.
Due of the collar's ability to survive exposure to various environments, it is perfect for energetic dogs who enjoy going on outdoor activities. Additionally, biothane dog collars come in a variety of colors and designs. As a bonus, these collars are also available to be personalized, making your pet a true rock star!
 4. Waterproof Dog Collars 
These collars are ideal for those dogs who enjoy being outdoors in the weather elements.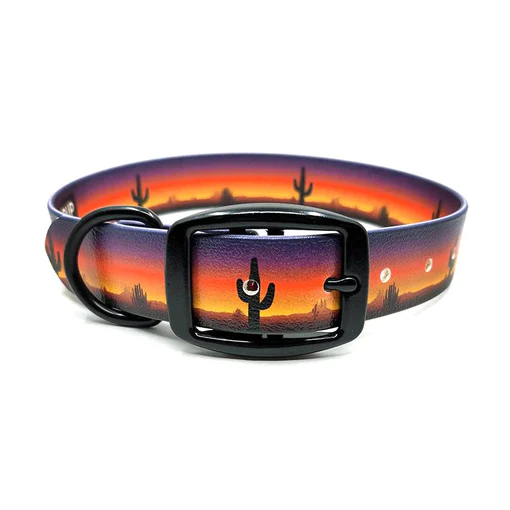 These collars are usually made of water-repellent materials like waterproof nylon or synthetic rubbers, which stop them from absorbing wet, growing mold, or smelling bad. 
For dogs who enjoy water-related activities like swimming or playing in the rain, waterproof collars are a great option because they continue to be strong, cozy, and resistant to wear and tear even when wet. These collars give pet owners piece of mind knowing that their pets can enjoy the outdoors without compromising these collars. They are also able to be personalized.
5. Christmas Dog Collars
As an added bonus, you can find the Christmas dog collar that comes in a number of variations and styles. Made with an adjustable nickel-plated D-ring and snap clasp. A woven ribbon that is stitched onto soft nylon webbing with a focus on both style and durability. 
As just mentioned, these collars can be found in a number of Christmas styles that shows off your Christmas spirit. A detailed size chart is available to get your pet measured correctly, with plenty of time to receive before the Christmas holidays.
Final Thoughts … Best Dog Collars
In conclusion, we should now recognize the various types on the market today. With so many styles, colors, functions and other features available, choosing one can be difficult. We have taken a look at five possible choices above and what each one provides. in reality, there appears to be a collar that fits the needs of dog and owner.
Selecting and choosing the appropriate collar is something we as dog owners should not take lightly. The best dog collars are ones that meet the needs of our own pet, placing comfort and safety at the top of the list. I certainly hope this article has given you some further insight, and helps you in your next purchase of a dog collar. To the health of your pet!