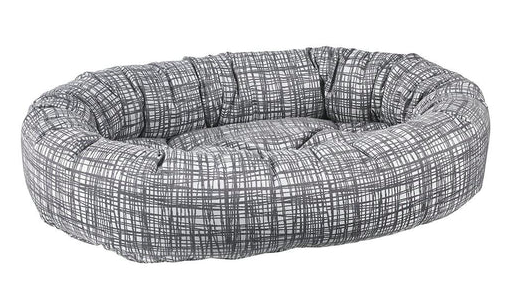 Is the Donut Dog Bed the right choice for your fur baby? Do they provide the best option when it comes to comfort? As a  lifetime dog owner myself, I have used a number of dog beds throughout the years, including the Donut Dog Bed. Below I will share some thoughts and insights in regards to this product.
If you are considering a donut dog bed but still have some questions, you have come to the right place. I truly understand how easy it is for dog parents to get confused when it comes to purchasing any type of dog accessory. There is a huge market of dog bed products out there as well, including the donut dog bed. Let's get a closer look at this product together.
Disclosure: *This post may contain affiliate links, which means I may earn a small commission, at no cost to you, if you make a purchase through a link.
What Is This Donut Dog Bed?
As you can see from the image above, the donut dog bed is shaped well … like a donut. These snuggly beds are designed to provide a sense of security as well as comfort to your four-legged companion.The cushioned center within the raised walls serves as a comfortable and cozy place for pets to rest. In addition to this, the donut dog bed also provides a number of other features including:
Shape – The majority of these specific products are shaped in a way that indeed provides a sense of comfort and security. Furthermore, you can easily find these donut dog beds that are constructed with the sides being raised, (see image above) giving your pet the choice to rest or lean against these sides. The shape and design enables your four-legged companion to feel protected with these raised sides as well as providing comfort.
Maintenance – Once again, you will find that the majority of these beds are manufactured to make cleaning and overall maintenance a priority. Being able to remove the machine-washable covers is something that draws dog owners to this product. 
Style – The donut dog bed is available in a variety of styles including colors, designs and patterns. Dog owners enjoy this variety as it becomes much easier to match up with their home decor and surroundings. 
Cost/Budget – The donut dog bed with its wide range of selections, should be able to accommodate most dog owners budgets. For the most part, prices are directly related to the type of material being used to produce these products. Obviously, the larger donut dog beds will cost a bit more than the smaller versions.
Why The Donut Dog Bed May Not Be Your Best Choice
As you can see from the number of advantageous features above, the donut dog bed can provide a number of benefits to dog owners. Are they, however, the ultimate choice? The answer to that question is an emphatic 'no' to some pet owners who feel like there are better options. Below I have listed a number of concerns or drawbacks associated with these donut dog beds:
Entry & Exit – For some dogs with mobility issues ( stiff joints/surgery) entering or exiting these type of dog beds can be an issue. With the raised sides, dogs who have limited movement (up and down) may find these beds just too difficult to use.
Size Availability – For those dogs who would prefer to stretch out while sleeping or relaxing may prefer another option of a dog bed.  It may be difficult to find these type of beds in sizes large enough to fulfill these needs. This is especially the case of larger or giant breeds that need an open space to stretch the legs. 

Space Concerns

– With the raised sides of these beds, it will require more space than other type of dog bed designs. This is especially true for dog owners with limited living space such as small apartments, condos, etc.
It was my experience that my pets actually enjoyed the comfort of the donut dog bed in their more active years. These beds created a space where they could curl up, feeling safe and warm. As the years went by however, and my dogs 'slowed' down, I did notice the difficulty they were having with entering and exiting. At this time, I chose another dog bed option similar to this product.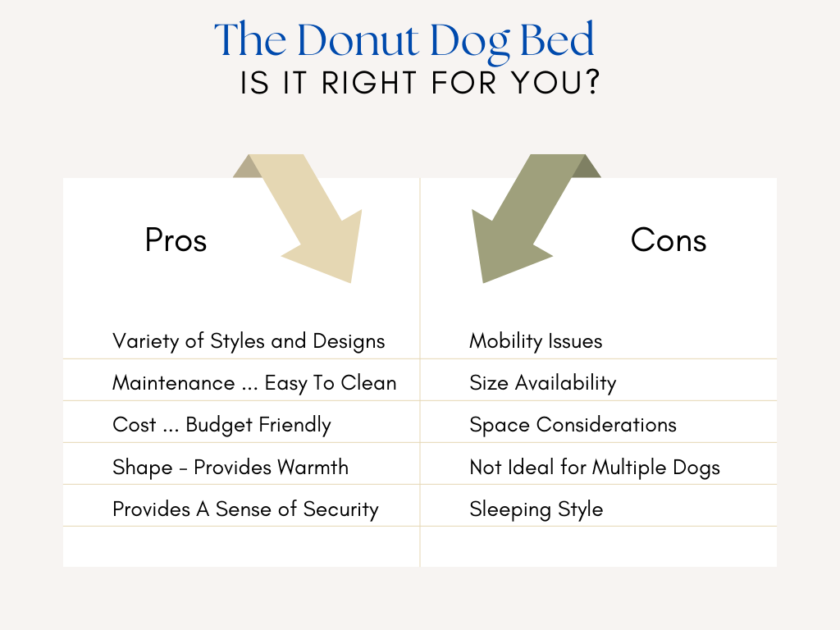 Answering Some Questions Pertaining To The Donut Dog Bed
What Is The Best Donut Dog Bed Brand?
You won't have to look far to come across hundreds, if not thousands, of these donut dog beds. With so many available, it's easy to get lost and or confused on which one is best. After extensive research regarding this product, I have listed a number of these donut dog bed brands that are popular with dog owners.
These brands listed below are based primarily on customer reviews as well as the popularity of each. Below you will find 4 specific donut dog bed brands that meet this criteria. Keep in mind however, that the best donut dog bed is one that meets the specific needs of your pet. With that said, let's take a look at these 4 brands:
Best Donut Dog Beds?
I would answer this question in two ways. First of all, these dog beds are available in a variety of styles and designs. The way in which they are manufactured and the materials used to do so, will determine the cost to you. Secondly, and more importantly, the best donut dog bed is the one that best fits the needs of your dog. As mentioned earlier in this article, these types of beds are not for every pooch out there. My advice to you would be to determine the needs and patterns of your pet while sleeping. Are they cuddlers? Stretchers? Mobility issues? After considering these patterns and assuming your four-legged-companion would benefit from the donut bed, choose from a reputable brand and one that can be trusted. One popular brand , Best Friends by Sheri, (pictured below) has close to 5,000 customer reviews. To get a better view of this product, simply click on the image below: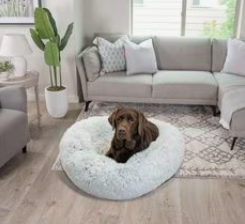 Can Donut Dog Beds Be Washed?
You know, I remember when I was on the search for a new dog bed, this was a major influence in my selection process. I wanted to be able to wash this dog bed when I felt it was needed. You wouldn't want to sleep in a messy, dirty bed and I believe our dogs feel the same. So, can these donut dog beds be washed? Let's examine this question further:
The most simple answer to this question is yes and no. There are, however, different variations of how to do so depending on such things as brands, materials, and size. To explain this further, some of these donut beds are designed with removable covers that can easily unzipped and machine-washed. You should always follow the recommendation of the manufacturer as well as drying instructions.
You should also know that all donut dog beds are washable. This is a result of the material being used in the making of these products. Some of these materials being used are too delicate to be thrown into a washing machine. In addition to this, some of these beds are made without the option to unzip and remove these covers. Below is an image from a popular brand that is machine washable that may be appealing to you. Click the image to get the entire description.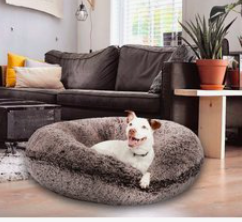 Why Do Dogs Like Donut Beds?
When I think about my own pet and her donut dog bed, two things come to mind. She certainly seemed to enjoy her bed, giving me the sense that she was both comfortable and warm. She often chose this space as her own play area, dragging her toys or a bone directly to this bed area.
This was her personal space, and I firmly believe that these raised walls surrounding her as she played and slept, gave her a sense of security. Watching her turn a few circles before nesting in her favorite resting place gave me a great deal of joy as well. As I mentioned earlier,  this style of bed was a fixture in my home until she started to slow down later in life.
Final Thoughts
Well, I certainly hope you have learned some insight to these donut dog beds, and many of your questions have now been answered. Without question, these type of beds have been, and remain a popular choice with pet owners everywhere. Is the donut dog bed the best choice for you and your pet?
Hopefully, this article has answered that question. We have looked at the various characteristics of these beds, pros and cons, as well as answering some questions along the way. In addition, a number of popular brands were named that may be of interest of you. Please take this information to help in your decision process. The best of luck to you and your pet, I will see you soon!