In this article, I wanted to provide you with an informative and inclusive look at one of the better known dog food products on the market today. Does this make it one of the best? Well, in this complete guide regarding the Nature's Recipe Dog Food Brand, we will answer that question in extensive detail before coming to a conclusion.
In doing so, I wanted to explore all aspects of this company to determine if their dog food products actually provide healthy benefits to our pets. As you know, there are hundreds of pet food products on the market today that claim healthy benefits, that may or may not be true. What about Nature's Recipe? Let's dig in:
A Little Bit Of Information About The Company 
There have been a number of changes in regards to ownership of the Nature's Recipe brand. The company was founded and established by a gentleman by the name of Jeff Bennet some thirty years ago who wanted to supply pets with a quality and nutritious meal. For the history of this company, here are the essential details that may be of interest to you.
The Nature's Recipes brand of pet food was purchased by the Big Heart Pet Brands in 2015
Big Heart Pet Brands is a sub-division of the J.M. Smucker Company
J.M. Smucker is now the current owner of this company
What Claims Does Nature's Recipe Dog Food Make Regarding Their Dog Food?
Word of caution here: Don't get caught up or 'suckered' by the claims or the guarantees that dog food companies are making these days. Keep in mind that most of these companies have deep pockets, and spend hundreds of thousands of dollars in their marketing 'pitches,' all promising an array of healthy benefits to your pooch.
Let me ask you this: Would you buy the first car you come to in the car lot because you saw a commercial stating how great the car performed? Of course not. You would want to test drive it first, read the sticker for price and options, check out customer reviews, and so on. Only then should you get a real feel for rather this specific vehicle was right for you.
The same can be said when you consider a choice of dog food for your favorite companion. Now, this not to say that every pet food or dog company uses advertising or marketing to deceive you. The truth of the matter, or at least in my opinion, there are a number of quality dog food products on the market and do provide benefits to your pooch. What claims does the Nature's Recipe manufacturers make? Here they are below:
Have produced premium dog food for 35 years
Use only selected ingredients in their products that provides nutrition
No corn, wheat, or artificial flavors or preservatives
No poultry by-product meal
Added vitamins, minerals and nutrients
Various forms of product (Dry/Wet) with various life stages of your pet
For further detail, take a look at the short video below:
What's So Great About Nature's Recipe Ingredients? Or Not?
For me, any dog food product including starts and stops with the ingredients label. It has been my practice when researching or purchasing dog food for my own pets, is to pick up the bag, turn it around, and read the ingredient label. Paying very close attention to the first four or five ingredients says a great deal about the product. Let me explain:
Within each dog food label, the ingredients are listed in descending order by weight. When reading dog food labels, you will commonly see the first ingredient listed as chicken, beef, etc. The water contained in these meat items will result in a higher weight content, than those dry ingredients  such as grains, vitamins, etc. which is why they are placed first in the ingredient label.
Be careful in assuming that pet food that lists quality ingredients in the first five or six  descending order has to be a wholesome, nutritious recipe. Take the time to read the entire label, making sure that other ingredients like chemicals, artificial flavoring, meat meal, unhealthy preservatives, etc. are not part of the ingredient list.
Part of my research regarding the Nature's Recipe Dog Food ingredients included a conversation with a representative from the company itself. One of my questions pertained to where the ingredients in these recipes were sourced, I was told that the majority of these ingredients were sourced from the USA. The representative stated that other ingredients were sourced from various countries if found to be unavailable in the USA.
A Quick Look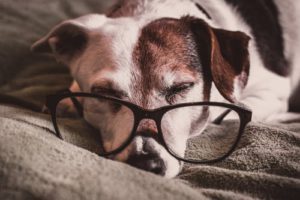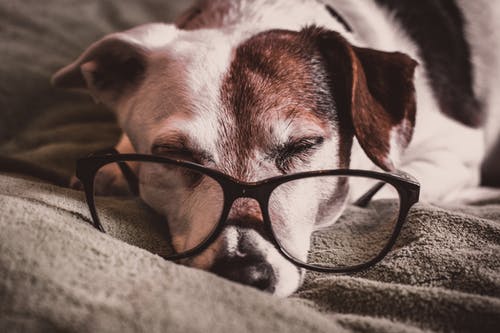 Let's now go ahead and take a look at one of the Nature's Recipe Dog Food products to see how it measures up to what we just discussed. For our example, I decided to choose one of their dry food products, Nature's Recipe Prime Blends Beef, Lamb, and Potato Formula. Below I have listed this recipe's first five ingredients:
Beef
Lamb Meal
Peas
Garbanzo Beans
Pea Protein
What do you think? Quality Ingredients? Not so much? Well, let's break down each of these five ingredients in a little more detail before deciding if this product may be beneficial to our four-legged companions. Let's go:
Beef – A high source of protein which helps to repair and build muscles. In addition, protein helps to ensure energy and helps to maintain a strong immune system.
Lamb Meal – A highly concentrated source of protein. Lamb meal goes through a process known as 'rendering' where the meal is cooked to eliminate excess water. The result leads to a more concentrated source of protein.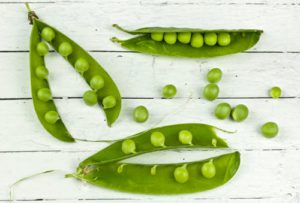 Peas –This ingredient (plant) is another source of protein but comes with a great deal of controversy. As the 'grain-free' diets became more and more popular with pet owners, there have been reports that these grain-free formulas may be detrimental to your pet's health. Here is a direct quote from Martine Hartogensis, DVM, deputy director of the FDA's Center for Veterinary Medicine's Office of Surveillance and Compliance. "We are concerned about reports of canine heart disease, known as dilated cardiomyopathy (DCM), in dogs that ate certain pet foods containing peas, lentils, other legumes, or potatoes as their main ingredients," said in a brief from the FDA. "These reports are highly unusual as they are occurring in breeds not typically genetically prone to the disease."
Garbanzo Beans – Probably better known as Chickpeas, this ingredient supplies such things as minerals, vitamins and nutrients. Another source of protein, fat and fiber, this ingredient is common in many dog foods.
Pea Protein – This ingredient is a by-product of the actual pea processing action. Will provide a limited source of protein. Also a source of controversy.
As you can see from the first five ingredients listed, there seems to be an emphasis put on protein. Without question, a healthy source of protein is essential to a dog's diet, but do these five ingredients represent a healthy source?
In answering this question, you will find answers on both sides. Some dog owners would recognize these ingredients as a healthy source where others would have their doubts. I will give you my opinion a little later on.
For now, let's take a look at another two examples of dog food brands and a list of their first five ingredients. I don't want to give you the names of these two brands at this time so not to influence your decision. Here are the lists below of the first five ingredients. Which one would you choose?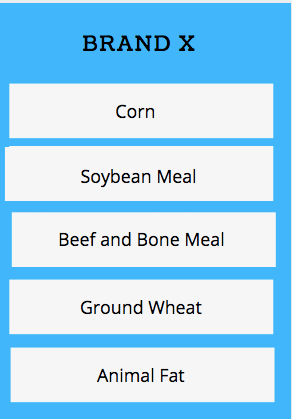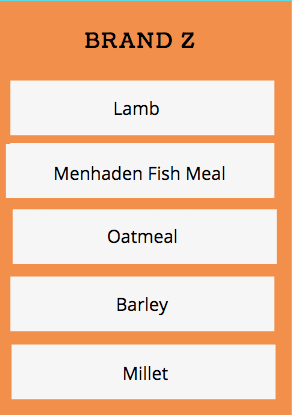 Which Type Of Products Does Nature's Recipe Offer?
As you might suspect, the Nature's Recipe Dog Food comes in a number of choices to pet owners. Available in both the dry and wet forms, it also contains recipes for our canines in various life stages (Puppy, Adult, Senior.) Let's take a look at these formulas offered by the company below:
Original Recipes – (Dry and Canned)
Grain-Free Recipes – (Dry and Canned)
Healthy Skin Recipes – (Dry and Canned)
Easy-To-Digest Recipes – (Dry and Canned)
Prime Blends Recipes – (Dry and Canned)
When you buy something from this website, I may receive an affiliate commission from Chewy.com. These are my opinions and are not representative of the companies that create these products. My reviews are based on my own personal experiences and research. I never recommend poor quality products or create false reviews in order to receive a commission. My intention is to provide you with information so you can make decisions to which products may best suit your needs.
Let's now take a look at the recipes available under each category above:
(Original Recipes) 
Nature's Recipe Adult Lamb Meal & Rice Dry – A source of real lamb serves as the first ingredient, and provides a high-quality protein. This recipe contains added nutrients, minerals, and vitamins. Rice is included that provides carbohydrates to help with your pet's energy level.
Nature's Recipe Adult Chicken Meal & Rice Dry – This recipe offers real chicken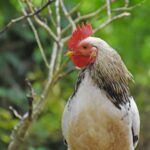 that helps in maintaining lean muscle mass with added nutrients, minerals and vitamins. Without corn or wheat, artificial flavoring or coloring. Fiber is provided with the addition of barley and oatmeal.
Recipe Small Bites Chicken Meal & Rice Dry – This recipe is intended to meet the needs of the Small Breed dog. Contains antioxidants with fruits and vegetables which helps to maintain and support a healthy immune system. Real chicken is the first ingredient providing a source of protein.
Nature's Recipe Puppy Lamb Meal & Rice Dry – Designed with the puppy in mind, real lamb serves as a protein with added rice to serve as a carbohydrate to provide energy. Recipe does not contain corn, wheat or any artificial flavors or colors.
(Grain-Free Recipes)
Nature's Recipe Grain-Free Chicken, Sweet Potato & Pumpkin Dry – This grain-free recipe includes chicken as the first ingredient and includes sweet potato and pumpkin as grain-free carbohydrates for energy. Easy to digest, this specific recipe also includes barley and oatmeal, natural sources of fiber.
Nature's Recipe Small Breed Grain-Free Chicken, Sweet Potato & Pumpkin Dry – With the dietary needs of small breed dogs, this recipe offers the benefits of the recipe mentioned just above. Fruits and vegetables are included to maintain a healthy immune system.
Nature's Recipe Grain-Free Salmon , Sweet Potato & Pumpkin Dry – This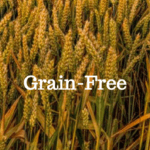 recipe offers real salmon as the first ingredient with serves as the protein source. Nutrient-dense carbohydrates including sweet potatoes and pumpkin serves as an energy boost to your canine. Fruits and vegetables added to maintain a strong and healthy immune system.
Nature's Recipe Grain-Free Puppy Chicken, Sweet Potato, & Pumpkin Dry – A puppy recipe that is grain-free that uses chicken as the first ingredient. No corn, wheat or artificial flavors or coloring in this specific formula. Oatmeal and barley provide fiber.
Nature's Recipe Grain-Free Chicken In Broth Wet – This wet formula features chicken in a savory broth with the addition of sweet potato and pumpkin. Easy on digestion and made without corn, wheat or artificial colors or flavors.
Nature's Recipe Grain-Free Chicken & Turkey Stew Wet –  This grain-free stew names chicken as the first ingredient with turkey, sweet potatoes and green beans. Corn and wheat free. No artificial flavoring or coloring with the ingredients being global sourced and appropriate for the adult dog.
(Healthy Skin)
Nature's Recipe Healthy Skin Vegetarian Dry – This specific recipe is designed for those dogs who have allergies associated with meat protein. Ingredients like copper, zinc, and Linoleic acid provide your pooch with a shiny and beautiful coat. Protein is supplied through soybean.
(Easy To Digest)
Nature's Recipe Easy-To-Digest Chicken, Rice & Barley Homestyle Canned – This homestyle recipe is a blend of ingredients including barley and rice. Vitamin A and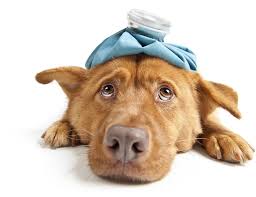 VitaminB12 are added to help your pet's immune system. Complete and balanced which helps in the digestion for all breed sizes.
Nature's Recipes Easy-To-Digest Lamb, Rice & Barley Cuts In Gravy Stew Canned – Another easy-to-digest formula with no animal-by-products and uses lamb to provide protein to your pooch. Includes canola oil which provides heart-healthy omega fatty acids.
Nature's Recipe Easy-To-Digest Chicken Meal, Rice & Barley Dry – Real chicken is named as the first ingredient, with rice added to provide a punch of carbohydrates. A blend of natural fiber supports the digestive system. No wheat, corn or any artificial colors or flavoring.
(Prime Blends)
Nature's Variety Prime Blends Variety Pack Wet – A variety pack that gives a dog owner a choice of Chicken & Beef, Chicken & Turkey, and Chicken & Lamb. Comes in 12 cups with easy to tear off lids. Made in savory broth with vitamins and minerals to help support your pet's overall health.
Nature's Variety Prime Blends Beef, Lamb & Potato Grain-Free Dry – This recipe contains 30% real beef as well as lamb, garbanzo beans, potatoes and beef broth. Vitamins, minerals and antioxidants are included to support overall health. Appropriate for the adult dog.
Nature's Variety Prime Blends Grain-Free Chicken & Tuna In Broth Wet – Includes Chicken as the #1 ingredient with other ingredients including tuna, pumpkin, green beans and chicken broth. Contains no artificial flavors, colors or preservatives and grain-free.
Nature's Variety Prime Blends Salmon, Barley & Chicken Dry – This dry recipe includes Salmon as the first ingredient to provide your companion with a healthy protein. Contains wholesome whole grains with nutrients and antioxidants for a nutritional taste. Free from such things as soy, wheat, corn and poultry by-product meals.
Although not a complete list that the Nature's Recipe offers, you should now have a pretty good idea of what the company offers. With that said, let's now take a look at some of the positives (Pros) and negatives (Cons) associated with the Nature's Recipes brand.


What Are Other Nature's Recipes Customers Saying?
With my research, I wanted to take a look at what some customers who have used these recipes had to say. To do this, I went to a site that I trust, (Chewy.com) and one that I have used throughout my lifetime and one that I still use today.
Although I researched each dog food product manufactured by Nature's Recipe, I wanted to take a look at a couple of specific products and give you a result of these findings. Let's take a look at the Nature's Recipes Easy-To-Digest Chicken Meal, Rice & Barley Recipe:
Here is a look at the reviews of a total of 104 users of this product: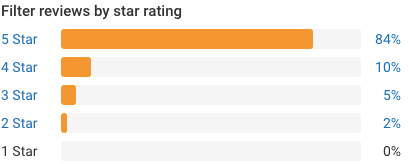 As you can see, customers using this specific recipe seemed to be quite please with the results they have seen in their pooch. Let's take a look at another recipe, the Nature's Recipe Adult Lamb Meal & Rice Recipe: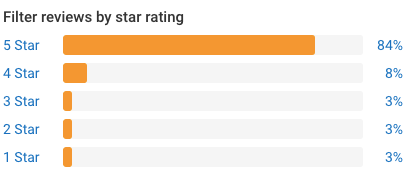 Once again, you see some very positive reviews regarding this specific product.  With that said, let's take a look at one of the reviews a customer posted that was unhappy with this product, giving it a 1 Star.

Like any product or brand, you will find some individuals who absolutely love a specific product, and others who aren't at all satisfied. The same holds true for dog food, which makes it so important to do some research before diving in.
Final Thoughts
Without question, the Nature's Recipe Dog Food is a popular brand with many dog owners throughout the world. For a company that has been around for over thirty years suggests that they must be doing something right. With my research, it does seem that the company is focused on producing formulas that will provide benefits to our pets.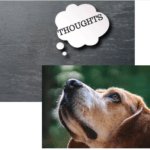 This appears to be obvious by the number of formulas the Nature's Recipes offers. Puppy, Grain-Free, Easy-To-Digest, Small Breed, etc. certainly allows dog owners to have choices when choosing the proper diet for their own pooch. The majority of these formulas are also available in both the dry and wet forms.
I also feel that the ingredients used in their formulas for the most part, are wholesome, natural and nutritional. Naming the meat source (Chicken, Lamb, Salmon), all point to a quality protein that goes a long way in providing the energy that is needed in our four-legged companions.
Okay, I mentioned earlier in the article that I would give you my final decision on the Nature's Recipe Brand. Do I think that this brand is one that you should stay away from? Not at all. Do I think this brand is the top one on the dog food market? No, but you will find ones on the market that will offer a whole lot less. In my opinion, this is an above average dog food that does provide nutritional benefits.
Like I tell all of my readers, if you are unsure which dog food would provide the best benefits to your pooch, begin a dialogue with your local veterinarian. No one knows your pet the way you do, and with your vet's knowledge and experience, you have a great foundation in making a wise decision.
Thank you for visiting my site, and reading this article. I sincerely hope it has brought you some further insight to the Nature's Recipe Brand. Like you, I love my pets, and researching dog food products has become a passion of mine, as I want our pets to live a long and healthy life. To your health, and the health of your pet!
Disclaimer
For those unfamiliar with dog food grain-free recipes, there has and is a controversy taking place as I write this article. The FDA has made public that it has launched an investigation between a possible connection between the grain-free diet and heart disease within dogs. For further information, the American Kennel Club has provided further details. Click here.
Disclaimer
The purpose of this site and articles are intended to provide a source of entertainment and information. As a dog owner and dog lover myself, I enjoy researching dog food products on the market to provide you with helpful insights. I am not a veterinarian nor an animal nutritionist, just a dog owner who wants to provide a healthy lifestyle to their pet. I use my research to express an opinion which may or may not be one you agree with.
eathealthydoggy.com assumes no responsibility or liability for the use or misuse of what's written on this site. You should always consult with a veterinarian if you should have questions regarding your dog's diet or overall health.