I don't know about you, but growing up as a kid, I only remember the taste of the sweet potato during our Thanksgiving family feast. Sprinkled with brown sugar and marshmallow, this was one of my favorite side dishes. I soon realized that I preferred the sweet potato, and asked my Mother to include this vegetable with more frequency.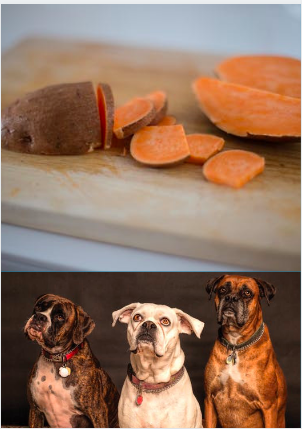 Did you know that the sweet potato, in most cases, offers more nutritional value than the white potato? In fact, this vegetable provides a number of nutritional benefits. The same can be said about the sweet potato in dog treats. Let's take a look at some of these benefits below.
Why The Sweet Potato In Dog Treats?
As I mentioned briefly above, the sweet potato is a vegetable that provides a healthy source of nutrition. Like what, you ask? Well, below I have listed a number of these benefits associated with the sweet potato:
The Sweet Potato contains a number of essential vitamins that include Vitamins A, C and B6.
The Sweet Potato helps to assist in a healthy digestive system
The Sweet Potato provides an anti-oxidant known as Beta-Carotene that helps in the fight of certain types of cancer as well as heart disease
The Sweet Potato promotes a healthy coat, eyes, muscles and skin
The Sweet Potato helps to keep your pet regular with their bowel movement
The Sweet Potato is high in fiber
What To Know About Feeding Your Dog Homemade Sweet Potato Treats From Home
Before you run out and purchase loads of sweet potatoes, there are a number of things to consider before doing so. With all the benefits that this starchy vegetable can bring to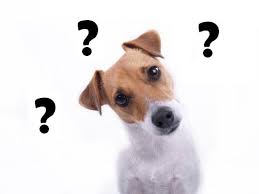 your pooch, consider these items before feeding to your pet.
Avoid giving your dog raw sweet potato (Raw form may cause gastrointestinal issues)
As a treat, they are best prepared through boiling, steaming or cooking
Always remove the skin before cooking ( Makes digestion easier )
Serve to your pet in moderation ( Too much fiber may result in stomach issues )
Obviously, these suggestions pertain to those of you who may want to try your hand in making your own sweet potato treats from home. If still interested, there are a number of sites online that walk you through the process of making these treats.
When Making Home Made Potato Treats, Is Something You Prefer Not To Do
We all live busy lives, and for some of us (Including Myself) skinning, chopping and cooking sweet potatoes is not on our radar. Fortunately for us, there are a number of sweet potato treats that are available without going through this mess.
I want to take a look at a couple of these treats below, and provide you with a great deal of detail regarding each product. These two products are ones that I wouldn't hesitate in recommending should you choose not to make your own. Let's take a look at both of these products below:
When you buy something from this website, I may receive an affiliate commission. These are my opinions and are not representative of the companies that create these products. My reviews are based on my own personal experiences and research. I never recommend poor quality products or create false reviews in order to receive a commission. My intention is to provide you with information so you can make decisions to which products may best suit your needs.
Wholesome Pride Sweet Potato Chews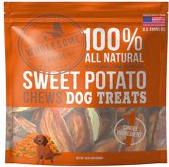 This specific treat only contains one ingredient, yep, the sweet potato. A chew that is made with 100%, natural, USA-grown dried sweet potato. Other features include:
100% vegetarian, grain-free and highly digestible
Provides a healthy chew for your pooch, and fiber to promote healthy digestion
Contains natural vitamins, minerals and antioxidants
Absent of grains, wheat, fillers, artificial ingredients, preservatives, and artificial ingredients
Made in the USA with USA-sourced ingredients
Gluten and grain-free
According to Markets Insider, the Wholesome Pride Company produces 100% all natural limited ingredient pet treats with zero additives. The company was founded in 2013 by get this, a 17 year old named Chase Peterson. To be fair, Chase was raised in this business as his father owned a pet food and treat company.
These treats are sourced and made right here in the USA, on family farms in North Carolina. These are a great treat for dogs with sensitive stomachs and food allergies, as they only consist of one ingredient. These are chewy treats that are intended for the adult dog.
You can find the Wholesome Pride Sweet Potato Dog Treat by clicking HERE.
Riley's Organic Sweet Potato Biscuit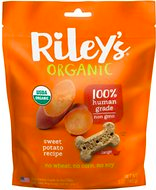 This tasty biscuit is completely organic, and only contains a small number of ingredients. Here's a closer look at some of the features associated with this product:
Made with USDA-certified organic, non-GMO and 100% human grade ingredients
A vegan treat that will not contain corn, soy, or wheat
Crunchy treat that provides a healthy routine to your pup's teeth and gums
Available in two different sizes, small and large
Total number of ingredients include Organic Sweet Potato, Organic Oat Flour, Organic Oats, Organic Rye Flour, Organic Peanut Flour, Organic Coconut Oil, Organic Cinnamon
Made in the USA
The above treats are my favorites, due mainly to the ingredients or lack of ingredients involved. As you can see, both dog treats are centered around the sweet potato and both (in most cases) provide a healthy treat to your four-legged companion.
You can find the Riley's Organic Sweet Potato Biscuit by clicking HERE.
Final Thoughts
Hopefully, you know have a better idea of the benefits associated with sweet potato in dog treats. All of the research I have conducted seems to suggest that dog treats that contain this ingredient may provide huge benefits to your pooch.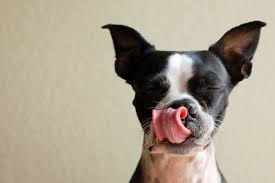 A word of caution: Use the sweet potato treat or any treat in moderation.To be fair, some dogs simply don't like or tolerate sweet potato in their diet and has caused some gastrointestinal issues for some. Always consult with your veterinarian should you have further questions.
Thank you so much for visiting my site, and I sincerely hope this article has helped you in deciding if you should include the sweet potato treat with your pooch. Feel free to leave a comment below or provide some feedback if you have used this ingredient yourself. To your health and your pet's.
All data and information provided on this site is for informational and entertainment purposes only and reflect the views of the mine alone. Eathealthydoggy.com makes no representations as to accuracy, completeness, timeliness, suitability, or validity of any information on this site and will not be liable for any errors, omissions, or delays in this information or any losses, injuries, or damages arising from its display or use.  Please note that each situation is different, and you should always consult your veterinarian should you have any questions about your pet's health.