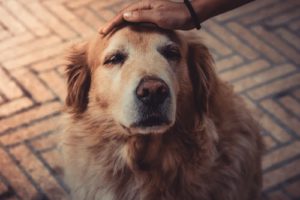 Hello dog lovers, back again with a detailed look at a recipe that focuses on the older dog. I have always felt that the older or senior dog requires a recipe that is designed to assist these pets in their 'golden years.'
With that said, I decided to do some research regarding one of these products, named the Merrick Senior Dog Food. I'm sure many of you have heard of the Merrick dog food brand, but I wanted to look at senior dog food formula in specific detail.
Do Senior Dogs Need A Specific Type Of Recipe?
Just like us, as our four-legged companions become older and reach those 'Golden Years,' things seem to slow down. Our dog's activity level will certainly decrease which may lead to unwanted weight gain which may lead to a number of health issues. This is especially true for the larger breeds as compared to the smaller ones.
Putting unwanted weight on top of brittle bones and hips can be a very tough scenario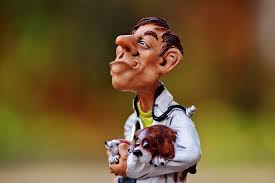 for the aging dog. Many vets and animal nutritionists believe a diet consisting of less fat and calories is best for the senior dog.
One of the more popular brands of senior dog food is one that I have recently researched with those details to follow. Is the Merrick brand one to consider for your aging pooch? Hopefully, the information given below will assist you in answering this question.
Merrick Dog Food… What They're About
Okay, so what is the whole brand about? Well, the company has a belief system that actually encompasses five basic core concepts. This is their commitment to pet owners and ones they promise to deliver. Here are those five concepts:
Real Whole Foods

– Real-meats, USDA certified which provides your dog with a quality source of protein. This source provides your four-legged companion with benefits including coat and skin health, supports a healthy immune system and growth of lean muscle.

Higher Quality Ingredients

– Ingredients only come from farmers and ranchers that the company trusts ensuring the finest quality. A standard to safety and freshness, ensuring a quality food source to your pet.

Health You Can See

– The company claims that their formulas are produced with a healthy combination of protein and healthy fats. Result: Healthy weight a source of energy. Formulas contain levels of Omega-6 and Omega 3 fatty acids for a healthy skin and coat. Glucosamine and Chondroitin to assist in the support of healthy joints and bones. In addition, a healthy source of real meat proteins, blueberries and apples to support a healthy digestion. 

Recipes Are Produced In The Hereford Kitchen In Texas

– The company tests these formulas several times throughout the processing, ensuring safety and food quality to the pet owner. Their facilities meet and pass the guidelines set forth by the FDA. 

Merrick Gives Back

– The company believes in giving back and has partnered with K9s For Warriors, PAWS Chicago, Austin Pets Alive!, Tree House Humane Society and San Antonio Pets Alive. 
Merrick Senior Dog Food… 2 Available Recipes
Okay, you now have a pretty good idea about the Merrick Dog Food Brand and what they believe in the formation of their formulas. Whether it's a puppy formula or one designed for the older pooch, these five core beliefs are at the core of the company's recipes.
What then, does Merrick offer to dog owners who have the senior pooch at home? Let's take a detailed look at both of these below and provide you with further information which hopefully provide you with additional knowledge. Here we go:
**Merrick Real Chicken & Sweet Potato Grain Free Senior Recipe**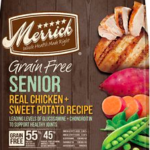 Description: This particular recipe consists of real, deboned chicken as the first ingredient. In addition, sweet potato, peas, blueberries, and apples are included to this recipe. As seniors, these pets need a little extra punch, and receive that with glucosamine and chondroitin for healthy hips and joints, plus L-carnitine for healthy metabolism.
Key Benefits:
Deboned chicken is the first ingredient, along with real fruits and veggies, for a hearty flavor your best friend will love.
All-natural grain and gluten-free treats contain no artificial flavors, colors, or preservatives.
L-carnitine supports a healthy metabolism to help your aging pup maintain a healthy weight.
Supports healthy skin and coat with powerful levels of Omega-3 and 6 fatty acids; glucosamine and chondroitin help aid healthy hip and joint function.
Proudly made in Merrick's Texas facility using the world's best locally-sourced ingredients from farmers they know and trust.
*Find Out More About This Recipe HERE.
**Merrick Lil' Plates Real Chicken & Sweet Potato Grain-Free Senior**
Description: Merrick makes this recipe with the small breeds in mind. With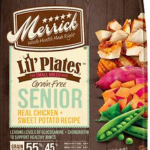 a smaller kibble, the senior small breed dog seems to have a much easier time in chewing and digesting the recipe.
Key Benefits:
Starts with real deboned chicken as the first ingredient, along with real fruits and vegetables.
Grain-free recipe with no gluten ingredients, and no artificial colors, flavors or preservatives.
Fewer calories and fat to help aging dogs maintain a healthy weight, and L-carnitine to support healthy metabolism.
Added probiotic and prebiotic fiber help aid digestion, with leading levels of chondroitin and glucosamine to support healthy hips and joints.
Proudly made in Merrick's Texas facility using the world's best locally-sourced ingredients from farmers they know and trust.
*Find Out More About This Recipe HERE.
In Conclusion
Hopefully, you have gained some further knowledge regarding this product and has helped you to perhaps make a decision regarding a product for your senior dog. The Merrick brand is definitely a popular one and one that is trusted by pet owners all over the world.
It is also worth noting that Nestle Purina purchased Merrick Pet Care in July of 2015, but the Merrick brand still claims to work independently and produce pet food recipes as they always have.
Disclaimer
For those unfamiliar with dog food grain-free recipes, there has and is a controversy taking place as I write this article. The FDA has made public that it has launched an investigation between a possible connection between the grain-free diet and heart disease within dogs. For further information, the American Kennel Club has provided further details. Click here.