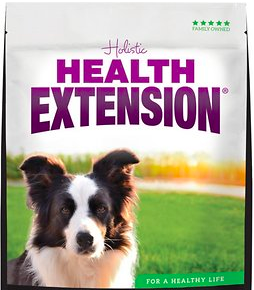 What's up dog lovers? How many of you have heard of the Health Extension Dog Food? To be honest, I never had, so I decided to research this product in great detail so you wouldn't. In this Health Extension Dog Food Review, I did just this.  Let's go take a look at this brand and see if it is one that you may want to consider for your pooch.
Health Extension Dog Food|6 Quick Facts To Know
As I mentioned above, not being familiar with this particular brand, I found a number of interesting facts pertaining to this specific dog food brand. Let's take a look at these now:
A family-owned company that was established in 1963.
Picky dogs seem to enjoy the taste of these recipes.
Recipes are created in small batches, ensuring a highly nutritious and digestible meal. Each recipe is slowly cooked, maintaining the nutritious source of ingredients.
Recipes go through 140 quality checkpoints, with no recalls of any of its products.
Whole food ingredients.

Ingredients are sourced from the USA, none from China.
So far, so good, huh? Equally important, it would appear that the Health Extension Dog Food has its act in order providing a healthy, nutritious diet for our four-legged companions. Let's dig a bit deeper:
Health Extension|A Promise To Pet Owners
Look, we have all seen commercials where a company makes promises or claims that their specific product is second to none. It's up to us, as consumers, to either accept or reject these claims and do our own research before purchasing this product.
Furthermore, I have never seen a commercial or any type of advertising regarding the Health Extension brand which is another reason I decided to dig into this company a bit further. Here are the company's promise(s) to pet owners:
Sources of protein, including free-range chicken, fish and meat are all USDA inspected.
No ingredient used in these recipes are ever sourced from China.
No artificial colors, flavors or preservatives.
The company only sources GMO ingredients.
Recipes are prepared in small batches.
Every single batch of food goes through extensive testing to ensure a safe product.
Gluten, corn, soy, by-products or wheat are never used in the recipes.
Products are only made in the USA.
Promise to stay family-owned and operated.
Health Extension Dog Food|The Benefits
To give you a better understanding of the benefits associated with this holistic brand of dog food, I decided to take one of their products and explore it in great detail. Consequently, I chose the Health Extension Original Chicken & Brown Rice Dry Formula.
Benefits:
Recipe includes organic, free-range chicken.
Real foods like brown rice, oatmeal, flaxseeds and lamb are included in this recipe.
Supports overall health for all life stages. (Puppy to Adult)
Contains 'superfoods' like astralagus, blue-green algae, ginger, gingko biloba, and primrose oil.
Provides a source of omega-3 and 6 fatty acids and joint-supporting glucosamine and chondroitin.
Made in the USA with no gluten, corn, wheat, soy, by-products, artificial preservatives or colors.
Ideal for all breed sizes, small, medium and large.
Available in a number of sizes.
Health Extension Dog Food|The Dog Food Products
While I got into specific details with the Health Extension Original Chicken & Brown Rice Dry Formula, the company offers a number of products, both dry and canned. Let's now take a look at some other dry recipes offered by Health Extension.
 Little Bites Chicken & Brown Rice Health Extension – Specially formulated for teacup, toy and miniature breed puppies and adult dogs. 2
 Health Extension Grain-Free Chicken & Turkey – Made with no grains, gluten, corn, wheat, soy, by-products or rendered animal fats, artificial preservatives, artificial flavors, colors or dyes, and no added sugar.
 Grain-Free Health Extension Salmon – An ultimate, completely balanced diet with highly digestible proteins.
Health Extension Grain-Free Duck – Made with high-quality, duck as the first ingredient, an excellent source of highly digestible alternative proteins with high levels of essential amino acids.
These are just a few of the dry recipes offered through Health Extension which comes in a number of meat products as the first ingredient. For a complete look at the dry recipes, simply click here.
For those dog owners who prefer the canned or wet recipes, Health Extension offers a variety of products as well. Let's take a look at a few of these:
 Grain-Free Chicken

–  Recipe containing 98% all natural, premium deboned chicken. 
Health Extension Grain-Free Beef – Gluten-free, with no rendered animal fats or by-products, no added sugar, no carrageenan, and no corn, wheat, or soy.

 Grain-Free Salmon

– 95% all-natural salmon.
Health Extension Grain-Free Stew Variety Pack – Each stew recipe is made with real vegetables and animal protein like chicken, beef, turkey, carrots and sweet potatoes.
Health Extension Dog Food|The Ingredients
As you can tell from the products mentioned above, Health Extension seems to incorporate quality ingredients in each of their recipes. These ingredients all come from the United States from trusted sources. Let's take a look at the first seven ingredients from the Health Extension Grain-Free Chicken & Turkey recipe.
Organic Deboned Chicken – Same type of chicken we consume as humans.
Chicken Meal – Highly digestible and healthy protein.
Deboned Turkey – Another healthy source of protein.
Turkey Meal – Highly digestible and healthy protein.
Potatoes – Quality source of carbohydrates.
Chickpeas – Balance of protein and fiber.
Chicken Fat – Supplies Omega 6 and fatty acids.
Final Word
In conclusion, as someone who is always looking out for my own dog's health, I have to admit that this product seems to provide key benefits and a nutritious diet. With the number of dog food products I have researched, this one stands out from most. I like the holistic approach to their recipes.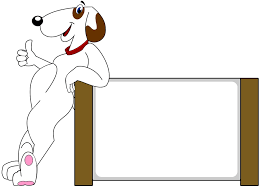 Dog owners who have purchased these recipes from such places as Amazon, Chewy and PetFlow have rated this product a 4 and 5 star out of a possible 5 star review. A very small percentage of these users stated that their pet simply did not like the taste. 
It is not my intention to sway you into buying the Health Extension recipe, but only to provide you with detailed information regarding this company and its recipes. From my own research, this is a product that should be considered.
If you are an user of one of these recipes, I would love to hear your opinion and thoughts on this product. Feel free to leave a comment below and tell me your story. Thanks for visiting, and I look forward to your feedback.