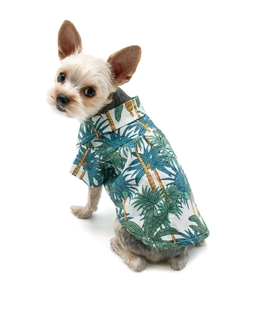 Hey there, let's talk about some fashion for a minute. Your furry friends will genuinely thank you for an extra piece of linen to keep them warm and rock their doggy fashion. Dog shirts are available in assorted types, materials, and forms, and picking the right one can ensure that your four-legged companion stays comfortable day after day.
Such versatility in material, styles, and sizes can be confusing, and choosing a dog shirt that compliments your  special pet can become a bit confusing. In this article, we will look at a number of factors that should go into your decision process with answers to each. In addition, we will take a look at a number of products that are available and just may prove to be a great fit for your adorable pooch. Let's get started:
Note: This article contains affiliate links and offers, and I may receive a commission if you decide to purchase one of these products.
Get Your Dog's Measurements
You might know or believe you have a pretty good idea of your dog's size and suitable measurements. However, getting precise measurements by taking your dog's neck, chest, and body girth can ensure you get the best shirt fit. Every dog has a unique shape depending on their growth phase, and it can be best to consider your dog's size. But while getting the right fit when young can keep them comfortable, ensuring that there's an allowance for growth can get them wearing the shirt over an extended period of time. This informative video will assist you in finding the best fit.
Consider the Season
Dogs, like humans, get cold in winter and hot in the summer. Considering the season you purchase your dog's shirt for is essential to ensure optimal comfort. Cotton is typically breathable and comfortable and can be all-season and ideal for every dog. Fleece is suitable for cold weather, and nylon's water resistance and durability can be perfect for active dogs during wet seasons. Spandex and stretch fabric offer a snug fit and can be suitable for autumn.
As you can see, these products are available in a number of materials and fabrics to keep your pet comfortable. Depending on where you live and climate conditions, choosing the appropriate material should be easy to find. Once again, the decision you make should be one of personal preference.
The Dog Shirt: Design and Style
As the dog owner, making the best choice for the design and style of your pet's dog shirt will be your decision. While there are literally hundreds of hundreds of these products available, your pet's comfort should be a priority. In addition to comfort, here are a number of other factors to consider:
Climate/Setting – As mentioned earlier, the location in which you reside must be taken into consideration. Pet owners who live in Florida or Texas may find that a shirt made of flannel may just be too hot. Once again, comfort must be at the top of the list when choosing an appropriate dog blouse.
Current Fashion Trend– Yep, this goes for the designs and styles regarding dog shirts as well. If style is important to you, then make sure you are up to date with the current trends. Keep in mind that manufacturers of these dog products must stay current in these trends, and provide apparel to dog owners supporting these trends.
Upscale/Designer Dog Shirts– For the dog owner who has a substantial budget, these dog shirts are available in a number of designer brands. These designer shirts are produced with specific attention to detail, made with precise design and top notch materials. The old saying, 'You get what you pay for,' applies here as well.
Functionality – Don't underestimate the importance of this. You can place the most beautiful, trendy and stylish shirt money can buy on your pup's back, but it should provide a purpose. Is it comfortable, safe, or providing protection to the weather elements? If not, it may be time to reconsider.
Maintenance … Choose Wisely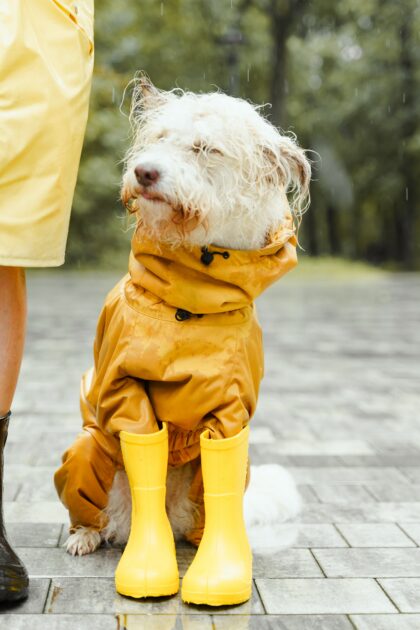 You wouldn't wear the same shirt day after day, would you? Dirty, smelly and just plain nasty! Same can be said for the dog shirt that your pet may wear on a regular basis. Unfortunately, our four-legged companions still lack the skills to do their own laundry, so this detail remains one of our responsibilities.
Maintaining the dog shirt is essential for a number of reasons. First of all, a good cleaning will help to eliminate odors as well as ensuring the shirt keeps its look. Depending on your pet's activity level, spending a great deal of the time outdoors, are indeed factors to consider when choosing a dog shirt. The upkeep of these shirts may be an additional duty around the house, but it will pay dividends in the long run. Your pet will appreciate it!
The Dog Shirt … How To Choose The Right One
Okay, we have now looked at a number of things to consider when choosing the best dog shirt for your companion. There are indeed a number of dog shirt products on the market today, with most of them belonging to one of the categories I have listed below. Hopefully, this list will assist you with the selection process. Let's take a look:
The Everyday Wear Or Casual Shirt
Novelty/Humorous
Sports (College and Pro)
Upscale/Designer
Custom/Personalized Shirts
Formal/Special Occasions
Consult with Your Vet
The ultimate best decision on picking the best dog shirt may require your vet's input. These professionals can examine your dog's body characteristics and recommend the best dog shirt that keeps them comfortable. You can decide to take on their advice at face value, especially on recommendations about the material quality and size. However, the decision on color and designs can be yours to make.
Conclusion
Choosing the right dog shirt should be something that is fun, and something you look forward to. I get it, with all the dog shirt products out there today, choosing the right one can be a difficult task. Hopefully, this article has brought you some clarity and will help to make the decision process a much easier one. 
Below I have listed a number of dog shirts that may appeal to the needs of you and your pet. Simply click on the product image to view all the product details that should assist in the selection process. I have purposely displayed a number of these shirts in the same categories that were mentioned above. Good luck on your search! 
Casual Dog Shirt: 

Click

Each Product Image Below
Novelty/Humorous Dog Shirt: 

Click

Each Product Image Below
Sports (College/Pro) Dog Shirt: 

Click

Each Product Image Below
Upscale/Designer Dog Shirt: 

Click

Each Product Image Below
Custom/Personalized Dog Shirt: 

Click

Each Product Image Below
Formal/Special Occasions Dog Shirt: 

Click

Each Product Image Below
 

To See The Entire List Of Dog Shirt Products

,  >>

CLICK HERE

<<