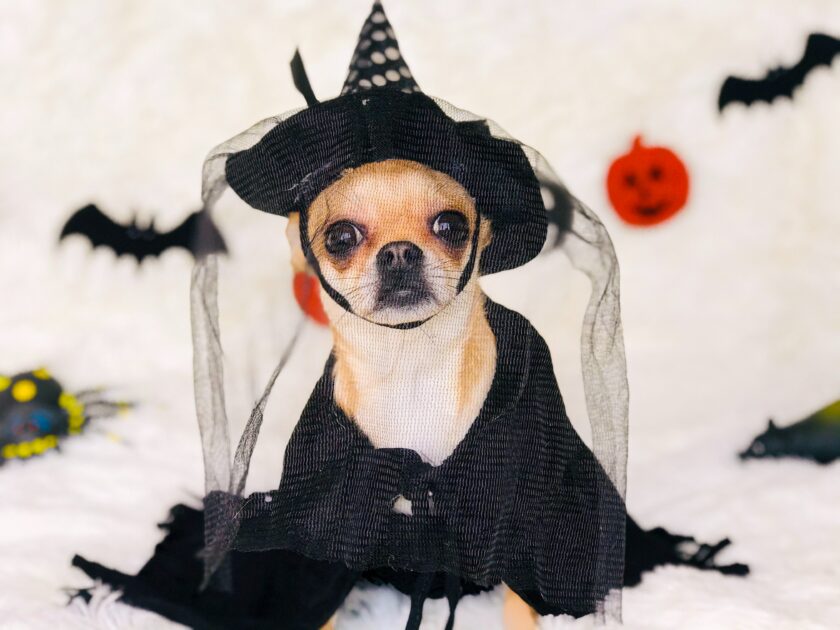 Thought I would step away from the dog food research and provide a Halloween treat. Many dog owners have embraced the Halloween season, dressing up their furry friends in adorable and creative Halloween costumes. In this article, we'll look at a number of these dogs Halloween costumes, giving you a variety to consider. Before doing this, however, let's take a quick look at some other details to consider.
Note: This article contains affiliate links and offers, and I may receive a commission if you decide to purchase one of these products
Safety First: Tips for Choosing the Perfect Costume
Before you start shopping for the perfect Halloween costume for your dog, there are a number of things to consider. Without question, make sure you keep the safety of your pet in mind. The Halloween season only comes around once a year, so your pet is obviously not accustomed to wearing a costume.  it's crucial to prioritize safety. Here are some essential tips to keep in mind:
 Your Dog's Comfort – First things first, make sure your dog will be comfortable in the costume you choose. Costumes that are too tight, too loose, or a skin irritant is a costume that needs to go back on the rack. Make sure the costume allows for free movement, or any other obstruction (sight, hearing, etc.)
 Choose Costumes with Safe Materials – Dogs Halloween costumes can be found in a number of materials, shapes, and sizes. Stay away from costumes that may contain small parts or decorations that look appetizing to your dog. Avoid the risk of your pet chewing and/or swallowing these pieces.
Rehearsal Time – Yep, you know the routine. Before that big day/night, make sure  your four-legged companion has a few times to put on and wear this costume. By doing so, your pet will feel much more comfortable when that Trick or Treat night arrives.
Dogs Halloween Costumes
Well, now that we have looked at a number of precaution steps you should take, let's turn our attention to the costumes. The good part is that there are literally hundreds of Halloween dog costumes to choose from, with a variety of sizes and styles. For your convenience, I have listed a number of categories below to help you narrow your search. Let's take a look: 
Animal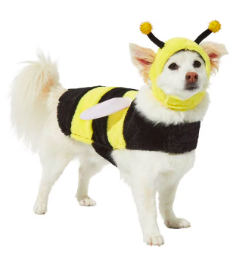 1.) Bumble Bee – Does your furry friend exude Halloween enthusiasm? If so, we have the ideal costume for them! This costume boasts soft, plush faux fur and features shiny iridescent wings on the back, ensuring not only cuteness but also comfort. It securely fastens with hook-and-loop closures at the neck and belly, allowing for a customized fit that your pet will appreciate.
Additionally, it comes with a separate headpiece adorned with adorable bobbling antennae for extra cuteness and ear holes for added comfort. Whether you're attending Halloween parties, capturing furry photo moments, or embarking on a trick-or-treating adventure with your fur companions, this costume is a fantastic choice.
Click HERE for further details
2.) Walking Werewolf – Whether there's a full moon or not, your furry companion can transform into an even furrier creature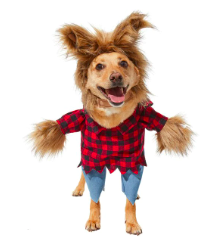 with the Werewolf Costume.This three-piece ensemble, designed for front-walking, includes plush hands, "ripped" pants, a stylish plaid shirt, a fuzzy hat complete with comfy ear holes, and a detachable cape.
The front-walking style allows your dog or cat to convincingly resemble a genuine werewolf when viewed from the front, making it perfect for themed photo sessions! Crafted from soft cotton and polyester, this costume offers supreme comfort, and the hook-and-loop fasteners at the neck and pants ensure easy and hassle-free dressing. Give your pal the opportunity to unleash their inner beast and join the pack of wolves this Halloween.
Click HERE for further details.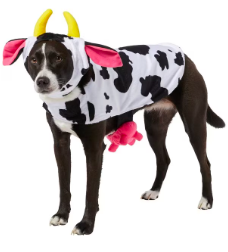 3.) Happy Cow – Straight from the pasture, this costume is undeniably charming. Give your dog or cat that farm-to-fashion style that's ideal for any costume party. It's a breeze to don with secure neck and belly straps featuring hook and loop fasteners, ensuring a snug fit. The separate hood adds extra comfort for your furry friend, and a built-in leash hole simplifies your adventures around the neighborhood. Best of all, it comes in a range of sizes to accommodate most pets.
Click HERE for further details.
To see other Animal Costumes click HERE
Funny
1.) UPS Delivery Driver – When your canine or feline companion is dressed in the California Costumes UPS Delivery Driver Dog & Cat Costume,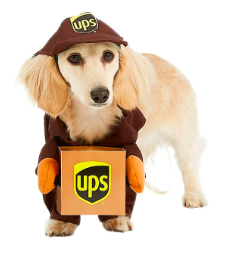 they become the ultimate courier for delivering fun! This unique and high-quality pet costume is officially licensed by UPS, boasting authentic company brand logos on the included shirt, cap, and box.
The costume features stuffed arms with fuzzy fasteners on the palms of the hands, ensuring the detachable box stays securely in place. Additionally, the shirt boasts a convenient fuzzy fastener closure for effortless dressing and undressing of your furry friend. Crafted from 100% polyester, this adorable outfit is perfect for photo shoots, pet parades, or adding a touch of Halloween spirit to your pet's wardrobe.
Click HERE for further details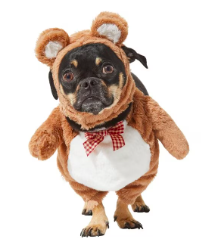 2.) Front Walking Teddy Bear – It's almost unbearably cute! Its unique front-walking design, complete with a separate headpiece, gives the illusion that your pup is a walking teddy bear. Expect plenty of bear hugs at your upcoming costume party! Crafted from soft and plush materials, it's the ideal outfit for pets that adore cuddling, and the charming plaid bow adds a touch of fashionable flair. Designed to fit both dogs and cats, it's a breeze to put on with a convenient hook-and-loop strap and comes in various sizes, ensuring you find the perfect fit for your furry companion.
Click HERE for further details
3.) Hotdog Dog – What's your preferred dog style? We're betting it's the furry kind with some extra paws! Our one-piece hot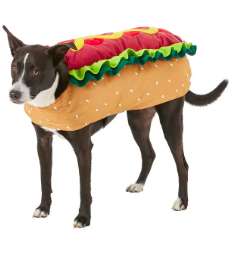 dog costume is crafted to accommodate most dogs and cats, making it effortless to put on thanks to the neck and belly straps. Just slip it on your furry friend, and they'll become the complete package – the wiener, all the condiments, and even the sesame seed buns. To be honest, it's the most adorable Halloween ensemble you'll find, so deck out your pup and savor all the attention they'll receive. Did you catch that wordplay?
Click HERE for further details
                                                To See Other Funny Costumes Click HERE
Career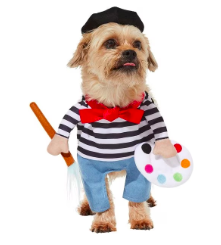 1.) Front Walking French Artist – Let your pet become the talk of the town with this charming front-walking artist costume. With its striped shirt, beret, paintbrush, and palette, your pet will transform into a walking masterpiece, channeling their inner Picasso. This two-piece ensemble consists of a front-walking body piece and a separate, comfy beret equipped with a chin strap for a secure fit. Dressing up your pet is a breeze with the convenient hook-and-loop fasteners, ensuring a great fit regardless of your pet's size. Whether it's for a Halloween party or a neighborhood trick-or-treating adventure, this costume is a fantastic choice and comes in various sizes to accommodate artistic pups of all sizes.
Click HERE for further details
2.) Formal Dog Tuxedo – Is your stylish pet in need of an ensemble that highlights their debonair charm? Look no further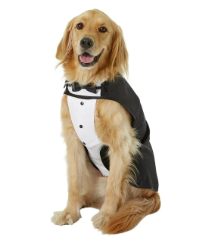 than the Frisco Formal Dog Tuxedo, designed to prepare your pet for any special occasion while ensuring comfort and convenience. The black jacket is seamlessly attached to the white shirt flap, creating an authentic tuxedo appearance.
An adorable bowtie, complete with gold button accents, is already elegantly sewn on. Rest assured, the hook and loop fasteners won't snag on your furry companion's coat, and the built-in leash hole guarantees your pet can confidently strut their stuff. Available in a range of sizes, from extra-small to extra-large, you'll easily find the perfect fit for your beloved furry friend.
Click HERE for further details on this product
To see other career costumes click HERE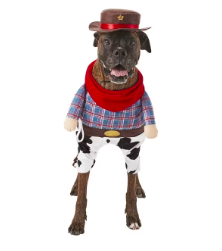 3.) Front Walking Cowboy -Transform your furry boo into an adorable buckaroo with this front-walking costume.This two-piece set comes with an adjustable cowboy hat with ear loops, chin strap and toggle for a secure fit, plus a built-in bandana and faux lasso. The front-walking style makes it look like your dog or cat is strutting up to the rodeo. Plus, it doesn't get in the way of a collar and leash so you can giddy-up for a walk.
Click HERE for further details on this product
To see other career costumes click HERE
Trendy
1.) Pumpkin Dog – Fresh from the paw-kin patch comes the Frisco Pumpkin Dog & Cat Costume. No pumpkins were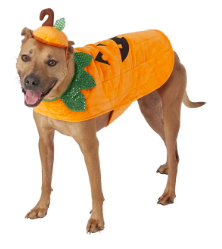 carved in the making of this scary adorable Jack-o'-lantern costume. This two-piece costume features a stuffed pumpkin body with faux-carved details on the back and a sequined green leaf collar, plus a matching pumpkin cap with an adjustable toggle for a snug fit. Dress up your pal for your Halloween party or to go trick-or-treating around your neighborhood. This costume is available in various sizes so you can find the one that fits best.
Click HERE for further details on this product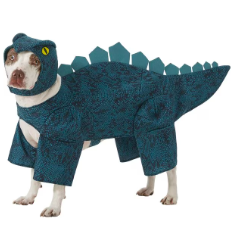 2.)

Stegosaurus Dinosaur Dog

– It's been millennia since we've encountered such a remarkably cool dinosaur costume! This ensemble consists of two parts: a dino head "hat" and a dino body featuring a tail and scaly-looking fabric. Dressing up your furry friend is a breeze, thanks to the neck and belly straps equipped with hook-and-loop fasteners. Plus, this costume is suitable for both dogs and cats, ensuring versatility. With your pal dressed up as this prehistoric playmate, the Halloween trick-or-treat excitement will be anything but extinct!
Click HERE for further details on this product
3.)

Front Walking Killer Dog

– Have a spooktacular time this Halloween with this killer doll costume. This costume's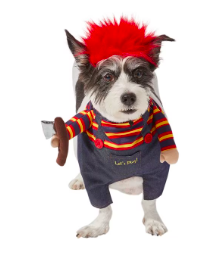 spooky front-walking design turns your pet into a walking killer doll, complete with crazy hair. Its two-piece design includes a front-walking body piece and a separate, comfortable headpiece. It's easy to put on with hook-and-loop fasteners, which makes for a great fit no matter your pet's size. This is a great costume for a Halloween party or a trick-or-treating trip out and about in the neighborhood.
Click HERE for further details on this product
To see other trendy costumes click HERE
Final Thoughts
Halloween is just not for humans any longer! Many dog owners have now included their furry friends in the Halloween event, dressing them up in a wide variety of costumes. In this article, we looked at a number of these dogs halloween costumes and measures to take to ensure their safety. 
Have fun with the Halloween season, and show off your four-legged companion with a costume that will surely get some laughs. In addition, it's a great way to create some memories that will last a lifetime. To get started with the selection process, click on the links under each category that I ;listed above. Hopefully, this will provide an idea that will be represent your pet's personality. Have fun!