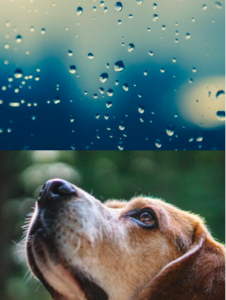 Rain, rain go away, come back another day! No way of predicting Mother Nature, and regardless of the weather, our pets still have to do their 'business.' In addition, the majority of dogs and their owners enjoy the daily walk despite the weather outside. As we begin the rainy season for a lot of us, it's a good time to think about protecting our pooches from this element. Considered a rain coat for your pet?  Rain Boots? What is the best dog rain gear?
Just like us, I'm pretty sure our four-legged companions really aren't crazy about the cold rain that beats down on their bodies. Protecting our furry friends from the rain can result in huge benefits including colds, tangled and matted hair and that awful smell of a wet dog. In this article, I will take a look at some of the features of the dog rain gear as well as some items you might fight interesting.
Why Do Dogs Need Rain Gear?
The simple answer, they don't. Pretty sure our pet's ancestors who lived in the wild weren't supplied with this luxury either. What about us? Do we really need umbrellas when the rain is pounding down outside? Probably not, but it does provide us with some protection in hopes it just may keep us away from colds, the flu and other illnesses.
To be fair, some dogs seem to enjoy water. You know, the ones you see jumping into a farm pond, lake or perhaps your swimming pool out back. Other canines will do anything to avoid the wet stuff! In these cases, many dog owners have chosen to purchase rain gear for those pets who prefer to stay dry.
Which Type Of Dog Would Benefit From Rain Gear?
To answer this question, let me go back to the umbrella example that I used earlier. In other words, 'Which type of human would benefit from an umbrella'? See my point here? Although some dogs may not be bothered by water and may actually enjoy it, being protected by rain gear may protect your pooch from unwanted health concerns.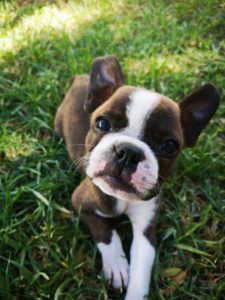 According to Mat Deveau, founder of the Well Heeled Dog NYC, dog rain coats seem to be appropriate for short-haired dogs, who don't possess a thick undercoat to protect them from the cold rain or snow. Here is a list of specific dog breeds who may benefit from the rain gear:
Boston Terrier
Boxers
French Bulldogs
Obviously, there would be other breeds who fall under this category but hopefully this gives you an idea of the dog type I are speaking of.
What Types Of Dog Rain Gear Are There?
Like most things, there are a number of products available to dog owners who may be considering the idea of keeping their pet safe and dry. Such items as Raincoats, Boots, and Umbrellas are all available at an affordable price. Let's take a look at some popular raincoats below:
Dog Raincoats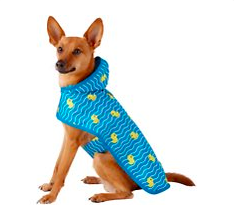 Frisco Rubber Ducky Dog Raincoat –  This water-resistant coat is made to keep your companion dry and designed with belly strips to keep your pet snug. There is a built-in leash hole that allows the dog owner to attach a leash to a collar worn underneath the raincoat. Available in various sizes to meet the needs of your pup.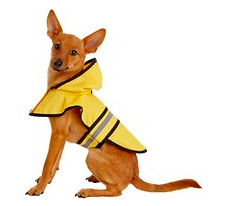 2. Ethical Pet Fashion Rainy Days Slicker Raincoat
This particular raincoat is made of 100% polyester with a waterproof coating to keep your furry friend dry. Color of this coat is yellow, with reflective stripes on the back and hood, helping to keep your pet quite visible as you stroll down the street. The fastener chest closure with the adjustable fastener belly strap provide a snug fit.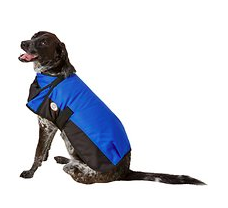 3. Derby Originals 600D Waterproof Dog Blanket Coat
This coat is actually modeled after the winter blanket for horses, made of 150 grams of soft, warm poly-fill insulation encased between the strong 600D nylon outer shell and comfortable, breathable 210D nylon lining. The outer shelf of this specific coat is waterproof and rip-resistant with an adjustable neck strap. Metal buckle with elastic fastener belly band will keep your pet cozy and snug.
Below I have placed important information regarding the fitting of your pet should you choose to purchase any one of the three above. Here are the guidelines:
For the best fit, match the below dimensions to your pet's measurements as closely as possible. If your pet falls somewhere between two sizes, we advise ordering the larger of the two.
Body: Measure the base of the neck to the base of the tail. Add 2 inches for comfort.
Neck: Measure around your dog's neck leaving room for two fingers.
Chest: Most important measurement; measure your dog's chest around the widest part. Add 2 inches for comfort.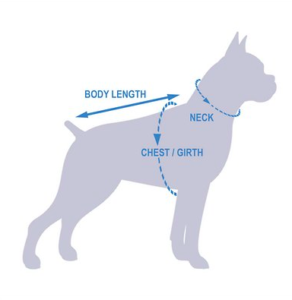 Boots For Dogs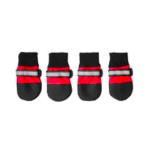 1.Frisco All Weather Dog Boots For Dogs 4 Pack
Protect your pooch's paws from the elements with this 4 pack of boots. These boots are designed to give limited protection from the elements outside, including rain, snow, salt, rocky surfaces and hot pavement. The soles of the boots are made of suede-leather and are easy to put on with the fuzzy fastener strap closure. Available in various sizes as well.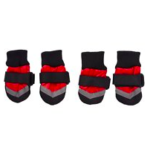 2. Ethical Pet Fashion Lookin' Good Fleece Boots 4 Count
These boots are a little different in that they are more suited to protect your pooch from such things as rain, snow salt, hot pavement and injury. They are suitable to wear indoors as well, as they will help in scratching and slipping on hardwood floors. Made of 100% polyester polar fleece, the boot has an elastic strap for easy on/off and a non-skid PVC sole.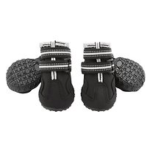 3. Frisco Ant-Slip Water Resistant Reflective Dog Boots
These boots are made with a sole that is water-resistant. In addition, this item makes it easy for dog owners to put on and take off these boots with the adjustable strips. Also protects your pet from ice and snow and are available in various sizes. Also comes with reflective straps to help keep your pet visible in dim lit surroundings.
For your convenience, I have placed a sizing chart with instructions to assist you in fitting your pet with proper sizes. Here you go:
For the best fit, match the below dimensions to your pet's measurements as closely as possible. If your pet falls somewhere between two sizes, we advise ordering the larger of the two.
Paw Width: While your pet's paw is still on the ground, measure from side to side at the widest point of your pet's paw, which is usually near the base of the toes.
Length: With your pet's paw on the ground, measure from the tip of the claws (those have to fit inside the shoe too) to the back of where the paw touches the ground, which is just behind the pad.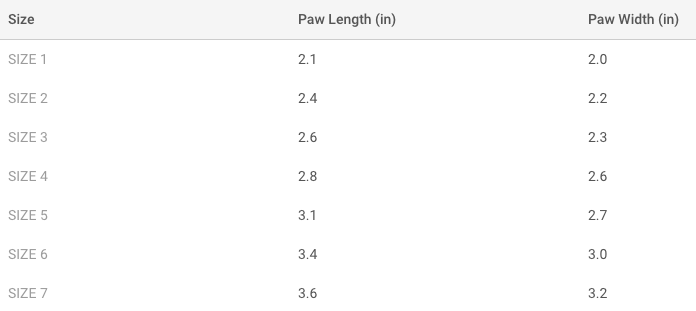 Dog Umbrella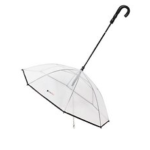 This cute little umbrella is a water-proof and wind-proof as well as being clear to keep an eye on your pet. Comes with an ergonomic handle and is best suited for the smaller bred of dogs including the Yorkies, Pomeranians, Poodles, Teddies, Bichon Frises and Shih Tzus. Made with a strength-tested stainless steel leash that securely connects to your pup's collar, which means it stays stable and closer to your pal for more coverage.
Final Thoughts … Best Dog Rain Gear
Look, I'm sure that no matter where you live, there is bound to be some moisture that falls from the sky. Rain, snow, sleet or ice, our pets must endure one or more of these elements at some time throughout their life.
As I mentioned earlier in this article, purchasing some type of rain gear may not be essential to your dog's survival. It is my belief and opinion that using these items will result in a bit of added security for you and your pet.
You were given a number of items above that will go a long way in keeping your pet dry and comfortable. Essential no, smart, yes.
Thank you for visiting my site, and I hope you have gained some insight from reading this article. Please feel free to leave a comment below or provide additional feedback if you have used a rain gear product. To the health of you, and your pet!