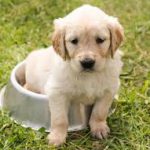 In this article, I will look at and review a number (4) of various wet food dog products which are very popular among pet owners. All of these products will be of a healthy, nutritional value and ones that you should feel confident in their diet. I will also look at  the pros and cons associated with the wet type of food, and hopefully assist you in determining what is the best wet dog food for you and your four-legged companion.
Before I get into a review regarding the topic of wet dog food, I want to point out some advantages and disadvantages of this type of food. You must consider the needs of your pet first, and then decide if serving your canine wet food meets these needs. Things to consider should include such things as the life stage of your dog, health, allergies, and nutritional needs. Only then, should you consider a wet type recipe. Let's look at some positive and negative aspects of serving your pet with a wet dog food.
Benefits
Hydration/Moisture  – Especially important for dogs who simply don't drink enough water  (All life stages)
Consumption/Eating Process – Wet food is easier to eat and digest, especially for dogs with dental issues (Loss of teeth)
Smell/Aroma – Much stronger aroma than dry, which is appealing to the most finicky eater
Puppies/Young Dogs – Wet food is full of protein, which fosters a healthy growth process
Longer Shelf Life – Can food, unopened, will have a much longer shelf life than dry food
Disadvantages
Cost – More expensive than dry (kibble) food
Dental – More dental issues (plaque) with dogs consuming a wet food diet conclusively
Expiration – Once opened, wet food must be consumed in a shorter period of time to avoid spoiling
Moisture Intake – May result in more frequent urination
Best Choice For Me … 
When you look at the pros and cons listed above, you, as the pet owner must decide if a wet food fits the needs of your dog. Do the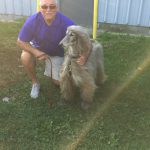 benefits outweigh the disadvantages? For me, the answer to this question is a 'yes,' as I incorporate the wet recipe along with the dry. To do this, I simply add 2 tablespoons of the wet recipe to the dry recipe. I do this once a day, at feeding  time and my dog loves it! By combining the two, I know that my dog (Afghan Hound) is receiving a healthy, nutritional diet. That's us to the right:)
Reviews
Merrick's Grain Free Dog Food Variety Bundle

Product Description: Wet recipe featuring deboned chicken, turkey, and beef. contains fresh vegetables and fruits including red jacket new potatoes, carrots, peas and red apples. First ingredient is deboned chicken, turkey or beef providing a healthy ingredient of protein. 100% Grain Free.

About Merrick: Founded by Garth Merrick in 1988. Wholesome, nutritional ingredients are obtained from trusted farmers and used to create small batches of a quality food. Made in USA.
Availability: Comes in three flavors including Grammy's Pot Pie, Thanksgiving Dinner, and Cowboy Cookout. Each can weighs 3.2 ounces. (Variety Pack)
Click here for purchasing details
2. 

Canidae Chicken & Rice Formula
Product Description: Wet formula, vet formulated for dogs of all life stages. Healthy chicken as first ingredient combined with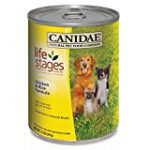 added vitamins and minerals for wholesome diet. Formulated for all breeds, sizes and life stages.
About Canidae: Family-owned business located in Texas. Grain free, healthy chicken, poultry and fish are main ingredients within their recipes.
Availability: 13 ounce, 12 pack
Click here for purchasing details
3. Wellness Core Grain Free Turkey, Pork Liver & Duck Formula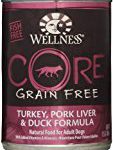 Product Description: Wet formula, designed with probiotics and nutrients to produce whole-body health.  Comprised of healthy, wholesome ingredients with various flavors and recipes.
About Wellness: Family business established in 1990, working with animal nutrition experts, veterinarians and scientists to produce a healthy, nutritional food.
Availability: 12.5 ounce can, pack of 12.
Click here for purchasing details
4. 

Taste Of The Wild Wetlands
Product Description:Wet formula, based on the premise that our dog's ancestors diet was wholesome and healthy. Ingredients include healthy meats and probiotics for a nutritional diet.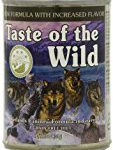 About Taste Of The Wild: Company believes our dogs still crave a 'taste of the wild,' and produce recipes with this belief in mind. A balanced diet that nature intended is the philosophy based on their recipes.
Availability: 13.2 ounce cans, pack of 12
Click here for purchasing details
Make The Right Choice…  Items To Consider
Obviously, there are other quality wet dog food brands out there, but I have used all four of these at one point with various dogs I have owned. The four mentioned above are indeed a quality product, with a great reputation and very popular among dog owners throughout the country. Any one of these four will provide your pet with a healthy, nutritional diet. Before deciding on a specific brand, I would recommend that you consider the following criteria: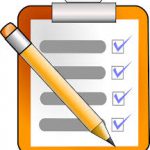 #1 ingredient should be a meat product for protein (beef, chicken, lamb, poultry, duck, fish, etc.)
Read all labels to ensure the ingredients don't include artificial coloring, sugars, unhealthy fillers
Your pet's age, health condition, activity level
Cost
Read the labels to make sure it contains the ingredients to ensure a healthy diet
Talk with your vet or animal nutritionist for assistance
My Choice… 
To answer the question, "What Is The Best Wet Dog Food?" you must first consider the needs of your dog. Don't be fooled by the fancy advertisements or endorsements you may see on television. If you follow the guidelines mentioned above, you should be able to find a brand that best suits the needs of your pet. As mentioned above, the four brands mentioned in my review are all quality, wholesome products. For me, and my dog's needs, I use the Wellness Core on a daily basis as a topper with her dry food. I hope this review has brought you some insight regarding the topic of wet dog food and hopefully assists you in your decision making process. Please feel free to leave a comment below, and thanks for visiting. To the health of your pet!