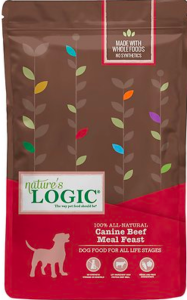 Hello fellow dog lovers, came across a product recently called Nature Logic Dog Food, and wanted to share my research with you. To be honest, I have never used this product myself, but did find some interesting details that hopefully will provide you with some value.
Nature Logic Dog Food … What's It All About?
The company, founded in 2006, claims that their line of pet food is one of premium quality and one that will provide your dog with a natural and whole food nutrition. The founder, a gentleman by the name of Scott Freeman, firmly believed that pets would benefit from a whole food nutrition without the added synthetic supplements.
To be safe, Mr. Freeman sent batches of his pet food (dry variety) for an AAFCO feeding trial to have these foods cleared for All Life Stages. These foods passed the test without any glitches. In essence, the company's main focus has always been to provide a nutritious and safe diet to our four-legged companions. 100% all natural products is at the core of the company's belief.
Nature Logic Dog Food … What About The Ingredients ?
Before getting into the ingredients that make up these recipes, let me state first of all that the Nature Logic Dog Food can be found in both the dry, and wet form. As a dog owner yourself, this gives you a choice. A little more about this a little later.
Okay, let's get into the ingredients. Below I have compiled a list of these ingredients to make it easier for you to get a better idea of what goes into these recipes. Let's take a look:
Protein and Fat – The company obtains the proteins and fats from animal sources including beef, chicken, lamb, venison, duck, turkey and rabbit. Furthermore, the beef, chicken, duck, lamb, fish, venison, and rabbit all come from a surplus that are not sold to supermarkets within the daily production cycle. In other words, these  protein sources are human-edible.
Meal – This is primarily just a dried version of the proteins listed above. This can be muscle meat, a source that may contain the bone and skin, for nutrients and calcium. This will not include internal organs from an animal or feet, feathers, heads, etc.
Natural Preservatives – The company uses something called mixed tocopherols which comes from vegetable oil which serves as a natural antioxidant.
Millet – Look, almost if not all dog food companies, use a specific type of starch or grain that is used to keep the kibble stay together and to keep its shape. Sadly, these ingredients provide little to no nutritional value. Nature Logic uses millet which is a grass seed to accomplish this, which was common for dogs in the wild to consume. In other words, this is a natural consumption for carnivores.
Plasma – Simply put, this is blood. Think about our dogs in the wild who would kill prey for their meal. Obviously, blood is a natural occurrence with the kill and this blood actually provides nutritional value. Nature Logic actually uses porcine plasma in its recipes which provides a source of natural nutrients.
Prebiotics – The company uses chicory as a prebiotic which helps to stimulate the growth of a specific bacteria, which provides a benefit to strains in the colon.
Probiotics – Every pet contains some natural bacteria within a healthy digestive system. Nature Logic uses a total of a five probiotic blend that effectively works together to support a healthy immune system.
Take a look at the video below for further information on this product:
Nature's Logic Dog Food … What Is Offered?
Dog owners should enjoy the choices that Nature Logic provides. Their recipes can be found in three various forms that I have listed below:
Dry
Canned (Wet)
Raw Frozen
Nature's Logic Dog Food … The Dry
The company offers a number of dry recipes that may surprise you. Looking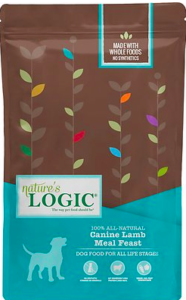 for a particular meat? If so, you can find recipes in the following meat sources: Beef, Canine Chicken, Duck & Salmon, Lamb, Pork, Canine Sardine, Turkey, Rabbit and Venison. Interested in one of these flavors? If so, just click on your favorite flavor above. Here are just a few benefits of the dry formulas according to the company:
100% natural formula made free of chemically synthesized vitamins, minerals or amino acids.
Contains minimally processed food, such as dried kelp, blueberries, spinach and cranberries.
Probiotics and digestive enzymes are added after cooking to help maintain proper digestion.
Millet is used instead of potatoes or tapioca for a low-sugar content.
MSG-free formula made free of hydrolyzed proteins, corn, wheat, rice or soy.
Nature's Logic Dog Food … The Canned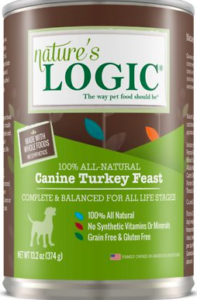 For those who prefer the the canned or wet version of dog food, the company provides this as well. Using the canned version as the main course, or using it as topper like I do, is common amongst dog owners.
You can find the canned or wet version of Natures Logic Dog Food in the following flavors: Canine Chicken, Canine Turkey, Canine Beef, Lamb, Canine Pork, Canine Duck & Salmon, Canine Sardine, Canine Rabbit, and Canine Venison. All of these recipes are grain-free. Below is a list of benefits the company claims of the Canine Turkey Feast recipe:
All-natural whole food made with nutrient-dense muscle meat and organ meat with concentrates of select fruits and vegetables.
Grain-free, gluten-free, and low in carbohydrates made with 90% animal ingredients.
Unique source of highly digestible natural eggshell calcium and animal plasma.
Highly palatable flavor with high levels of natural vitamins, minerals, and albumin and globulin proteins.
Free from potatoes, peas, lentils, wheat, corn, rice, soy, potato or chemically synthesized vitamins, minerals, trace nutrients, carrageenan, guar gum or xanthan gum.
Nature's Logic Dog Food … The Raw Frozen
Is their choice? If so, the company also offers a variety of flavors in the raw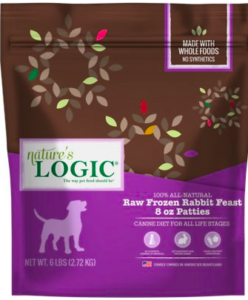 frozen form. Here are the flavors available: Beef, Chicken, Pork, Venison, and Rabbit. These recipes are going to be the closest thing to the wild as our dog's ancestors feasted upon. Here are a number of benefits the company states that these recipes will provide:
Contains highly palatable, nutrient-dense muscle and organ meat combined with a highly digestible, natural concentrate of fruits and vegetables.
This all-natural, grain-free, gluten-free diet is made up of only whole-food ingredients that supply all required nutrients naturally.
This raw diet is made of over 90% rabbit and provides a great way to feed your four-legged friend the food she was meant to thrive on.
Select whole food ingredients supply all required nutrients naturally without the need for chemically synthesized vitamins, minerals or trace nutrients.
Does not contain potatoes, peas, lentils, wheat, corn, rice, soy, potato or chemically synthesized vitamins, minerals, trace nutrients, carrageenan, guar gum or xanthan gum.
Nature Logic Dog Food … My Final Thoughts
As mentioned earlier, I have never used this dog food with my own canines, but my research certainly convinced me that this is a nutritional, quality product with healthy ingredients. Why, well here are my thoughts on this product and why I would recommend.

It's a natural feed, and not one of unwanted fillers, chemicals or artificial ingredients.
Protein (Meats) are of high quality and significant to providing a whole food nutritional value.
Safety measures (testing) is a high priority.
Available in various forms (dry,wet,raw frozen) to give dog owners an option.
Appropriate for all life stages. (Puppy to Adult)
100% all-natural products.
Easily digestible.
The first ingredient will always have an animal protein. (Beef, Chicken, Duck, etc.)
Customers reviews which are primarily very positive.
The plant products that are used to provide a quality nutrition.
I certainly this article has brought you some further insight regarding this product, and helps you to make an educated decision in choosing this product. If you should have any questions regarding this product, feel free to leave a comment below.
Disclaimer
For those unfamiliar with dog food grain-free recipes, there has and is a controversy taking place as I write this article. The FDA has made public that it has launched an investigation between a possible connection between the grain-free diet and heart disease within dogs. For further information, the American Kennel Club has provided further details. Click here.