As someone who enjoys the research of various dog food products, I find it fascinating when comparing one product to another. I decided to take a look and compare two products, the Zignature Dog Food and Eukanuba Dog Food. In doing so, hopefully this will provide a benefit to you when deciding which product best suits your dogs needs.
In comparing these two dog food products, I wanted to take a look at a number of items that would have the biggest impact on your decision process. In this article, we will take a look at the history of both companies, the Zignature and Eukanuba line of products, ingredients used in their products, recalls, and customer reviews.
Zignature Dog Food … Who They Are
Pets-Global, a privately owned company, is the creator of the Zignature dog food brand. The company was founded in 2010 and is headquartered in the state of California. Zignature dog food was launched in 2012.
Daniel Hereford, the president of Pets Global, owned a boxer named Ziggy who had some digestive issues. Wanting to help with Ziggy's issues, Mr. Hereford decided to create a nutritional, healthy dog food to help his pet and other dogs who were suffering with intolerance and food allergies. As a result, Zignature (Ziggy) Dog Food came to be.
These specific products are designed in a way that reflects the same diet as our dog's ancestors were accustomed to, protein-rich with a combination of limited ingredients.
Eukanuba Dog Food … Who They Are
The history of Eukanuba also starts with a gentleman who had a vision of creating a dog food to provide the energy working and sporting dogs required. This gentleman's name was Paul Iams (Iams Pet Food) and in 1969 launched the Eukanuba dog food brand.
It was named Eukanuba to represent the term "supreme' and consisted of high protein to provide energy to the working and sporting dog. At this time, the cost of Eukanuba was a bit more expensive than other dog food products, but Mr. Iams believed the nutritional benefits were well worth it. The Eukanuba brand continues to be popular amongst dog owners today.
Zignature  … The Line Of Products
The Zignature Brand offers a variety of products in both the dry and canned formulas. You can find these products in a number of various meat flavors as well and some you may have not considered. Here is the list the company has available to dog owners:
Limited Ingredients
Small Bites
Grain-Free
When you buy something from this website, I may receive an affiliate commission from Chewy.com. These are my opinions and are not representative of the companies that create these products. My reviews are based on my own personal experiences and research. I never create false reviews in order to receive a commission. My intention is to provide you with information so you can make decisions to which products may best suit your and your pet needs.
#1 Zignature Turkey Limited Ingredient Grain-Free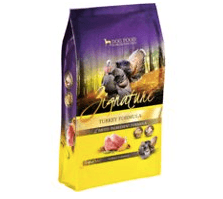 This grain-free, limited ingredient formula features a healthy source of farm-raised turkey as the first ingredient. Free from such potential allergens including corn, wheat, soy and dairy.

#2 Zignature Lamb Limited Ingredient Grain-Free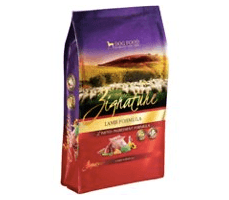 Another grain-free, limited ingredient formula that features lamb as the first ingredient. Appropriate for all dog breeds, containing wholesome peas and chickpeas that provide essential antioxidants for your four-legged companion.

#3 Zignature Zssential Multi-Protein Grain-Free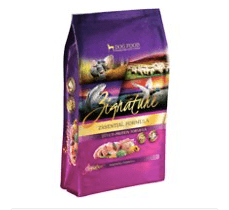 Formulated with a number of quality proteins including Turkey, Turkey Meal, Salmon, Duck Meal, and Lamb Meal. Good choice for those dogs who may suffer from food sensitivities.

#4 Zignature Catfish Limited Ingredient Grain-Free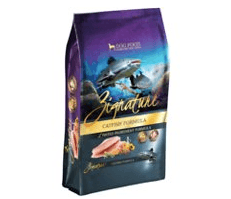 This formula features Catfish as the source of protein with limited ingredients. Another great choice for those pets with food sensitivities as the protein used here is hypoallergenic. Contains a healthy source of amino acids that provides a number of healthy benefits.

#5 Zignature Pork Limited Ingredient Grain-Free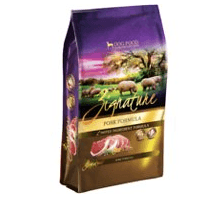 This formula features Pork as the first ingredient and is one of limited ingredients as well. Grain-free with wholesome peas and chickpeas with antioxidants and free from corn, soy, dairy and chicken.

#6 Zignature Duck Limited Ingredient Grain-Free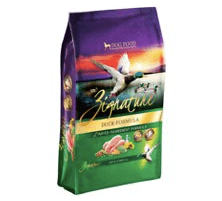 This recipe lists Duck as the first ingredient which is high in Omega-3 Fatty Acids, Iron, Phosphorus, Zinc and Selenium, while low in sodium. Acceptable for all breeds of dogs, and is grain-free.

#7 Zignature Trout & Salmon Small Bites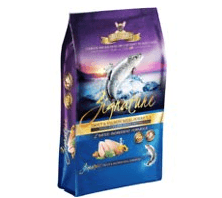 Made especially with the little guy in mind, this formula features a healthy source of Trout and Salmon. Delivers a complete and balanced diet for dogs, from puppies to adults. Great choice for pets who may have a sensitivity to Chicken.

For the complete line of Zignature Dog Food products, including Zignature Dog Food Kangaroo, click HERE.
Eukanuba … The Line Of Products
Eukanuba offers a variety of products that can be found in both the dry and wet forms. In addition, the company gives the dog owner a number of choices that you can see below including a number of recipes that are breed specific:
Lifestage (Puppy, Adult, Senior)
Special Concerns (Weight Control, Skin, Joints, Digestion, Pregnant/Nursing)
Product Formulas (Breed, Lifestage, Premium, Excel)
#1 Eukanuba Small Breed Puppy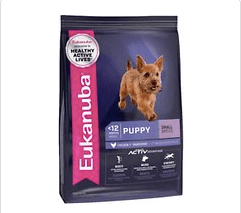 This small breed puppy formula is designed to meet the nutritional needs of the extra small, small and toy breed pups. Supports muscle growth, bone and brain development. Provides a complete and balanced nutrition.

#2 Eukanuba Large Breed Puppy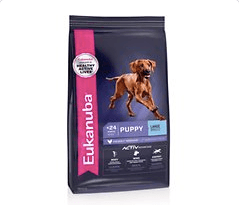 Formulated for the large and giant puppy breeds, it contains chicken as the first ingredient. It provides your pup with natural fiber and prebiotics to help with digestion. Vitamin E is contained to help develop your pet's immune system.

#3 Eukanuba Adult Lamb & Rice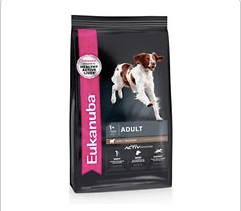 This recipe uses lamb as the first ingredient to provide a healthy protein. Glucosamine and chondroitin sulfate are added to assist with lean muscle development and joint health. Formula is intended for the adult dog.

#4 Eukanuba Small Bites Adult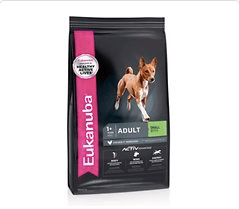 Specifically designed for the smaller breeds, the bite-sized kibble makes it an easy choice for the little guy. A complete and balanced nutrition, this formula provides the ingredients to promote high levels of energy with healthy fats and carbohydrates.

#5 Eukanuba Fit Body Weight Control (Large Breed)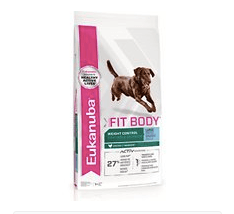 Containing real chicken as the first ingredient, this formula is 27% less fat than Eukanuba's Adult Large Breed Dog Food. Features glucosamine and chondroitin sulfate to support healthy joints and lean muscles.

#6 Eukanuba Fit Body Weight Control (Small Breed)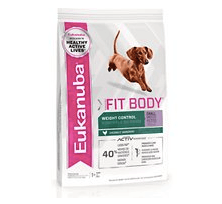 This formula is available for the small four-legged companion as well, with 40% less fat than Eukanuba's Adult Small Breed Dog Food to help your pup stay lean and active.

For those of you looking for breed specific formulas, here is the list of those:
Click on your breed below:
#7 Eukanuba Adult Mixed Grill Chicken & Beef In Gravy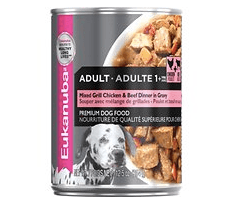 This wet recipe is formulated for all breeds of dogs. Formulated with vitamins and minerals to provide ideal nutrition for your best buddy. Contains antioxidants that assist with your pet's immune system, with a flavor that dogs seem to enjoy.

#8 Eukanuba Adult Beef & Vegetable Stew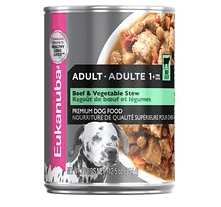 This adult recipe comes in a stew form, with vegetables and beef. Antioxidants are included to help promote a healthy immune system and essential amino acids.

#9 Eukanuba Puppy Lamb & Rice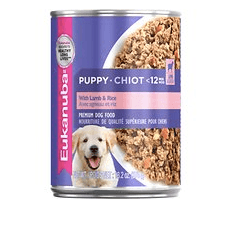 This formula is designed for the pup and is suitable for all breeds. Lamb provides protein that is easily digested for pups, and contains brown rice to give your pup the energy required. Like the other wet food formulas, this recipe can be used as a meal or a topper.

For other Eukanuba Wet Recipes, click HERE.
Zignature … The Ingredients
When researching the ingredients used in the Zignature Dog Food formulas, two things became a common thread. First of all, each formula uses a single source of healthy protein (Turkey, Lamb, Pork, Catfish, Salmon, etc.) that is important to your dog's overall health. Why?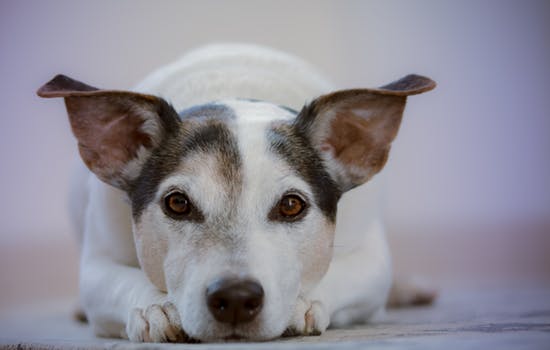 Well, according to Petguide,  protein is comprised of a number of amino acids, organic compounds that play an important role in a number of essential bodily processes. Dogs need a total of 22 different amino acids in their diet, though their bodies are capable of synthesizing (producing) 12 of them. The remaining 10 are called essential amino acids because they must come from your dog's diet.
In addition to the named protein of each formula, Zignature goes one step further in providing a 'meal' to the formula. To illustrate this a little easier, let's take a look at a few of the top ingredients of a specific recipe. Here are a couple of those below:
1.Zignature Lamb Limited Ingredient Formula
Lamb, Lamb Meal, Chickpeas, Peas, Sunflower Oil, Flaxseed
2. Zignature Duck Limited Ingredient Formula
Duck, Duck Meal, Chickpeas, Peas, Sunflower Oil, Flaxseed
Do you notice the 'Lamb Meal' in the first example, and the 'Duck Meal' in the second? In both cases, the 'Meal' provides an additional source of protein.
The second thing that was obvious to me in my research of the Zignature dog food ingredients was more of what was excluded than the ingredients that were included. Ingredients that you will never find in any of the Zignature recipes include Chicken, Corn, Soy, Wheat Gluten and Dairy. Why is this significant?
These ingredients such as Chicken, Corn, Soy Wheat Gluten and Dairy are often the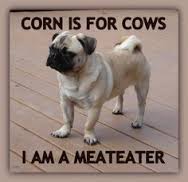 culprits in dog sensitivity or intolerance. In other words, these ingredients or a specific one of these may be causing your pet digestive issues. If you feel that your pet may have a sensitivity to food, always consult your veterinarian to get to the bottom of it.
Minerals, vitamins and supplements are added to the Zignature recipes as well, benefiting your pooch in a number of ways as well. These additions, with a combination of fruits and vegetables, gives your pet a nutritional hypoallergenic, low carbohydrate, and grain-free diet.
Eukanuba … The Ingredients
Like Zignature, Eukanuba uses high-quality ingredients in the recipes they make. The recipes also use an animal-based protein. According to the company's website, each formula features ACTIV Advantage, an exclusive protein and nutrient-powered design that fuels your dog's BODY, MIND and ENERGY.
With that said, there have been some concerns with dog owners and professionals regarding some of these ingredients. Included in this list are questionable fillers, by-products and artificial additives.
In addition, Eukanba dog food recipes may contain allergens that can result in some digestive concerns. These allergens (Wheat, Soy, Corn), in many cases, can directly result in unhealthy symptoms within your pet. Let's take a look at the first few ingredients you will find in the following Eukanuba formulas.
1.Eukanuba Large Breed Adult
Chicken, Corn, Chicken By-Product Meal, Wheat, Ground Grain Sorghum
2. Eukanuba Adult Lamb & Rice
Lamb, Brewers Rice, Chicken By-Product Meal, Corn, Wheat
Notice each recipe lists "Chicken-By-Product" as ingredients. You also see such ingredients as 'Corn' and 'Wheat' that many dog owners will stay away from. To be fair, there are probably just as many dog owners who are fine with the 'by-product' ingredient as they do provide a substantial source of nutrient.
Zignature Versus Eukanuba … The Recalls
The Zignature Dog Food Brand has never had a recall, where the Eukanuba Pet Brand did recall a limited number of its products as a result of suspected salmonella in 2013.
Zignature Dog Food Reviews  
When I research reviews of dog food, one of the first places I turn to is the Chewy site. As a lifelong purchaser of dog food products, God knows I have bought my fair of products from this website. In my opinion, the reviews placed here on ones that can be trusted and ones I use for my research.
Let's take a look at some of these Zignature dog food reviews now.
Zignature Venison Limited Ingredient Formula
My Dachshund loves it
By fromthemomma on Jun 24, 2020
My dog has had a food intolerance for a couple of years now. We've tried allergy pills, antibiotics, numerous high end foods including prescription food and she kept itching and licking. Vet finally said to try something she's never had, 1 protein with limited ingredients. Venison has been our next attempt. She loves the kibble mixed with the canned Zignature and I noticed a difference the 1st meal. It's been a bit over a week now and she isn't itching or licking like she was before. Vet gave us a medicated shampoo and along with the food I think we're on the right track.
1. great quality

By mbeezoo on Apr 18, 2020

We love this food for our dogs. Protein level is not too high and the ingredients are good quality. The dogs love the taste too.

2. Quality ingredients and yummy

By Kathryn on May 6, 2020

My dog has allergies and a sensitive tummy and this food hasn't bothered him at all.

3. Dogs refused to eat for 24 hours.

By Amanda on May 6, 2019

I put the food out and the two dogs, shepherd and shih tzu would not touch it. 24 hours passed and still nothing, so I had to go out and get them something else to make sure they didn't starve.

For the record, 95% of dog owners who tried this product would recommend it. These are Chewy customers who have purchased and used this product.
Eukanuba Dog Food Reviews
Here are the reviews from Chewy customers who have tried the Eukanuba Large Breed Puppy . Let's take a look at a few of the reviews:
Excellent choice of puppy food
By Dixie on Jun 17, 2020
Dixie loves her puppy food and it is working well for her. She has been on Eukanuba since we brought her home. She is perfectly healthy and growing like she should. I would recommend this brand to anyone wanting a good quality puppy food.
Nessy Approved!
By Crystal on Jun 5, 2020
Since my 3 year old Rottweiler, Bella, loves her adult Eukanuba food so much, I decided to stick with the brand for my puppy, Nessy. She gobbles it up so fast and her coat looks beautiful! I'm extremely happy with the Eukanuba brand.
My Mastiff baby will not eat this.
By Kathy on Jan 29, 2020
I was hopeful, because my puppy has decided he is a picky eater now and this got good reveiws for picky eaters. He will not eat this, at all, so I went back to his old brand which he thinks is just ok. I will be trying something else.
This product also received a 95% approval rate.

Look, dog food is like any other product on the market these days. Some will give it rave reviews, others will despise everything about it. Reviews on Eukanuba Dog Food is no different.
Conclusion
So there you have it. The battle between Zignature Dog Food and Eukanuba Dog Food. Which one is the best choice for your pet? To answer this question, I certainly hope that the article above has provided some helpful insight.
Both brands of dog food present advantages and disadvantages. Zignature, although appearing to be one of healthy, nutritional value is a bit pricey. Eukanauba, on the other hand, has a variety of products to choose from, but does come with a few controversial ingredients.
As you can see from the reviews mentioned above, both products met the approval rate (95% Recommended) of dog owners who have purchased and used these products. In determining which dog food to buy, you always must first consider the needs of your own pet.
For me, the best choice for me would be the Zignature brand. This is based on the needs of my Afghan Hound, who has showed some signs of sensitivity to Chicken. Eukanuba offers breed specific formulas which may be advantageous to those dog owners.
I would also suggest that you have a dialogue with your veterinarian should you still have questions regarding the best dog food for your pet. I certainly hope this article has helped you in some way and will make the decision process a much easier one for you.
Thank you for visiting my article, to your health and your pets!
Disclaimer
For those unfamiliar with dog food grain-free recipes, there has and is a controversy taking place as I write this article. The FDA has made public that it has launched an investigation between a possible connection between the grain-free diet and heart disease within dogs. For further information, the American Kennel Club has provided further details. Click here.
Disclaimer
The purpose of this site and articles are intended to provide a source of entertainment and information. As a dog owner and dog lover myself, I enjoy researching dog food products on the market to provide you with helpful insights. I am not a veterinarian nor an animal nutritionist, just a dog owner who wants to provide a healthy lifestyle to their pet. I use my research to express an opinion which may or may not be one you agree with.
eathealthydoggy.com assumes no responsibility or liability for the use or misuse of what's written on this site. You should always consult with a veterinarian if you should have questions regarding your dog's diet or overall health.