Zignature Dog Food … What Is It?
Zignature Dog Food is a product that is growing with popularity among pet owners throughout the world. The company and its core belief is that meat should always be the first ingredient and serve as the single source of protein. It is a limited ingredient dog food that contains no meat by-products. The recipes do not include chicken as the company believes that dogs have become intolerant and sensitive to chicken, thus eliminating it from all of their recipes.
Zignature, made by Pets Global Inc. is based and produce their recipes in the United States. Their recipes are gluten-free and use fresh ingredients that are obtained from various parts of the world and consider their products to be a natural, wholesome diet. Let's now take a look at the variety of meat flavors offered by Zignature in the kibble form. Let's take a look:
Zignature Kibble (Dry) … The Flavors
Venison Formula
Lamb Formula
Turkey Formula
Duck Formula
Pork Formula
Goat Formula
Guinea Fowl Formula
Salmon Formula
Whitefish Formula
Trout-Salmon Meal
Catfish Formula
Zssential Formula
Zignature Canned (Wet) … The Flavors
Pork Formula
Goat Formula
Venison Formula
Lamb Formula
Kangaroo Formula
Turkey Formula
Guinea Fowl Formula
Duck Formula
Salmon Formula
Whitefish Formula
Trout/Salmon Meal
Catfish Formula
Zssential Formula (Exceptionally High In Protein)
As you can see, Zignature offers a wide variety of flavors to choose from. Whether you decide dry over wet or vice-versa, the number one ingredient in each recipe will always be one of the above meat sources. Each flavor of dry will have a wet version that matches the meat source.
Zignature Dog Food … The Other Ingredients
As a limited ingredient dog food with the main focus centering around the meat (protein) as its single source of protein, let's take a look at some other ingredients within the recipes. I have decided to take a look at the first five ingredients in the Turkey Formula to give you an idea of what is contained within this recipe. Here they are:
Turkey
Turkey Meal
Chickpeas
Peas
Pea Protein
Obviously, the turkey and turkey meal will supply a great deal of protein to your dog's diet. This is what Zignature makes it claim, a limited ingredient with a single source of meat (protein) within all of their recipes. The peas and chickpeas supply a great source of fiber, carbohydrates and essential amino acids, ingredients that help promote a healthy lifestyle. Wholesome, natural fruits and vegetables full of antioxidants are also part of each recipe which also plays a vital role in the health of your dog.
Pros and Cons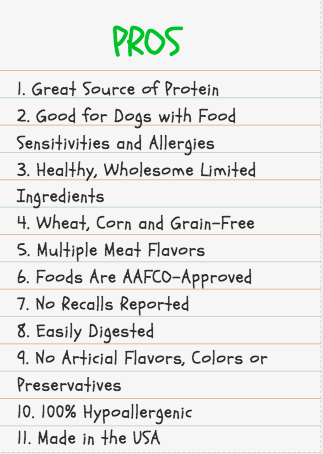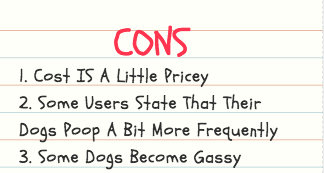 As a dog owner, you must make a decision in whether the pros outweigh the cons. Looking at the chart illustrated above, I believe that the benefits associated with this product certainly are ones to consider. The fact that Zignature dog food consists of healthy, wholesome ingredients without grains and free from any recalls, suggests that this product is one of quality.
Zignature Dog Food … Who Will Benefit?
For those pet owners who have dogs suffering from skin allergies, food allergies or sensitivities, Zignature just may be what you are looking for. With their limited ingredient recipes and the absence of chicken, your dog may indeed benefit from the Zignature brand.
For those looking for a grain-free diet, free of artificial flavors and preservatives, Zignature would also serve as a product to consider. Many dog owners feel that grains and unhealthy fillers are ingredients to avoid and there is some research that supports this notion.
Finally, if you are a dog owner who believes that protein is essential and possibly the most important ingredient to your dog's diet, then Zignature is a great choice. The company believes that our dogs, like their ancestors living in the wild, should be fed with a natural, healthy source of protein.
What Are Some Common Questions Associated With Zignature Dog Food?
Like any product on the market, there are a number of questions that potential customers would like to have answers before purchasing. This is also true of Zignature and I wanted to share some of these questions with you as well as giving you the answers to these questions. Hopefully, some of your own questions will be answered below. Here we go:
1.) Are The Zignature Food Products Manufactured In The United States?
Answer: Yes, they are. The kitchens producing the recipe are located in Minnesota and South Dakota.
2.) What are the first two ingredients contained in the Zignature product?
Answer: Meat and Meat or Fish Meal. Zignature's belief is that dogs, being carnivores, require a healthy meat source to function and perform at a high level. As a result of this belief, the first two ingredients in all of their recipes contain a healthy source of protein provided by these meats.
3.) Are Zignature Products Suitable For Dogs With Allergens And Sensitivities?
Answer: Yes. Zignature excludes specific ingredients that will or may cause sensitivities and allergies. Ingredients excluded are chicken, eggs, wheat, corn, soy and dairy.
4.) Does Zignature contain any artificial flavors, preservative, or colors?
Answer: No
5.) Can you rotate or change meat flavors within the Zignature brand?
Answer: Yes. Because Zignature produces each one of its products with specific ingredients, rotating a flavor of meat should not be an issue.
6.) What is AAFCO and what does it have to do with the Zignature product?
Answer: The AAFCO stands for the American Association of Feed Control Officials. This association was established to oversee the nutritional levels of dog food. The AAFCO has determined that the Zignature product has met these guidelines and does provide a total nutritional meal to four-legged companions.
How It Has Helped (What Customers Are Saying)
I've looked into a number of reviews of dog owners who have purchased Zignature and it is hard to find any negative comments. Of the one hundred plus customer reviews I found on Amazon who have used the Turkey Dry Formula, the majority has given this product four to five stars. The only complaints I read had to do with the pricing.
Most were looking for a product that were free of unhealthy ingredients and one that would help in food allergies and sensitivities. They were confident in knowing that their dogs were receiving a healthy, wholesome and natural diet without all the unwanted fillers such as corn, wheat and grains.
A number of reviews stated that visits to the vet have been greatly reduced, and the food allergies and sensitivities have all but disappeared. Although the cost of Zignature is not cheap, it is made up for the decreased number of visits to their local vet.
Summary And Final Recommendation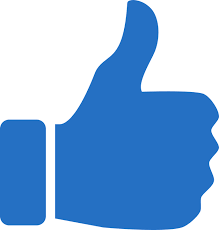 Well, as mentioned earlier, the Zignature product continues to grow with popularity throughout the world. The protein based, limited ingredient recipes provide a healthy diet that comes in a number of meat flavors listed above. The absence of chicken, artificial flavors and preservatives are indeed important to dog owners searching for a quality product.
One major drawback I see is the cost. Although not outlandish, the price may be a deterrent for those on a fixed budget and who may find this product too costly. I did do some extensive research on customer reviews, and the vast majority of dog owners praise the Zignature product.
Without hesitation, I would strongly recommend the Zignature product for all of the reasons mentioned above. Although it is ideal for dogs with sensitivities and food allergies, it is a quality source of diet for any dog. The natural, healthy ingredients produced within the product will provide your pet with a meal of high quality.
So, what is Zignature dog food? From my research it is one that should be on top of your list and one to consider when considering a new brand. I certainly hope this review has given you further understanding and insight to the Zignature product. Please feel free to leave a comment below and let me know your experience with the Zignature product. I have supplied you with a place to buy the Zignature products below for those interested in purchasing Zignature. Thank you for visiting!