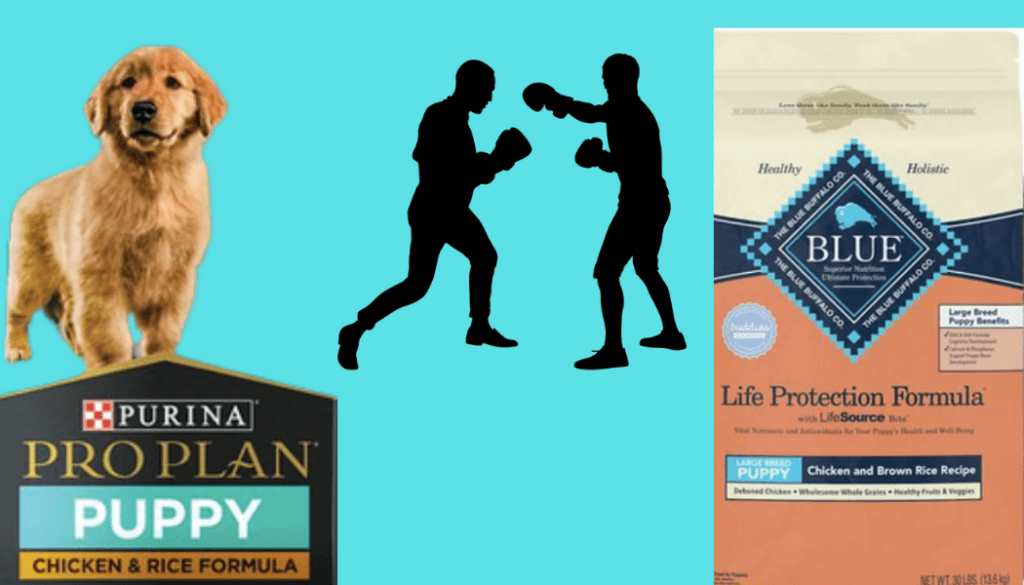 Article Contents
Purina Pro Plan Puppy (Overview)
Blue Buffalo Puppy (Overview)
Ingredients In Purina Pro Plan Puppy Food
Blue Buffalo Puppy Food Ingredients
Purina Pro Plan Puppy Food Reviews
Blue Buffalo Puppy Food Reviews
Purina Pro Plan Puppy Food (What Is Offered?)
Blue Buffalo Puppy Food (What Is Offered?)
Final Thoughts
As a puppy owner myself, I like to compare popular brands and products. In this article, I want us to take a closer look at two of these products (Purina Pro Plan Puppy Food, Blue Buffalo Puppy Food) and make comparisons of the two. Which product is better? By the end of this article, you should be able to answer this question. Let's get going:
Purina Pro Plan … For The Puppy (Overview)
As mentioned earlier, the Purina Pro Plan brand has been around (close to 90 years) for some time.
Furthermore, these products  are produced by the Nestle-Purina Petcare Company, based in Missouri. Purina Pro Plan offers puppy owners a number of options regarding recipes.
Before we get into specific products, it's worth noting that Purina provides both wet and dry puppy recipes. In addition to this, puppy owners have a few options when it comes to the protein source (Chicken, Beef, etc.) More on that a bit later.
Purina Pro Plan Puppy Food has also designed specific formulas for the needs of your puppy. These recipes include those for small breed pups and the large breed pup. You can also find formulas to meet specific health issues relating to our puppies.
Blue Buffalo … For The Puppy (Overview)
When it comes to puppy food formulas and what is offered, Blue Buffalo also has a solid foundation. The company was founded in 2003 and has been one, if not, the fastest growing pet food establishments in the United States. It was sold to General Mills in 2018 and are based out of Connecticut.
Like Purina, the company offers a number of recipe choices to puppy owners. Both dry and wet formulas are available, as well as those specifically designed for health issues. Breed size (Small, Large) recipes are also part of the product menu.
Ingredients In Purina Pro Plan Puppy Food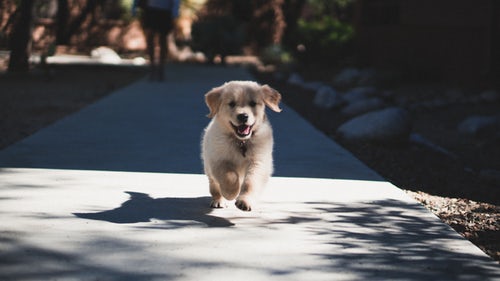 To begin with, Purina believes that every ingredient used in their recipes provides a nutritional value. For that reason, the Purina brand is a popular choice amongst puppy owners.
It should also be noted that Purina obtains these ingredients from trusted sources throughout the United States. According to their website, Purina states that, "We know exactly what goes into every batch, who made it, when it was made and where it's going."
Keep in mind that the nutritional needs of a puppy will be different than those of the adult dog. Consequently, any legitimate pet food company understands this, and will specifically target recipes to the puppy. Purina Pro Plan does indeed provide these types of puppy formulas. That's take a look at some of these ingredients now:
Blue Buffalo Puppy Food Ingredients
I think you will find that Blue Buffalo and their puppy formulas are popular as well. The company firmly believes that our pups deserve a quality as well as a natural diet. Puppy recipes include a healthy source of real meat as the first ingredient, as well as other natural ingredients to enhance optimal growth.
When I look at the ingredients that are contained in specific puppy recipes, I believe it is just as important to see what is not included. The Blue Buffalo puppy recipes do not include such things as chicken by-product meals, wheat, corn , soy or artificial flavors or preservatives.
Let's now take a look at a number of the ingredients you will find in both the Purina Pro Plan and Blue Buffalo puppy food recipes:
Proteins
As you know, puppies grow up quite quickly and need a healthy diet to facilitate this growth. One of the most important ingredients that puppy owners should pay close attention is that of protein. Protein plays a vital role in helping your pup grow up in a healthy manner. It provides the building blocks to adulthood. Here are a number of protein sources you will find in the puppy formulas below: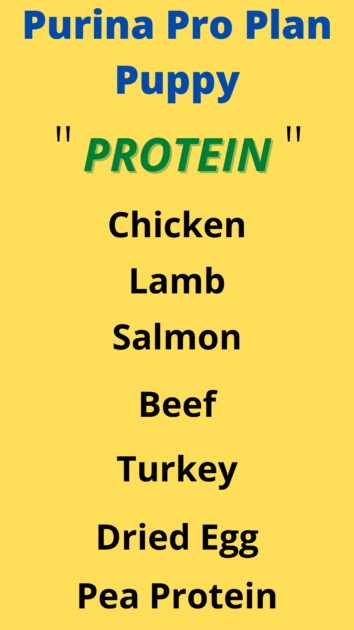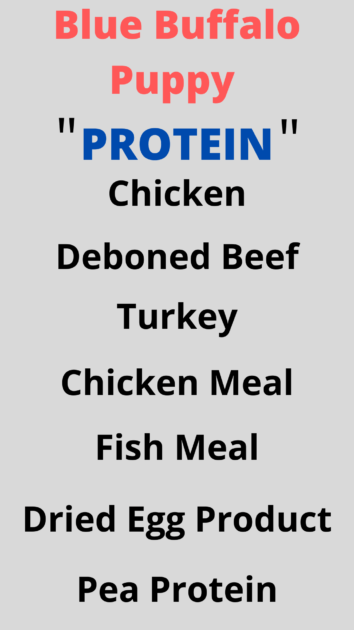 This is not to suggest that this list is all inclusive, but it does give you an idea of the protein that can be found in the puppy formulas. The Association of American Feed Control Officials (AAFCO) recommends that dry food for puppies contain a minimum of 22 percent protein, compared to 18 percent protein for adult dogs. From this alone, you can see the importance of protein in our pup's diet.
Carbohydrates
As you know, our pups play hard and burn off quite a bit of energy. As a result, it is important that our little guys receive a healthy source of carbohydrates that provide this energy. It has been suggested that carbohydrates make up 20% on a dry matter basis to maximize their health. Here is a closer look at some of the carbohydrates you will find in these puppy recipes: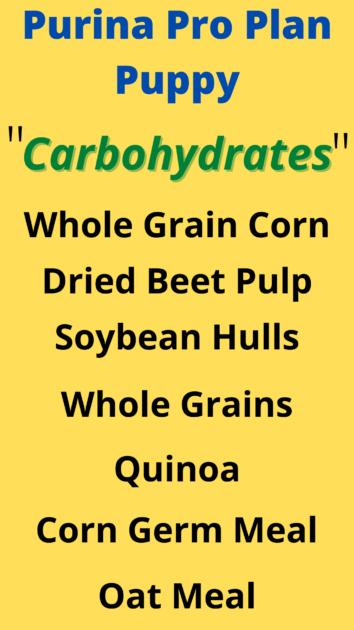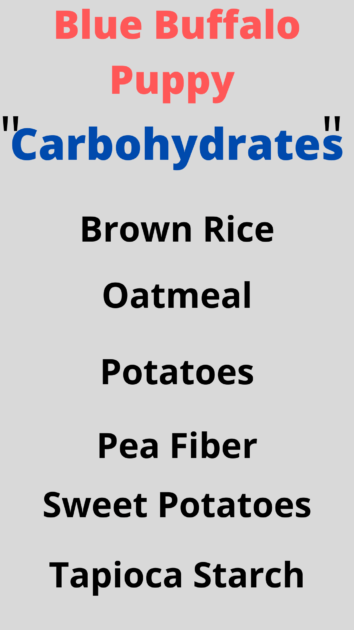 Not only do carbohydrates supply a source of energy to your puppy, it also serves a number of other functions. Carbohydrates, during the process of digestion, are broken down to form glucose. Glucose provides an energy source that puppies need to reach and maintain overall health.  
For me, the ingredients we looked at above are critical to your pup's diet. Without a healthy source of proteins and carbohydrates, we are putting our little guys at a disadvantage. In my opinion, the sources of proteins and carbohydrates you see in the charts above, will provide a solid foundation.
With that said, there are a number of other ingredients that puppy and dog owners should consider. You will find these ingredients below and the benefits of each.  These ingredients can be found in both the Purina Pro Plan and Blue Buffalo brands. Here's a look at a few of those now:
Minerals
Calcium Carbonate – This particular mineral is a form of calcium, and helps in strengthening  teeth and bones.
Salt -Salt is essential in regulating and maintaining your four-legged companions blood pH level, and promotes healthy kidney function.
Manganese Sulfate – This mineral is essential for such things as the nervous system function, bone development, and clotting of the blood. 
Potassium Chloride – A form of potassium, a mineral that's essential in maintaining fluid balance in your pet's body. It also helps support nerve and muscle functions.
Sodium Selenite –  An essential trace mineral that works as an antioxidant helping to maintain your pet's cell membranes in conjunction with the immune system.
Vitamins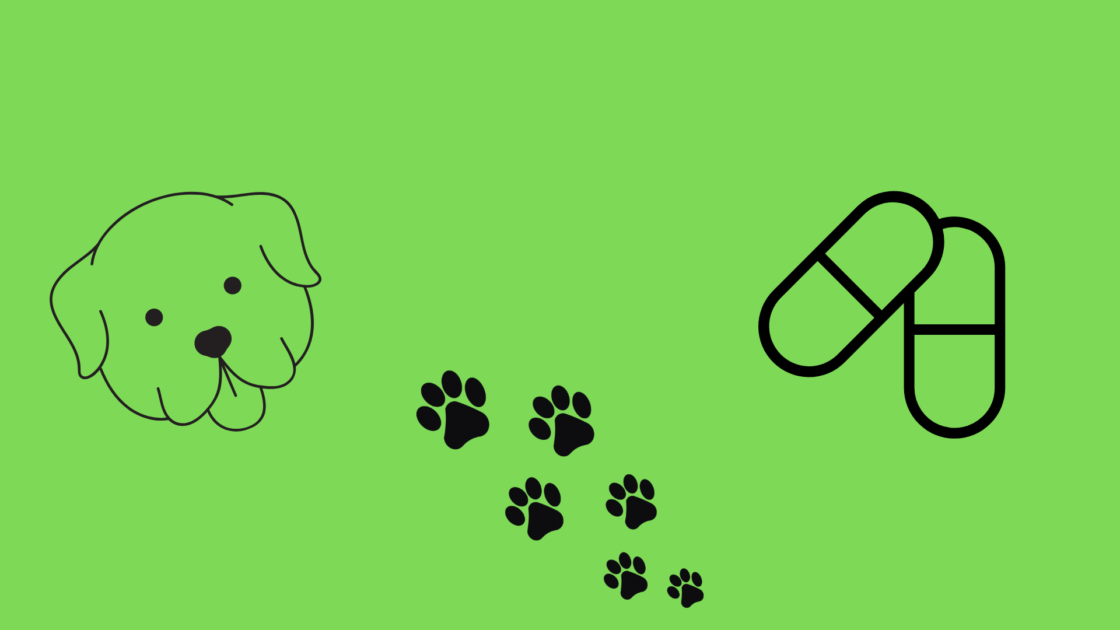 Biotin – (Vitamin B-7) Necessary in helping your pup convert food into energy. Helps in maintaining a healthy coat and skin.
Niacin – (Vitamin B-3) An essential B vitamin that can be found in such things as meat, fish and poultry. It is essential in helping your pet properly metabolize carbohydrates, protein and fat.
Vitamin B-12 Supplement -This vitamin is essential in blood formation and helping your pet metabolize carbohydrates.
Riboflavin Supplement – (Vitamin B-2) Helps to release energy from food to fuel your pup.
L-ascorbyl-2-polyphosphate – (Vitamin C)  Helps to support your pet's immune system and joint health.
Amino Acids
DL-Methionine –  Helps in  strengthening  and maintaining muscles to your pup.
L-Carnitine – Helps convert fat into energy more efficiently, promoting a healthy weight in your pet.
L-lysine – Needed to help support your pet's muscle development and maintenance.
Just take a closer look at the ingredients (Minerals,Vitamins, Amino Acids) listed above. Hopefully, you can identify the importance of each one in keeping your pup strong and healthy. Both of our pet food brands that we are discussing, realize this importance, and make these ingredients available in their recipes.
Purina Pro Plan Puppy Food Reviews
In my research of this puppy product, I was not a bit surprised of its popularity. It was quite obvious to me that many puppy and dog owners are satisfied with the Purina Pro Plan puppy food brand. How satisfied? Well, I decided to check out a site (Chewy.com) and read what users of this product(s) had to say.
To be as impartial as possible, I chose to look at a recipe that had the most customer reviews. Here are some specific details regarding the customer reviews of this product:
Name of Product: Purina Pro Plan Large Breed Chicken & Rice (Dry)
Number of Reviews – 876
Rating Scale – 1 to 5 Stars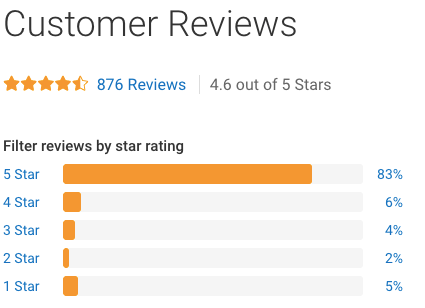 As you can see, 83% of these customers gave this product a '5' Star.  Although these puppy owners were quite pleased with this product, I was also interested in finding why the 5% gave it a '1' Star. Here's is what I found: Puppy owners simply stated that their pups would no longer eat this food. Other concerns of this 5%  stated that the recipe had changed, bad ingredients, and stomach issues. 44 reviews of the 876 rated this product a 1 Star.
Reviews For Blue Buffalo Puppy Food
I took the very same approach with the Blue Buffalo Puppy food brand and looked for the most popular recipe. Once again, I used the Chewy website to research these customers thoughts on this product. Here are the details regarding these reviews.
Name of Product

: Blue Buffalo Life Protection Puppy Chicken & Brown Rice
Number of Reviews – 818
Rating Scale – 1 to 5 Stars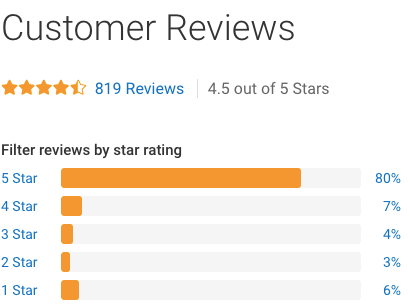 As you can see, this popular Blue Buffalo puppy recipe stacks up very closely to the Purina Pro Plan recipe. With an approval rating of 80%, this recipe appears to agree with the majority of puppy owners. Once again, puppies seem to love the taste of this recipe, finishing each last kibble at feeding time.
The 6% (1 Star) stated that their pups simply didn't enjoy the taste of this food. Of the 819 reviews, 51 of these pet parents using this formula rated it as a 1 Star.
eathealthydoggy.com receives a small commission if you travel to the vendor website via affiliate links I provide, and make a purchase of one or more of my recommended products. The pricing or value of your product will not be affected whatsoever by doing so. 
Purina Pro Plan Puppy Food … What Do They Offer?
Earlier in this article, I pointed out that this brand of puppy food is available in both the dry and wet forms. In addition to this, the company offers a number of recipes formulated for both breed size and health concerns. For your convenience, I have listed various products below in specific categories. Simply click on each product for further details:
Breed Size 
Purina Pro Plan Puppy Chicken & Rice Large Breed,
Purina Pro Plan Puppy Chicken & Rice Small Breed
Purina Pro Plan Puppy Toy Breed Chicken & Rice
Health Concerns
Purina Pro Plan Puppy Sensitive Skin & Stomach Salmon & Rice
Purina Pro Plan Puppy Sensitive Skin & Stomach Lamb and Oatmeal
Probiotics
Purina Pro Plan Puppy Shredded Blend Chicken & Rice With Probiotics
Menu
Complete List of Purina Pro Plan Puppy Recipes
Blue Buffalo Puppy Food … What Do They Offer?
Like Purina Pro Plan, the brand of Blue Buffalo also offers recipes in both the dry and wet forms. Below I have listed a number of puppy recipes that may be of interest to you as well. This will also make it easier to compare and contrast the two brands and what they have to offer.
Breed Size
Blue Buffalo Life Protection Formula Large Breed Puppy Chicken & Brown Rice 
Blue Buffalo Wilderness Large Breed Puppy Chicken Recipe Grain-Free Dry Dog Food
Blue Buffalo Life Protection Formula Small Breed Puppy Chicken & Oatmeal Recipe Dry Dog
Blue Buffalo Freedom Small Breed Puppy Chicken Recipe Grain-Free Dry Dog Food
Health and Well-Being
Blue Buffalo Life Protection Formula Puppy Chicken & Brown Rice
Blue Buffalo Wilderness Puppy Chicken Recipe Grain-Free Dry
Blue Buffalo Wilderness Rocky Mountain Recipe with Red Meat Puppy Grain-Free
Blue Buffalo Basics Limited Ingredient Diet Turkey & Potato Recipe Puppy
Menu
Complete List of Blue Buffalo Puppy Recipes
Final Opinion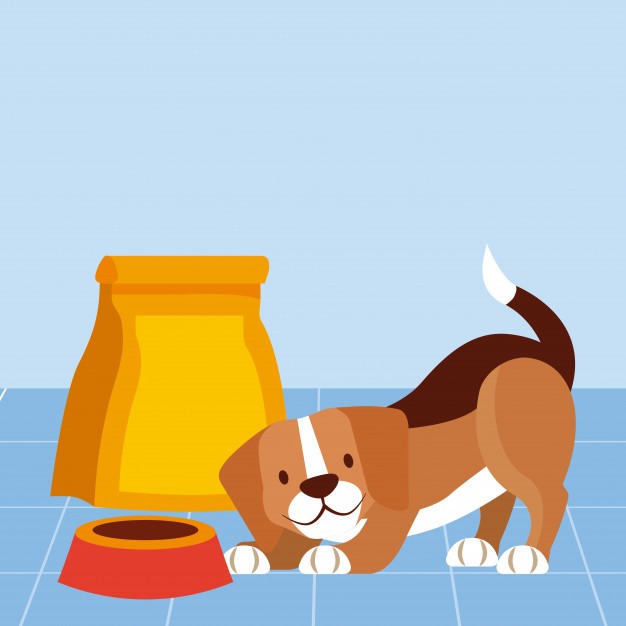 As someone who enjoys researching dog food products, I found it refreshing to explore these two brands. The Purina Pro Plan puppy food and the Blue Buffalo puppy food are preferred by puppy owners throughout the world. In this article, we have looked at some similarities and differences between the two.
Although I have not used the Purina Pro Plan brand with my puppies, you can see from the reviews that the majority are quite satisfied. I have and continue to use the Blue Buffalo large breed puppy formula, and have been quite satisfied with the outcomes. I have given you a number of choices (recipes) in both brands, and I would encourage you to take a look at those. Thank you for stopping by, to the health of your pup!
Disclaimer
For those unfamiliar with dog food grain-free recipes, there has and is a controversy taking place as I write this article. The FDA has made public that it has launched an investigation between a possible connection between the grain-free diet and heart disease within dogs. For further information, the American Kennel Club has provided further details. Click here.
Disclaimer
The purpose of this site and articles are intended to provide a source of entertainment and information. As a dog owner and dog lover myself, I enjoy researching dog food products on the market to provide you with helpful insights. I am not a veterinarian nor an animal nutritionist, just a dog owner who wants to provide a healthy lifestyle to their pet. I use my research to express an opinion which may or may not be one you agree with.