Hey guys, back again. In my last article, I gave you some insight regarding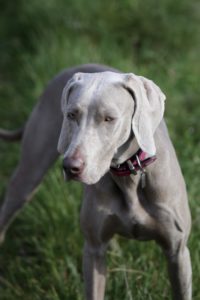 the best dog food for large dogs. In doing my research for this article, I came across a dog food product that caught my attention. It wasn't so much the product that got my attention but the fascinating story behind it. Batman and Robin, remember them?
What Is The Connection Between 'Robin' and Gentle Giants Dog Food?
Okay, before you think I have lost my mind completely, let me explain to you the connection between Robin (Batman's sidekick), and the Gentle Giants Dog Food. You see Robin, whose real name is Burt Ward and his wife have a great compassion for dogs. Mr. Ward came to realization that many of the large breed dogs were dying at shelters so he and his wife decided to adopt a few with the hope of finding someone else to take these dogs.
Well, that never happened so Mr. Ward and his wife to this day continue to adopt these large or giant dogs. Throughout the years, the Ward's have rescued over 15,000 dogs!   The Ward's now keep a minimum of 50 of these large dogs within their household and formulated a dog food called Gentle Giants. Mr. Ward was actually a guest on the Ellen Show where he describes this journey. You can find this clip below:
What Is Gentle Giants Dog Food?
Before I get into specifics regarding this dog food, let me ask you a question: How many dogs have you owned that live to be in their twenties? My answer to this question is a big fat '0', and I'm betting your answer is the same. Mr. Ward, as you saw in the Ellen clip, makes this claim so who am I to dispute this?
Okay, so what is this Gentle Giants dog food all about? Below I have listed a number of details that are directly associated with this very product. Let's take a look at these now:
Gentle Giants Food Is …
All-natural
Appropriate for all ages, dog size, and life stages (Puppy to Senior)
A complete and balanced nutrition for dogs
Made in the United States
Free from any recalls
Free from wheat, corn, soy, and artificial fillers  
Available in both the dry and wet form
Less expensive than other name brand dog foods
AAFCO approved
In addition to these 9 items, Gentle Giants states that their dog food products contain natural, super premium ingredients. These super premium ingredients include farm-raised chicken, 12 non-genetically modified organism vegetables, three non-GMO fruits, complete vitamins, chelated minerals, glucosamine, chondroitin, prebiotics and probiotics.  
What Does The Gentle Giants Brand Offer?
As mentioned above, the Gentle Giants Dog Food comes in both the dry and canned form. I didn't see a huge selection of recipes offered, but there are a few that come in a specific meat (protein) choice. Let's take a look at both the dry and wet form below:
As a Chewy affiliate, I may earn commissions for qualifying purchases.
Gentle Giants Canine Chicken Formula (Dry)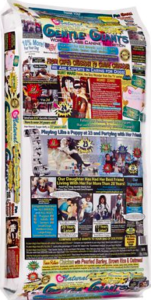 This recipe features Chicken Meal as the first ingredient as well as twelve whole fruits and vegetables. Included are blueberries, beets, cranberries and apples. To increase digestion and to help with the absorption of food, this recipe also includes prebiotics and probiotics. In addition, vitamins and antioxidants are added to assist in the overall health of your pet. Veterinarian approved and appropriate for puppy to the senior dog. This product is available in the 3.5, 7.5, 15 and 33 pound bag.
Think you may have interest in this chicken dry dog food product? If so, simply click HERE to find additional information including the great price available.
2. Gentle Giants Canine Salmon Feast Formula (Dry)
This formula consists of wild caught salmon with peas, pumpkin, sweet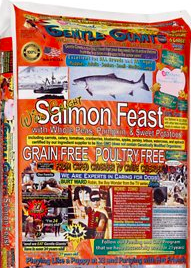 potatoes, fruits and vegetables. Grain-free, this recipes also includes such things as prebiotics, probiotics as well as minerals and vitamins. Appropriate for dogs at all life stages (puppy to senior) which allows the dog owner to serve this recipe throughout the duration of your dog's life. Recipe is absent of corn, wheat, soy or gluten. Can be used with any size of breed, small to large providing your pet with a healthy nutritional balance.
Think you may have interest in this product? If so, simply click HERE to find additional information including the great price available.
3. Gentle Giants Canine Nutrition 90% Chicken Grain-Free Canned Formula (Canned)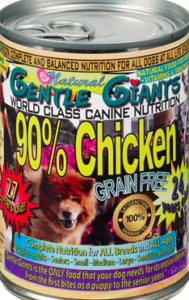 Appropriate and balance recipe for dogs of all ages, sizes and breeds. This 90% Chicken and grain-free recipe also includes chickpeas, sweet potatoes with healthy fruits and vegetables. Dandelion greens are included to assist in liver and gastrointestinal health as well as mussels for joint health. Chicken is listed as the number one ingredients which is a healthy source of protein. 
Interested in this canned recipe of Gentle Giants? If so, simply click HERE to find this product and to check out the great price.
4. Gentle Giants Canine Nutrition 90% Beef Grain-Free Formula (Canned)
Not real crazy about the chicken? This beef grain-free recipe includes sweet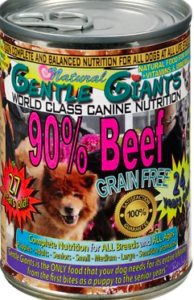 potatoes with a healthy source of fruits and vegetables. Beef broth is included that will entice your pup to lick the bowl clean. Absent of any fillers, corn, wheat, soy or grains. Appropriate for all dogs as well as life stages. Like the other Gentle Giant recipes, this product is veterinarian approved and provides a nutritional meal.
Interested in this canned recipe of Gentle Giants? If so, simply click HERE to find this product and to check out the great price.
5. Gentle Giants Canine Nutrition 90% Turkey & Liver Grain-Free Formula (Canned)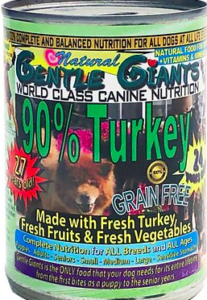 This recipe starts with turkey as being the first ingredient providing a healthy source of protein. It also includes sweet potatoes, chickpeas, as well as fruits and vegetables. Antioxidant rich blueberries and cranberries protect your pup from free radicals and environmental stress. Added green lipped mussels aid in joint support and are a natural source of omega fatty acids. Also veterinarian-approved and appropriate for dogs in all life cycles. Gluten free, no corn, no wheat no soy.
Interested in this canned recipe of Gentle Giants? If so, simply click HERE to find this product and to check out the great price.
Gentle Giants Dog Food:  The Pros
Natural Ingredients: Gentle Giants Dog Food claims to use natural ingredients in their formulations, which can be beneficial for dogs with sensitivities or allergies to artificial additives.
No Corn, Wheat, or Soy: If the formulation remains consistent, the absence of common allergens like corn, wheat, and soy can be advantageous for dogs prone to allergies or digestive issues.
Multiple Formulas: Gentle Giants reportedly offers a range of formulas catering to different life stages and dietary needs of dogs, providing options for puppies, adults, and seniors.
Promotes Joint Health: Some formulas may contain added ingredients like glucosamine and chondroitin, which are known to support joint health and mobility, especially in larger breeds.
Limited Recall History: There have been no recalls associated with Gentle Giants Dog Food. This suggests a level of consistency and quality control in their production process.
Gentle Giants Dog Food: The Cons
Lack of Transparency: Some critics have expressed concerns about the transparency of ingredients and the sourcing of these ingredients in Gentle Giants Dog Food. Without detailed information, it can be challenging to assess the quality of the product.
Mixed Reviews: While some dog owners report positive experiences with Gentle Giants Dog Food, there are also mixed reviews, with some dogs not responding well to the formulas. This could indicate that the food may not suit all dogs equally.
Limited Availability: Depending on your location, Gentle Giants Dog Food might not be widely available in local stores, requiring you to order online, which can be inconvenient for some pet owners.
Potentially High Carb Content: Some formulations of Gentle Giants Dog Food may contain relatively high levels of carbohydrates, which might not be suitable for all dogs, especially those with specific dietary needs.
Price: Gentle Giants Dog Food might be more expensive compared to some other dog food brands, which could be a consideration for budget-conscious pet owners.
Limited Nutritional Information: In the past, there have been concerns about the lack of detailed nutritional information on the packaging of Gentle Giants Dog Food, making it harder for pet owners to make informed decisions.
It's important to keep in mind that individual dogs can have varying dietary needs and preferences. Before making a decision about any dog food brand, including Gentle Giants, it's recommended to consult with your veterinarian to ensure that the chosen food is appropriate for your specific dog's health and dietary requirements. Additionally, checking for recent reviews, product changes, and recalls is essential to ensure you have the most current and accurate information.
My Final Thoughts
The first thing that caught my eye were the super premium ingredients that are used in the Gentle Giants recipes. In my opinion, they appear to consist of quality, nutritional ingredients without compromising on the great taste that dogs seem to enjoy.
In my research, I also discovered that the majority of dog owners who have used this product were quite satisfied. They stated that their dogs truly enjoyed the taste and commented that they saw a difference in their pet's overall health.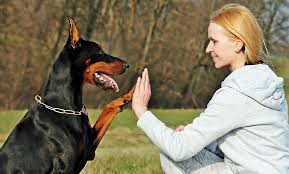 I still am a little skeptical when it comes to the life span of dogs who have been on the Gentle Giants recipes. Mr. Ward claims that he actually owns a few dogs that have reached twenty plus years in life. That's a long time! I will let you decide on this.
In my opinion, Mr. Ward and his wife truly have an enormous affection for dogs, and have opened their homes to these wonderful canines and have provided not only love, but a nutritious recipe for these critters. 
Have you tried Gentle Giants? If so, please leave a comment below and share your experience with this recipe. Thank you for visiting. To the health of your pet!
Note: This article contains affiliate links and offers, and I may receive a commission if you decide to purchase one of these products. Thank you for visiting my site!
Disclaimer
For those unfamiliar with dog food grain-free recipes, there has and is a controversy taking place as I write this article. The FDA has made public that it has launched an investigation between a possible connection between the grain-free diet and heart disease within dogs. For further information, the American Kennel Club has provided further details. Click here.
Disclaimer
The purpose of this site and articles are intended to provide a source of entertainment and information. As a dog owner and dog lover myself, I enjoy researching dog food products on the market to provide you with helpful insights. I am not a veterinarian nor an animal nutritionist, just a dog owner who wants to provide a healthy lifestyle to their pet. I use my research to express an opinion which may or may not be one you agree with.
eathealthydoggy.com assumes no responsibility or liability for the use or misuse of what's written on this site. You should always consult with a veterinarian if you should have questions regarding your dog's diet or overall health.