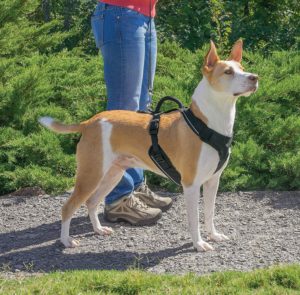 Taking our four-legged companions for a nice long walk is something that most dog owners certainly enjoy. It is a bond between our pets and ourselves and one that is a daily routine for most of us. We assume that our canines are safe and secure during these walks, and for the most part, they are.
Let me ask you a few questions: How confident are you with your pet's security when taking these walks? Will a sudden lurch, or a strong tug send your pet racing down the street and free from your restraint? Are all dog harnesses the same? In this article, I am going to take a look at the EzyDog Chest Plate Harness and provide information pertaining to this product.
What Is The Ezydog Chest Plate Harness?
Like most, if not all dog harnesses, the EzyDog Chest Plate Harness is designed to keep your pet safe and provide security to you, the dog owner. Her are a number of features that the company claims as it relates to this product:
Will conform to your dog's chest, providing a custom fit
Provides control and comfort to both your pooch and you as the dog owner
The foam chest plate allows the 'load' to be placed across the chest (Not the Throat)
Quick release buckle, and adjustable straps makes it easier to put on and remove
Light-reflective stitching that will increase visibility in those night walks
Rust proof, D-ring provides added durability and control
Available in a number of sizes and colors
Seatbelt restraint is included in the package
To better illustrate these features, please feel free to watch the video below that illustrates these features:
Which EzyDog Chest Plate Harness Is Best For Your Pooch?
To answer this question, you should know that the company offers a few chest plate harnesses that I will disclose at the end of this article. Now, back to the question of which chest place harness is best for your pooch. The answer to this question really comes down to the size of your pet.
To determine which size is the best fit for your dog, follow the guidelines below:
Chest Girth: Measure around the widest part of your dog's torso, right behind the front legs. Leave room for two fingers to ensure comfort.
Lower Neck Circumference: Harnesses sit lower on the neck than collars, so measure around lower part of the dog's neck.
If your pet falls in between two sizes, we recommended purchasing the larger size.
Okay, once you have completed these guidelines, make the proper fit by comparing the graph below:

   How Do Place Your EzyDog Chest Harness On Your Dog?
Okay, you have purchased the item, and still are a little unsure on how to properly place the harness on your pet. Take your time in reading the instructions when you receive the product or contact the company if necessary.
For your convenience, I have placed a video below that may help you with this process.
Why Choose The Ezydog Chest Plate Harness?
Look there are hundreds of dog harnesses on the market today, and most will claim to be the best. If you were to take the time to read and research customer reviews on just about any product, you will find a combination of both positive, and negative feedback.
I have actually done the research for you here pertaining to the EzyDog Chest Harness product and customer reviews as well. Let's take a look at some of these reviews below, to illustrate this point.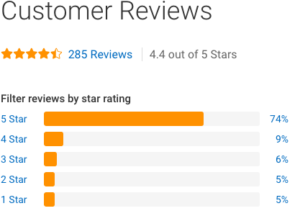 As you can see, 74% of these dog owners who have used this product, give it 5 Stars. These customers were happy with such items as longevity (4 years and still going), fit and style, comfort, easy to put on and take off to name a few. Those giving it a 1 Star (5%) stated that the product buckles broke, ripped, overall construction, and fit.
Like I mentioned above, you can see the difference in reviews. To be fair, the majority of dog owners who have purchased and used this product, seem to be quite satisfied. As a disclaimer, I have not used this product but have completed quite a bit of research pertaining to this harness.
Final Thoughts 
I certainly hope that I have given you some insight regarding the EzyDog Chest Harness and have outlined some details regarding this product. As you read yourself, there are quite a few dog owners who are quite pleased with this product. Others (Smaller Percentage) voiced their displeasure with the product.
My goal in writing this article is not to persuade you one way or another, but to give you information based on my research to help you make an educated decision. At the very least, you are now (I hope) equipped with information that will assist you. Like you, I am a huge dog lover, and want the very best for all of our four-legged companions. To the health of you and our pets!
For those who may want to purchase the EzyDog Chest Plate Harness, you can do so by clicking on the images below: The one on the right is Denim.
When you buy something from this website, I may receive an affiliate commission. These are my opinions and are not representative of the companies that create these products. My reviews are based on my own personal experiences and research. I never recommend poor quality products or create false reviews in order to receive a commission. My intention is to provide you with information so you can make decisions to which products may best suit your needs.
EzyDog Chest Plate Harness                                                       EzyDog Chest Plate Harness
Disclaimer
The purpose of this site and articles are intended to provide a source of entertainment and information. As a dog owner and dog lover myself, I enjoy researching dog food products and other products on the market to provide you with helpful insights. I am not a veterinarian nor an animal nutritionist, just a dog owner who wants to provide a healthy lifestyle to their pet. I use my research to express an opinion which may or may not be one you agree with.
eathealthydoggy.com assumes no responsibility or liability for the use or misuse of what's written on this site. You should always consult with a veterinarian if you should have questions regarding your dog's diet or overall health.