If you have read my other articles, I have examined and researched a number of dog food products and hopefully provided some insight regarding various dog food brands. Perhaps you have already decided on a product and one that is both healthy and nutritious for your pet.
I wanted to switch gears here a bit and discuss with you the importance of obtaining a quality dog food storage. Keeping our dog food stored in a proper manner can be just as important as selecting a healthy dog food. In this article, I will detail why storage is important and give you a number of products that I would highly recommend to any dog owner. Let's get to it:
Why Dog Food Should Be Properly Stored (Dry)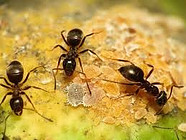 It took me awhile to learn about the benefits of storing my dog food properly. If you are like me, I just opened the newly acquired bag of dog food, tore it open and poured it into a large plastic container. Nothing wrong with that, right? Wrong! Let's take a look at some components of why a proper dog food storage is important.
To keep the nutritional value of the product as close to its natural value as possible

To keep rodents, bugs, and other unwanted creatures away from the food

To keep it from degrading in nutritional value too quickly as a result from light, air, humidity and high temperatures
Let's be honest, we can sweep, vacuum, and dust our homes several times a day, but it is no guarantee in keeping insects from crawling all over our dog's food. Yuck! I'm sure all of us have been on picnics or even restaurants when we are encountered with a ant crawling on our hamburger bun, or a fly landing on our fresh salad. Not very appetizing! Your pet deserves better as well.
Tips On Storing Dog Food (Dry)
I hope by now you are getting a better understanding of the importance of storing dog food properly. With the high cost of dog food these days, keeping it fresh and away from possible contaminants is something every pet owner should take into account.
Below I have listed a number of items to consider as it relates to proper handling and storage of your pet's food. These tips will go a long way to ensure the food stays fresh as well as keeping your pooch safe from harmful bacteria or other unhealthy irritants.
Keep the kibble in its original bag. These bags are designed to keep your pet's food safe from humidity and air that may effect the food's quality. Exposure to light and hot temperatures will have a negative impact on the foods composition. For best results, place the entire bag in a quality storage container.

Store the food in a dry and cool location.

Be aware of the product's expiration date and discard once the food has reached this point.

Clean (warm, soapy water) your storage container on a regular basis.
Dog Food Storage …   4 Top Products To Consider
There are a number of dog food storage containers on the market today and which one you choose really comes down to a personal preference. Many pet owners, to save cost, like to buy in bulk which needs to be placed in storage in order to preserve nutritional value. Dog food storage containers are available in various sizes and materials and many actually look quite appealing to the eye. Let's take a look at a few of these now and hopefully one of these will meet your needs.
1.) IRIS 3-Piece Airtight Pet Food Container Combo
This plastic airtight container is ideal for keeping kibble fresh and away from those annoying insects and rodents. With its airtight seals and snap lock latches your pet food will be safe from moisture that robs essential nutrients.
A 12 quart storage container stacks nicely on top of the 33 quart storage container for added storage. Both storage units combined will give you up to 35 pounds of available storage. Larger food containers are available with wheels which makes transporting much easier. For further details, click here.
2.) Gamma2 Vittles Vault Plus for Pet Food Storage
Do you feel safe with your money locked in the safe? If so, this pet food vault will give you the same security in knowing that your kibble is safe and being preserved. The square shaped Gamma 'locks' in the freshness airtight and is designed for 30 to 40 pound bags.
Comes with an easy spin-on and spin-off for your convenience with molded grips that makes picking up and down an easy task. A measuring cup comes with the Gamma at not cost to you. The airtight vault keeps the odor of the food trapped inside and is available in 15, 25, and 35 pound containers. For further details, click here.
3.) IRIS USA, Inc. IRIS Small Elevated Feeder
This product is a combination of feeder and storage unit. With elevation, your dog will have an easier time consuming its meal which also helps with overall digestion. Two stainless bowls are included that holds 2 quarts of water or food.
The storage capacity under the bowls are convenient to store the pet food and holds up to 64 cups. The bottom of this unit contains rubberized feet to stop the unit from moving or scratching your floor. So if you are looking for a combination feeder with storage, the Iris Small Feeder may be a great option for you. For further details, click here.
4.) simplehuman Large Pet Food Storage Can
This product is the Cadillac of pet food storage containers. Made from stainless steel, the simplehuman storage includes a lid-mounted scoop that attaches under the lid for easy access. Offers a large capacity for storage with built in wheels that makes moving from one spot to another a breeze.
The food-safe inner bucket can be easily removed for quick clean up. This unit has a beautiful look to it with a sleek design that looks good in any part of your home. Comes in various sizes to fit the needs of you and your pet. I have provided a video below for you to check out the stylish and impressive product below.  For further details, click here.
Summary
Without question, we as pet owners must do our very best to ensure that our pets are receiving a quality diet and one that is not causing harm. I have given you some details outlining why proper storage is essential and gave you a number of tips on how to store your pet's food.
Finding a quality storage container that fits your needs is something you should give some thought to. I have given you four different type of storage containers above, and hopefully one of these will be a good fit. These products, and others, can be found by simply clicking on 'here' above.
Thank you for visiting my site and if you should have any questions or have tried one of these containers mentioned above, I would love to hear from you. Feel free to leave a comment below and I wish you the best with your pet!