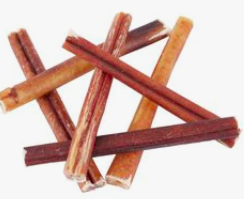 Ah, nothing like watching our pet wagging its tail, as we reach for one of their favorite treats! A treat that will last for more than a few seconds and one they can really sink their teeth into (no pun intended.) Yep, you guessed it, the bully sticks for dogs. This dog treat is becoming more and more popular with dog owners everywhere.
In this article, we will take a look at these bully sticks for dogs, and learn about the benefits associated with this product. In addition, we will look into the various types of these treats, safety considerations and 5 specific bully sticks that may interest you. Let's get started:
What Are Bully Sticks Made Of?
As mentioned just above, these bully sticks are a popular chew for dogs of all ages. If you are just beginning your search in the world of bully sticks for dogs, let's start with the question, what are bully sticks made of? Well, according to the Canine Journal, bully sticks come from bull penises, called pizzles (from an old-fashioned word for penis). Okay, with that out of the way, let's dig into these treats a little further to see if they would be beneficial to your pet.
 Benefits of the Bully Sticks
Have you checked out the number of dog treats that are now available to our companions lately? Soft, hard, multiple flavors, and the list just goes on and on. With that said, is still important to find a quality, nutritional bully stick that will provide a benefit to our four-legged companions. Let's take a look at a few of these benefits now based on a quality product that I will help you find. 
Promotes Dental Health – Like handing a toothbrush to your dog, helping to reduce tartar and  plaque buildup. The chewing will also bring a fresher breath to your pet (yay!) as well as providing healthier gums.
Low-Fat Treat – These treats, compared to others, are relatively lower in fat. This can be especially important for those dogs who may afford to lose a few pounds.
Made With Single-Ingredient – Remember that bull penis we talked about earlier? Well, that may be the only ingredient that makes up this treat. None of those artificial ingredients will be included.
Better Than Rawhide – Easier to digest than rawhide and safer to your pet.
Long-Lasting – A healthy option to keep your canine busy due to its durability and helps to reduce the level of stress and boredom.
Variety of Options – Bully sticks are available in a number of forms, sizes,
Great Source of Protein – Energy
 Types of Bully Sticks
Like other dog food treats, the bully stick can be found in a number of various sizes and shapes. You can find bully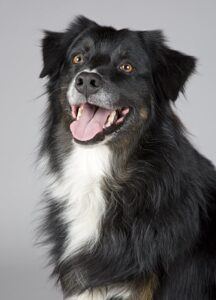 sticks for large dogs, small dogs and various life stages. Obviously, this is great news for the dog owner considering this type of treat. I can emphasize to enough the importance of choosing the right size and type for your pet. For your convenience, I have listed a number of these chews below to assist you in your search.
Stick- This form of the dog bully stick looks exactly like it sounds. This type of bully stick can be found in a number of sizes (length) and breed specific. In addition, these sticks are available with different levels of thickness. Available to most breed sizes and life cycle.
Braided – This form provides the pet with a real chewing exercise. The braided structure is quite durable and can be a nice fit for those aggressive chewers who need a little more of the chewing exercise.
 Keep It Safe …  
Like any treat your pet may be enjoying, bully sticks are no different. It is important to supervise your furry companion when they are enjoying these treats. I would suggest discarding worn-down or smaller pieces to prevent or highly reduce the chance of choking. 
For the most part, bully sticks for dogs don't  splinter like some other chews, which is a plus for both dog and dog parent. The best approach is to remove the bully stick from your dog's reach if it reaches a size that could potentially be swallowed whole and pose a safety risk.
Familiarity with your dog's eating habits matters. If your dog tends to gulp down anything in its vicinity, it's wise to remove the treat once it becomes a size that could be easily swallowed. On the other hand, if your dog is more inclined to thoroughly chew its treats without immediately swallowing them, it should be fine to let them continue enjoying the treat in its current state. Still, supervision is the way to go.
Best Bully Sticks For Dogs … 5 Quality Options
Hopefully, you now have a better understanding of bully sticks and the benefits they present. Keep in mind that bully sticks for dogs can be found in a variety of options. Manufacturers of these products understand that our canines come in a number of sizes as well, and have their own unique chewing styles.
With my research, I came across 5 products that I feel comfortable in suggesting. These specific products have received a majority of positive reviews and are available in a number of choices.  Let's take a look at these five options below:
Note: This article contains affiliate links and offers, and I may receive a commission if you decide to purchase one of these products.
1.)  Redbarn Bully Sticks 7″ Dog Treat – Derived from cattle raised in open pastures on a grass-fed diet. Crafted without any artificial flavors, colors, or preservatives. Promotes both dental cleanliness and the growth of strong muscles. Your doggy will enjoy this chewing experience. Gently slow-roasted using natural juices, resulting in a taste that your pet will enjoy . 
Click  >>HERE<<  To Learn More About This Product
2.) Nature Gnaws Extra Thin Bully Sticks 6″ – Made from 100% natural beef, offering your furry friend a treat that is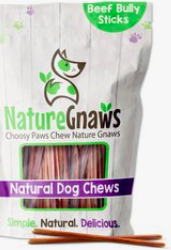 nutritious and wholesome. No added hormones, preservatives, or artificial substances, providing a nice alternative to rawhide treats. This bully stick is both easily digestible and acts as a powerful ally in plaque and tartar removal, bolstering your dog's oral well-being. This specific treat, with the ultra-thin composition, are a nice fit to the smaller breeds. Individually hand-picked and rigorously examined prior to meticulous packaging in the USA, inside hermetically sealed resealable zipper bags, ensuring an unblemished state of freshness.
Click  >>HERE<< To Learn More About This Product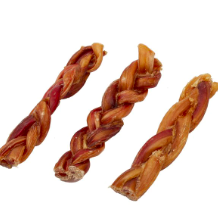 3.) Bones & Chews Braided Bully Sticks 6″ – These 6-inch braided bully sticks from Bones & Chews offer an extended chew for your companion. These protein-packed treats are entirely digestible, a great alternative to the rawhide chew.. Made from  cattle pizzle, they present a flavor your dog will enjoy. Their braided composition enhances durability and the distinct texture aids in dental health by cleansing teeth and gums during chewing. What's more, these treats are devoid of any chemicals or preservatives, ensuring the utmost safety and wellness for your furry friend.
Click  >>HERE<< To Learn More About This Product
4.) Best Bully Sticks Thin 6″- These all-natural, completely digestible, and wholesome dog chews  serve that as an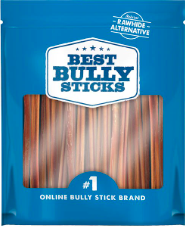 excellent alternative to the traditional rawhide treats. Best Bully Sticks presents dog chews that are free from additives, chemicals, and preservatives. Each stick undergoes meticulous hand-inspection to verify its size and quality. The 6-inch thin sticks are specifically designed for dogs with smaller mouths or those dealing with chewing concerns, ideally suited for small to medium breeds. Single-ingredient, hypoallergenic wonders are ingeniously crafted from Brazilian cattle pizzle, sourced from free-range environments, and come with an irresistible flavor that your dog will relish.These treats, reminiscent in size to a #2 pencil, are tailored for dogs with daintier bites or those navigating chewing difficulties.
Click  >>HERE<< To Learn More About This Product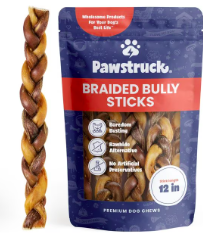 5.) Pawstruck Braided Bully Sticks 12″ – These treats are composed of a sole ingredient – the pure, all-natural beef sourced from cattle that graze freely on grassy pastures. Braided using three distinct sticks, these treats exist of an engaging form and texture, helping to reduce plaque and tartar buildup.
Crafted in harmony with Mother Nature's intentions, these snacks remain untainted by artificial elements, hormones, or chemicals. What's more, their composition ensures a lack of pungent odors, and their digestibility is second to none, making them a triumph for dogs with sensitive stomachs.
Final Thoughts
In this article, we have looked at Bully sticks for dogs in some detail. We have covered the source of these treats, forms and sizes, benefits, safety measures, and 5 reputable bully stick products. In my opinion, the bully sticks for dogs represent a healthy and nutritious option to the rawhide chew.
We have learned that the bully stick serves your pet well, helping with dental health, mental stimulation, and sheer joy. These natural chews not only captivate your dog's senses but also contribute to their overall well-being. You now have 5 options that you may consider for your pooch, and hopefully one that will fit the needs of your buddy. I wish you well in your search! To the health of your pet!
Disclaimer
For those unfamiliar with dog food grain-free recipes, there has and is a controversy taking place as I write this article. The FDA has made public that it has launched an investigation between a possible connection between the grain-free diet and heart disease within dogs. For further information, the American Kennel Club has provided further details. Click here.
Disclaimer
The purpose of this site and articles are intended to provide a source of entertainment and information. As a dog owner and dog lover myself, I enjoy researching dog food products on the market to provide you with helpful insights. I am not a veterinarian nor an animal nutritionist, just a dog owner who wants to provide a healthy lifestyle to their pet. I use my research to express an opinion which may or may not be one you agree with.
eathealthydoggy.com assumes no responsibility or liability for the use or misuse of what's written on this site. You should always consult with a veterinarian if you should have questions regarding your dog's diet or overall health.
Disclaimer: This article is for informational purposes only. Consult your veterinarian for personalized advice on your dog's dietary needs and treat options.