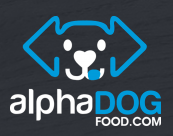 For dog breeders and owners of animal shelters around the world, finding a quality dog food that is also affordable can be a difficult task. With a number of mouths to feed, the cost of a healthy and nutritional product may be cost prohibitive. As a result, many of these dogs are fed a product that may be harmful to their overall health. Is Alpha Dog Food one of these?
Finding the best kibble for your dog can be difficult and oftentimes frustrating as well. With so many options and variations available in the market, how do you even begin to choose just one? The truth of the matter is that not all dog food is created equally. Sadly, plenty of dog owners seem to be convinced that choosing the popular brands is the way to go. But no matter how popular a brand of dog food may be, it still might not be the best choice for your dogs.
Alpha Dog Food: The Solution?
Let's assume for a minute that you are a breeder and/or an owner of an animal shelter with a number of mouths to feed. Where can you find a less expensive, quality food that can be delivered right to your front door? One dog food company called Alpha has been manufacturing pet food for over 100 years.
With a history that long, you know that they must be doing something right. Alpha has a well-established reputation for producing high-quality, well-balanced pet food. They have products suitable for the needs of dogs, cats, rabbits, and guinea pigs as well. If their credentials aren't enough to convince you, below are some of the reasons why should choose Alpha Dog Food for your pet:
Specialized Dietary Needs
The best thing about Alpha Dog Food is in its contents. Compared to low-cost supermarket brands, the Alpha brand is formulated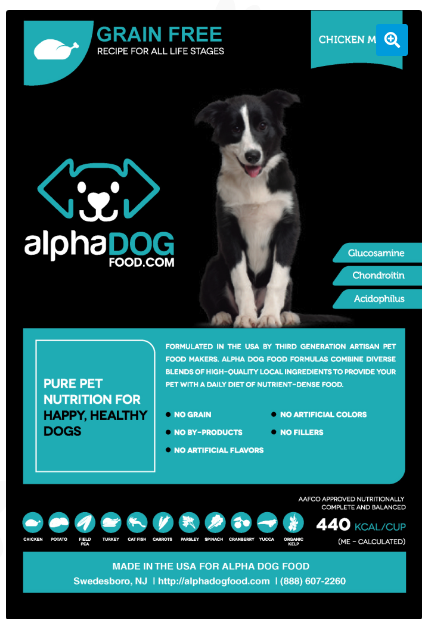 by specialists in order to provide all the dietary needs of your pet. High protein ingredients such as lamb, chicken, and salmon are the top contents of a pack of Alpha Dog Food. You won't find corn, wheat or soy protein on the list because these are common allergens that can bring harm to your pet. But sadly, these are found in almost any cheaper brand of dog food.
High-Quality Ingredients   
Another great thing about the Alpha Dog Food is the fact that all its ingredients are also locally-sourced. It's not only important for you to find out what's inside your pet's kibble but it's equally essential for you to know where it's from. From meat proteins to the mix of vegetables, all ingredients found in a pack of Alpha Dog Food are natural and local. This way you know your dog is receiving all the nutrients and vitamins it needs every day.
Fits Any Breed And Any Age
 Other dog food brands offer the same type of food for all breeds and all ages but Alpha does not. Not only do they create dog food that is formulated by specialists, they also create a variation for different dog breeds and for various ages as well. The company takes into account the dietary needs of your dog and also consider the kind of lifestyle they have at a certain age. Not a lot of brands are meticulous about such details but as we know, dogs also have special needs as they age. And different breeds may also have different needs as well. Let's take a look at some of the specific products designed for our dogs:
Grain Free
Working Dog
Maintenance & Lean
Sensitive
Puppy
Tailored Recipes
 If you're still on the fence about choosing Alpha Dog Food as your pet's kibble of choice, maybe this will convince you. If your dog is suffering from wheat allergies or gluten intolerances, Alpha also tailors recipes to fit the special needs of your dog. Manufactured in the United States containing  all-natural ingredients from North America, Alpha Dog Food recipes are both healthy and nutritional. Ingredients like animal by-products, fillers, artificial preservative/colors, corn, wheat or soy are not part of the Alpha recipes!
Can You Buy Alpha Dog Food In Bulk? Is It Cheaper?
The answers to both of these questions are a great big 'yes.' Like anything else bought in bulk, dog food is much more cost effective when purchased in bulk. There are some, but not a great deal of pet food companies out there that make this type of purchase available to pet owners. Alpha Dog Food offers bulk in the following quantities: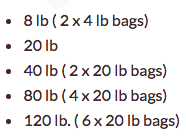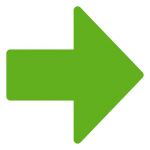 To learn more about this product, including prices, simply click here to do so.
Alpha Dog Food: Some More Interesting Tidbits
For those of you who may be considering Alpha Dog Food for your pet(s) there are a number of other items that you may find interesting. Other than what you have read above, let's take a look at some of these other facts associated with this product:
As the weight of dog food increases, the price per pound decreases.
The company has re-negotiated its shipping costs with FedEx which will save you money
The company does not use the fancy boxes to ship orders, thus saving you money here as well.
Alpha offers small kibble to older dogs and toothless dogs.
Discount is provided to owners of service dogs
Each quarter the Alpha Company provides a substantial donation to a local pet charity.
Donates to a Rescue Center and Pets For Vets
Conclusion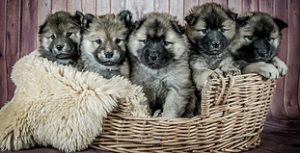 Well, there you have it. Alpha Pet Food, in my opinion, is definitely worth consideration if you multiple mouths to feed. Purchasing bulk dog food may at first glance seem to be a bit expensive, but will actually be cost effective when you consider the length of time these recipes will last.
Alpha Dog Food prides itself on providing a nutritional diet to our four-legged companions as well as catering to dog breeders and animal shelters throughout the world. In addition, the company has gone the extra mile in keeping costs down to consumers though its shipping and boxing procedures.
Alpha Dog Food is produced with quality, wholesome ingredients which provide a safe and healthy diet to your pet(s.) I would strongly recommend that you give this product serious consideration, especially for those who have multiple pets to feed and need the convenience of purchasing this food in bulk.
Check Out The Various Recipes And Special Prices By Clicking

Here

.
Please feel free to leave a question or leave a comment below. Thank you for visiting!